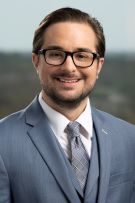 Horning named associate
2021
Barclay Damon announces Payne Horning has been admitted to the New York State Bar. The former law clerk is now an associate at the firm. Horning is a member of the Labor & Employment Practice Area. He graduated magna cum laude from Syracuse University College of Law, and his experience includes serving as a Barclay Damon summer associate and a summer intern for the City of Syracuse Corporation Counsel. He is based in the firm's Syracuse office.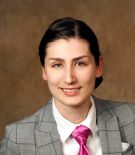 Rogatch joins Bousquet Holstein
2021
Bousquet Holstein PLLC is pleased to welcome Diana G. Rogatch to the firm.
Diana Rogatch has joined the firm's Brownfield Practice Group. She successfully passed the Uniform Bar Examination in April 2022, and she is currently admitted to practice law in Colorado. She will be admitted to practice law in New York State in January 2023.
Diana comes to Bousquet Holstein with a passion for connecting with clients. Diana is returning to the firm after taking part in the 2021 class of Summer Associates where she assisted with tax, business, and litigation matters. Her experience includes working as a litigation paralegal for a mid-size firm in Boston, MA for two years and with Judge Frederick Scullin in the Northern District of New York.
Diana graduated summa cum laude from Suffolk University in 2016 with a B.A. in History and a Certificate in Paralegal Studies. She graduated cum laude from Syracuse College of Law in 2021. While attending law school, Diana earned an M.B.A. from the Whitman School of Management along with her law degree in 2021.
Moses joins Hinckley Allen
2022
Hinckley Allen this week welcomes attorney Daniel P. Moses to the firm's Boston office, expanding its construction and public contracts practice group. Dan has worked most recently as Senior Contracts Manager at The Weitz Company where he evaluated and managed risks associated with contract administration for all West Coast projects – including Hawaii and Guam – for the Naval Facilities Engineering Command and the United States Army Corps of Engineers, among other notable experience.
Carni joins Goldberg Segalla
2022
Goldberg Segalla added Chiara M. Carni to the firm's Intellectual Property group in Manhattan. Carni was previously with the Innovation Law Center in Syracuse.
Carni counsels and defends clients in a range of intellectual property issues including trademark registration, copyright disputes, and other litigation matters. With a background in innovation research, she draws on her experience reporting on and evaluating clients' patentability potential for inventions such as medical devices, computer software, and copolymers. Carni earned her bachelor's degree from the University of Florida and her J.D. from Syracuse University College of Law.