"At the forefront of shaping the future of the legal profession."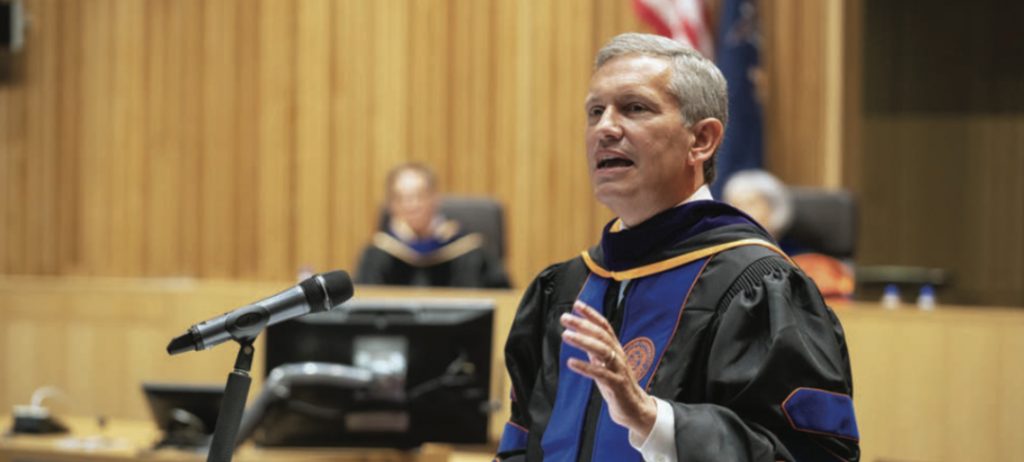 At the end of May 2020, Henry (Hank) Greenberg will conclude his term as New York State Bar Association (NYSBA) President. It's been a highly productive term, with Greenberg addressing diversity in the profession, launching global initiatives, embracing emerging technologies, and— as his term comes to an end—responding to COVID-19's impact on our profession and law students.
Among the many accomplishments during Greenberg's tenure:
Diversity in Leadership Roles
Appointed a diverse chair, co-chair, or vice-chair to all 59 of NYSBA's committees.
Adopted an association-wide diversity and inclusion plan.
"I am most proud of our diversity initiatives, among these many other achievements."
Global Membership Initiative
Entered into memoranda of understanding with bars associations in Seoul, Korea, Tokyo, and elsewhere to meet its members–180,000 who work outside of New York–where they live and work.
Launched a quarterly global newsletter to international members.
While NYSBA is the voice of the New York state legal profession, the Association has members in all 50 states and in more than 100 countries, making it a global organization. These global initiatives will contribute to the Association's Virtual Bar Center.
Virtual Bar Center
Launched Virtual Bar Center initiative, which involved deep investments in technical infrastructure for virtual meetings, online education, and enhanced communications with and among members and the public at large.
Launched a new website, online store, and member database.
The Virtual Bar Center currently provides information about COVID-19 and serves as a command center for COVID-19 related communications with members and other constituencies worldwide.
Cutting-Edge Public Policy Initiatives
Rural Justice (investigating the impact of rural attorney shortages on access to justice, challenges in delivering legal services in rural areas, and the unique practice needs of rural practitioners).
Free Expression in the Digital Age (examining how free expression has evolved
in the digital age and, in particular, how the law has impacted—and can impact— this evolution).
Autonomous Vehicles and the Law (investigating how the law and legal profession adapt to the rise of autonomous vehicles as autonomous vehicles, raise novel and potentially far-reaching challenges to the law in a variety of areas.)
Legalization of Cannabis (providing NYSBA lawyers with shared educational resources, and otherwise helping New York set the highest possible legal and business practices, including advice to medical professionals and standards for legalized cannabis products).
Domestic Terrorism and Hate Crimes (examining the factors that have led to the increase in hate crimes, including legislative and policy recommendations, suggestions for improvements to the federal and state legal system's response to hate crimes, and helping to better educate the public on the value of diversity and inclusion).
Parole Reform (studying the current system of parole, focusing on release practices and revocation and reincarceration.)
Future of the New York Bar Exam (investigating the experience and impact of New York's adoption of the Uniform Bar Examination).
"The Association has never been more prolific in developing policy positions on cutting-edge topics that lawyers are grappling with now. From our groundbreaking initiatives to support and save local news outlets to our efforts to examine autonomous vehicles, NYSBA is at the forefront of shaping not only the future of the legal profession but also the societal trends impacting us all."
National and State Leadership
Led the American Bar Association's adoption of a resolution to explore innovative approaches to expand access to justice and the adoption of a resolution encouraging online providers of legal documents to adopt the ABA's "Best Practice Guidelines for Online Legal Document Providers."
Led effort to successfully remove mental health questions from the New York bar admissions application.
Worked with the chief judge of the Court of Appeals of the State of New York to announce a future convocation on civics education.
Influenced nationwide policy dialogues through op-eds, commentaries, and interviews in The New York Times, The Washington Post, CNN, Fox News, Northeast Pubic Radio, The Capitol Pressroom, and elsewhere.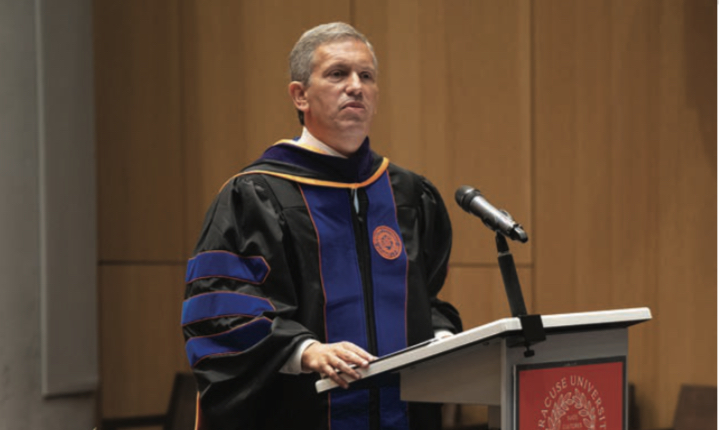 Rapid Response to the COVID-19 Public Health Crisis
Oversaw transformation of NYSBA's website, social media outlets, and other digital platforms to provide real-time information regarding the crisis through eblasts, webinars, publications, and an online information center.
Partnered with the NYS Court System to build and coordinate a statewide pro bono network of lawyers to handle the expected surge in legal matters resulting from pandemic and enduing economic fallout.
Recommendations from Task Force regarding next bar exam in New York immediately adopted by the Court of Appeals.
Created an Emergency Task Force for Solo and Small Firm Practitioners impacted by the crisis.
NYSBA's communications channels continue to provide updated resources to assist attorneys, law firms, the court system, and others navigating the crisis.
A Boost to the Annual Meeting
Posted record attendance at dozens of events at the 2020 Annual Meeting.
Held a centerpiece Presidential Summit on Domestic Terrorism, moderated by Dean Craig M. Boise.
Hosted a sold-out Gala Dinner at the American Museum of Natural History honoring US Supreme Court Justice Elena Kagan and the judges of the New York Court of Appeals.
Greenberg says he is confident that president-elect Scott Karson L'75 will maintain NYSBA's momentum: "Scott's many years of leadership experience in bar associations— from the local level to the national level—and his forward-thinking agenda will continue NYSBA's upward trajectory as we face new challenges and opportunities."