Sports Agent Kevin Belbey L'16 Is the Vision Behind Boeheim's Army—The Orange's "Other Team"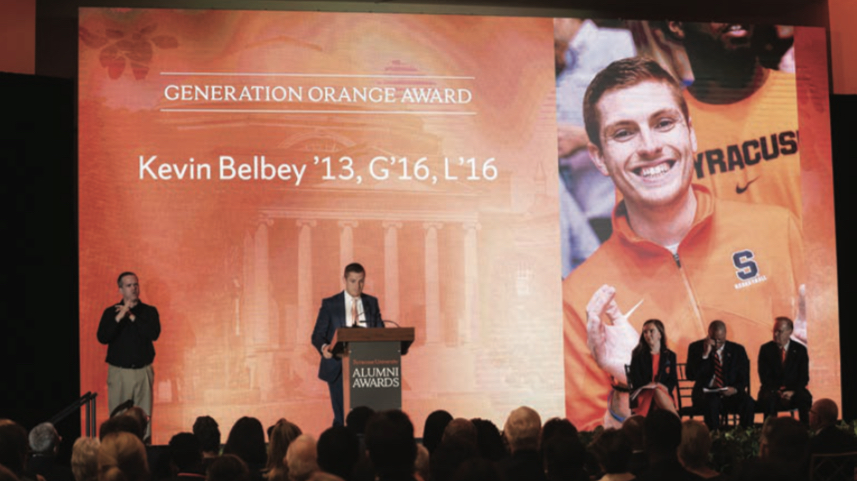 Kevin Belbey '13, G'16, L'16, Vice President of Sports Broadcasting with The Montag Group, might have more orange clothing in his wardrobe than Jim Boeheim '66, G'73, the storied men's basketball coach.
That's because Belbey created the fan- favorite team Boeheim's Army that competes in The Basketball Tournament (TBT), a single-elimination, winner-take-all competition with a $2 million payout broadcast each summer on ESPN. Summer 2020 will be the sixth year Belbey has served as the general manager for Syracuse's alumni team that he launched while a second-year law student.

Too Good to Be True
First approached by TBT organizers before the tournament's inaugural year, Belbey says the offer "sounded too good to be true." It wasn't until he watched the first games on ESPNU in 2014 that he took the organizers seriously. After witnessing The Fighting Irish win the $500,000 championship title, Belbey thought to himself, "If this is something Notre Dame can do, this is something SU should do for sure."
Belbey was an excellent fit to pull together a Syracuse team because of the connections he made as an undergraduate at Syracuse while serving as the Head Manager for the Men's Basketball Team. "While the tournament is open to anyone who wants to organize a team, the guys who created it thought that to have the greatest exposure and broad appeal, they needed to have teams with built-in fan bases," he says. Thus, for the organizers, collaborations with individuals having strong ties to alumni players were key.
With the tournament's prize money doubled in 2015, Belbey recruited his first two players: Eric Devendorf '09 and Hakim Warrick '05, both highly respected by former and current players and fans. "Having them on board made my job easier to recruit the rest of the team," he says.

The Best Fans
Since Notre Dame's initial win, a team called Overseas Elite has dominated TBT, winning five consecutive titles as the prize money grew over the years. Still, Belbey says he feels SU's alumni teams have the strongest chemistry and greatest fan base.
Belbey says he uses social media to create interest and attract fan votes, finishing with almost 1,000 more fan votes than any other team last year, which just happened to be the first year tournament games were played in Syracuse. The fan base in TBT is important because top fans—those whose dedication is shown by garnering votes in support of their team—receive a cut. Fans must register online, and the top 1,000 supporters of the winning team share $200,000.
"Last summer, with the tournament coming to Syracuse, it was a real testament to what we've built and the demand our fans have for this tourney," he says. "We have the best fans in the entire tournament." 2019 was also the first time the team's namesake watched from the stands. "That was awesome and a little nerve-wracking," Belbey says of Boeheim's presence. "I think he gets a real kick out of it, and it's really special for him to see all these guys he's brought into the program coming back to Syracuse and wanting to play with each other for no guaranteed money."

Everybody on Their Toes
TBT is like an NCAA tournament with 64 teams competing in games held over two weekends. To make it to the prize pot, teams must win six games. In summer 2020, three games are planned for Syracuse, from July 31 through Aug. 2, at the SRC Arena on the Onondaga Community College campus. The championship games will be held the following weekend elsewhere.
To make TBT games as friendly to fans and as exciting as possible, some rules have been adjusted. A shorter game clock is used, for instance, and then there's the "Elam Ending"—at the four-minute mark in the fourth quarter, the game clock shuts off and a target score is set by adding eight points to the leading team's score. The Elam Ending format was recently used in the 2020 NBA All-Star game for the first time.
"Last summer, with the tournament coming to Syracuse, it was a real testament for what we've built and the demand fans have for this tourney. We have the best fans in the entire tournament."
"So instead of playing to zero on a timer, you're playing to a target score, and the first team to that score wins," Belbey explained. "This makes games more exciting for fans because you don't have to sit through foul shots. Also, every game ends on a game- winning shot. It just changes the whole energy of the game and puts everybody on their toes".

Never Regret It
In addition to his J.D. from the College of Law, Belbey received his bachelor's degree in broadcast journalism from the S.I. Newhouse School of Public Communications and his Master's Degree in New Media Management from Newhouse. As a senior at SU, he knew he wanted to go into the business side of sports and media and thought law school might be a good fit. It was ESPN announcer Jay Bilas who convinced him.
Belbey met Bilas during a Syracuse basketball game. Bilas, who works as an attorney when he's not on air with ESPN, advised Belbey to attend law school without hesitation. "He told me I'd never regret it a day in my life, even if I never end up practicing," Belbey recalled. He said, "The skills I would learn will help me think critically, take me to a whole other level, and help separate myself."
Once he heard Bilas advice, Belbey's decision was made. Belbey now works as a sports agent, representing broadcasting clients from national networks to local markets, including play-by-play announcers, analysts, radio hosts, writers, and reporters.
Now, Belbey says his law degree helps in his current role and in running the tournament. "Once, I was trying to convince a player to play for us and he wasn't sure. But we really needed a center, and this guy was about 7 feet tall and 245 pounds. He was going to be a big difference-maker for us," Belbey shared. "He ended up committing to us and told The Post-Standard later – 'yeah, Kevin pulled some of that lawyer stuff on me in negotiations.' So it worked out great."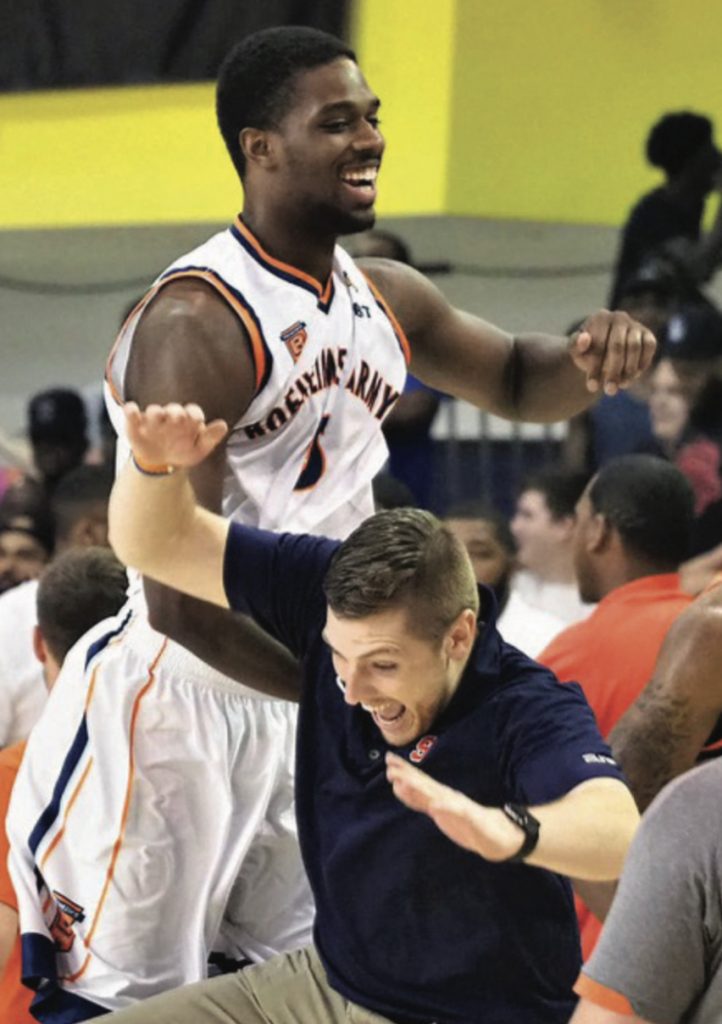 That Next Step
Boeheim's Army isn't Belbey's only service to his alma mater. He currently serves on several Syracuse boards including the Syracuse University Law Alumni Association,
The Newhouse 44, and the Generation Orange Leadership Council. "I believe, once we graduate, we are connected to the school forever," Belbey says. "We can continue to improve on our own degree by investing back into the school and its students who come after us."
In 2019, Syracuse University honored Belbey during the Orange Central weekend with a Generation Orange Alumni Award for his continued University involvement in support of Boeheim's Army, students, and the community.
While Boeheim's Army hasn't won the big money yet, Belbey says he finds camaraderie each year in reuniting with alumni players and visiting Syracuse. The team spends a week in Syracuse to run a clinic, sign autographs for fans during special appearances, and partner with the Jim and Juli Boeheim Foundation. "They supported us from the beginning, so we want to give back that support," says Belbey, noting that last year, members of Boeheim's Army helped raise close to $20,000 for the Foundation.
"TBT is like Orange Central but with $2 million on the line," observes Belbey. "This summer, I'm looking forward to us taking that next step. We want to win the championship and take home the prize money!"