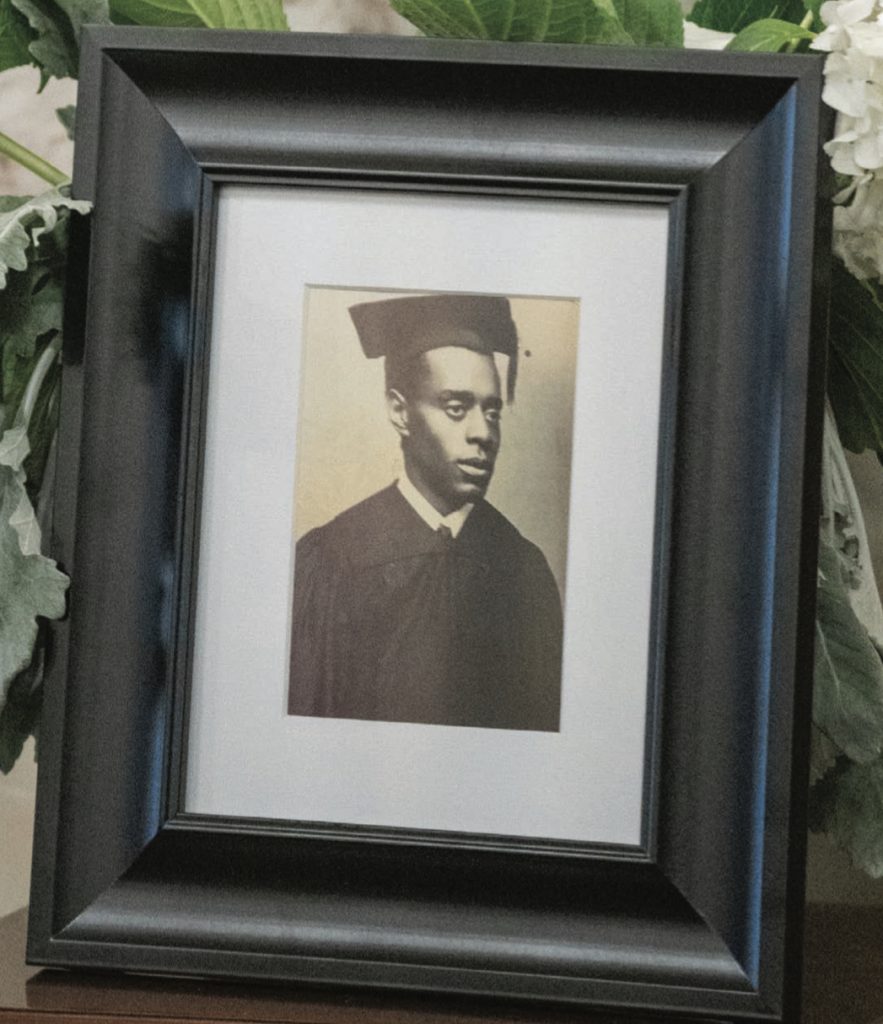 The Onondaga County courtroom was packed. Standing room only. Voices cracked. Tears flowed. The justices of the appellate division were about to hand down a decision that would make history. As Presiding Justice Gerald Whalen, Appellate Division, Fourth Department, proclaimed: "We are going to right that wrong in the only way we can."
"That wrong" involved the first African American graduate of Syracuse University's College of Law. William Herbert Johnson L'1903 excelled in his studies. He passed his bar exam, but he was denied admission to the New York State Bar. "The challenge facing him was the character and !tness part of the bar admission process," explains Dean Boise. "Admission to the bar required references, and white lawyers were unwilling to sign a statement confirming the good character and fitness of black graduates."
Hearing the judges speak of such blatant racism and injustice was "overwhelming" for William Johnson's grandson Tom Johnson, who, together with his brothers Calvin and Donald and cousin Dorothy Jefferson, had submitted affidavits to the court in support of their grandfather's posthumous admission to the bar. "During his lifetime, lawyers in the community sought his legal opinion on cases," says Tom Johnson. "If he was good enough to assist them with their cases, why didn't they have the intestinal fortitude to write those character references he needed to practice?"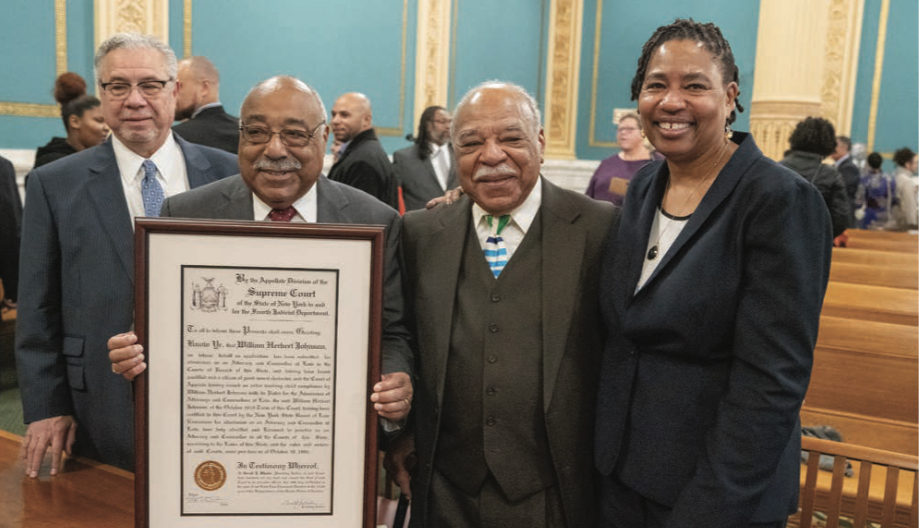 According to Paula C. Johnson (no relation), Professor of Law and Co-Director of the
Cold Case Justice Initiative, William Johnson expressed his disappointment to his family. Professor Johnson writes in a 2005 article in the Syracuse Law Review: "William Johnson once remarked to his grandson Calvin, 'I may not be able to do this now, but there are others who are going to do these types of things.'"
Those "others" were indeed instrumental in "righting the wrong" more than a century later. Black alumni of the College of Law, members of The Syracuse Black Law Alumni Collective (Syracuse BLAC), petitioned the court for the posthumous admission. The New York Court of Appeals granted the application. "The ceremony held in Onondaga County Court (on Oct. 18) was a historical display of community unity and commitment to justice," says Felicia Collins Ocumarez L'98, G'98, co-founder of Syracuse BLAC. "We are committed to the Syracuse community and contributing to a positive narrative of hope and new beginnings."
Though denied admission to the bar more than a century ago, Johnson found ways to use his legal acumen to help others. Though his official job was as a mail room clerk for the New York Fire Insurance Rating Organization, an underwriting firm, he remained active in legal circles, doing research for some of his white classmates. He offered legal guidance informally to many who sought his counsel, was active in the Syracuse community advocating for fair treatment of black residents in housing and financial matters, and helped clear the way for African Americans to be employed in law enforcement and firefighting.
William Johnson persevered. By his death in 1965, at age 90, he was a Syracuse legend who fought to right wrongs in the town he loved. Despite its history of anti-slavery activism and as a stop on the Underground Railroad, Syracuse was not a city where blacks could easily break through into the professional ranks. They worked mostly in manual labor or service industries. Johnson was born in Syracuse in 1875, went to Boston University, served in the Spanish- American War of 1898, and returned home to Syracuse to marry Katherine Simmons. When he got a job working as a clerk in a law firm, his passion for the law was ignited.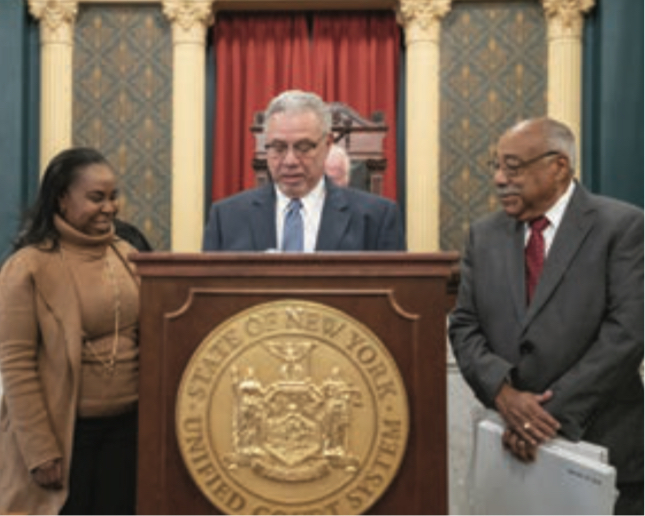 Syracuse nurtures a similar passion in Professor Johnson, whose writings and advocacy helped keep the William Johnson story alive. "I do this work as a matter of legal theory," she explains. "But it is also about uncovering the important history that is here in Syracuse. Harriet Tubman lived her final days nearby in Auburn. Abolitionists did their work here. The suragist movement found a home not far from here in Seneca Falls. There's a rich history that we must not forget. William Johnson is part of that history as a trailblazer."
Professor Johnson points to examples of the living legacy left by the trailblazer. The minority bar association of Central New York was named the William Herbert Johnson Bar Association in his honor. The Syracuse University Black Law Students Association (BLSA) presents the William H. Johnson Legacy Award to a distinguished alumnus during Law Alumni Weekend at the Alumni of Color Reception. The College of Law provides to a woman of color in the graduating class an award for outstanding achievement, jointly named for William Johnson and Bessie Seeley L'1903, a suffragist and the only woman in a class of 64 men.
"There's a rich history that we must not forget. William Johnson is part of that history as a trailblazer."

Professor Paula C. Johnson
Kristian Walker is the graduate who received the 2019 Seeley-Johnson Award. "His perseverance built a foundation for many African American students to pursue their dreams of law school. And the injustice he faced taught us that mastering law school courses is only part of the battle," Walker says. "He taught us that it is what we do with the knowledge we gained after we leave the halls of the college that creates change.I think honoring William Herbert Johnson will shed light on his very important story and be a step in the right direction of rectifying injustices. I also hope it brings awareness to the fact that it took 116 years to right this wrong, yet in 2019 racial injustices are still very prevalent."
"The fact is that the legal profession remains one of the least diverse of all professions today," notes Dean Boise. "We have many more African American students pursuing a law degree, and the number of black associates at law firms has certainly increased. But we are not well- represented at the partner levels of law firms and in leadership roles. I am hoping that by bringing greater awareness to what happened to one of our graduates in 1903, we are shining a spotlight on a problem still facing the graduates of today."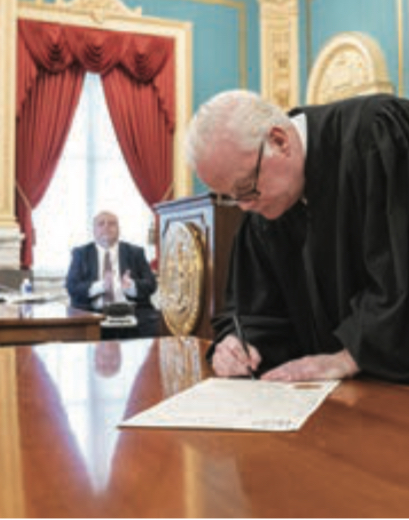 In the days following William Herbert Johnson's posthumous admission to the bar, his grandsons reflected on what had become far more than a family campaign to give their grandfather the validation he so deserved.
"I was talking with my brother Don and he told me, 'Tom, do you realize that we were a part of history being made?'" Tom Johnson says.
Their grandfather had, indeed, blazed a trail for others. His descendants, with the support of so many others, had made that trail easier to follow.