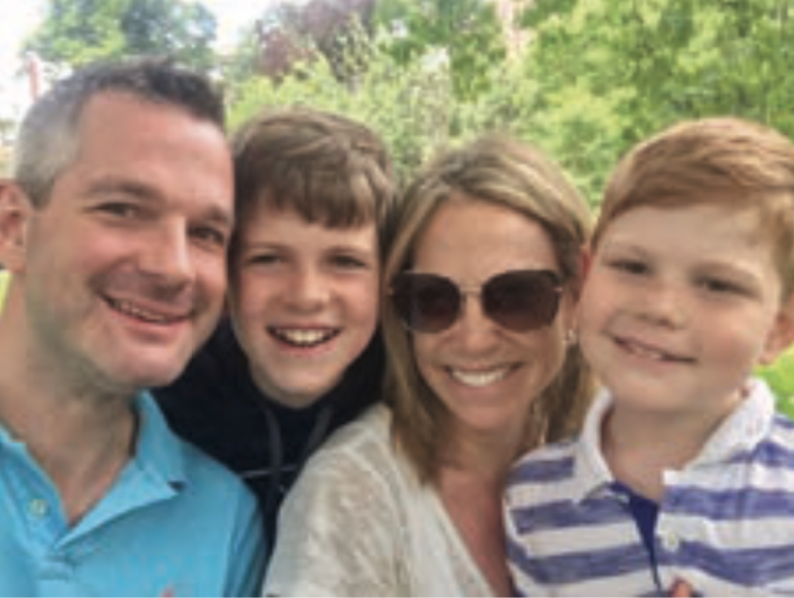 Since the mid- 1980s, the College of Law has been home to countless trial practice classes taught by Adjunct Professor Donald J. Martin L'68, Principal of The Donald J. Martin Law Firm PC.
For two alums, one particular class stood out from the rest: It was where a future husband and wife met.
Patrick Kennell and Dawn Krigstin joined Professor Martin's trial practice class in fall 2001. The rest, as they say, is history. The two spent the remainder of law school together, and they look back upon their law school experiences with fond memories.
One particular memory stands out to the couple—meeting in New York City for the first time when Patrick was on the school's trial team. Little did the couple know at the time that the city would be their future home.
Patrick and Dawn say their relationship is stronger thanks to their Syracuse bond. "Syracuse means a lot to our marriage, and our shared connection with the College has kept us very involved with our alma mater," Dawn explains. "We visit it more frequently than our friends,
and we have turned one of our sons into a die-hard Orange fan!"
Beyond their love for all things Orange, Patrick and Dawn say that learning their profession in Syracuse has given them a deep appreciation and respect for each other. "We speak the same language, we argue well, and we even use our negotiation skills on our kids," Dawn observes. "Our kids have learned so much. They now think like lawyers and out-negotiate us!"
The children the couple speaks of are 12-year-old Gabe and 9-year-old Teddy, who it appears may have a future at the College of Law like their parents. The family—which includes puppy Leah—live in lower Manhattan, where Patrick is a partner at Kaufman Dolowich & Voluck LLP, whose headquarters are close to Wall Street. At Kaufman, Patrick is Co-Chair of the Insurance Coverage and Litigation Practice Group, and he represents US and UK market insurers in professional negligence, breach of contract, fraud, conspiracy, and other cases.
Dawn runs her own business. As CEO of Envoy Specialty—a company she founded three years ago—she handles specialty claims for a wide variety of policies, including commercial general liability, environmental liability, professional liability, and contractor's pollution insurance. In addition to her work at Envoy, Dawn is a member of the Board of Trustees of the Development School for the Youth, a nonprofit educational organization.
As a couple, Dawn and Patrick have one simple piece of advice for their children, fellow lawyers, and couples alike: "Be kind." Although this advice may seem simple, they say you never know where kindness may lead you—perhaps even to falling in love in your trial practice class!
Words to Love By: "Be Kind."