Do You Remember? Help Us Caption Our Mystery Photos!
The College of Law's photo archive is a fascinating visual history of your alma mater, full of nostalgia, anecdotes—and a few mysteries. That is, some of our prints and slides lack information or captions.
That's where you come in. In this feature, we challenge you to help us recall the people and scenes in our mystery photos.
This time, we honor Professor Peter Bell, seated at center, who retired from teaching in December 2019. This photo appears to have been taken in one of Professor Bell's classes, but there is no other information included with the photo.
If you know when this photo was taken, what class is pictured, or any of the students in the photo, please email Director of Alumni Relations Kristen Duggleby at klduggle@law.syr.edu, and we'll publish what we discover in a future issue.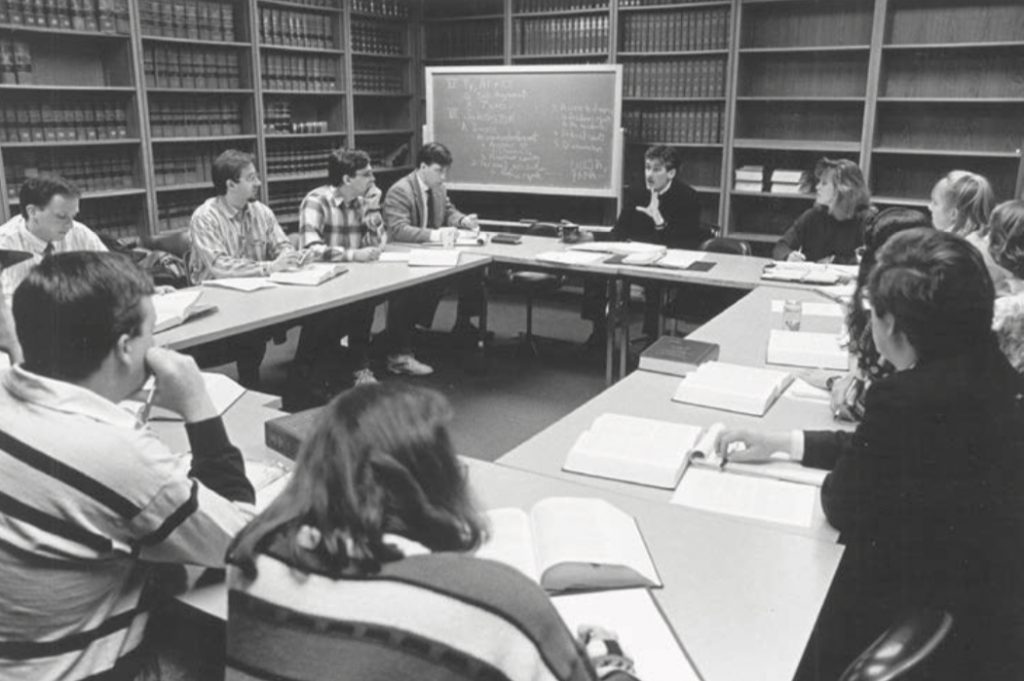 ---
Back to the Nineties
Erika (Barnes) Holliday L'93 helped identify the mystery photo from the 2019 Giving Book: "I think the young woman three rows back on the right with glasses and a lot of curly black hair is my first-year roommate, Jayne Turner L'93, so this photo was taken between 1990 and 1993." Thank you, Erika!
Please let us know if you recognize anyone else in this photo, or you know which class is pictured.