Given his current line of work, one of Adom M. Cooper's L'12 pieces of advice to current law students is entirely appropriate: if you want to enter the field of national security and international affairs, he says, "really think about what risks you are willing to take."
As an Operations Planning Specialist, High-Threat Programs at the US Department of State's Bureau of Diplomatic Security, Cooper works in a part of the state department that spends a great deal of time assessing hazards for those who serve abroad in embassies and consulates. His journey to this niche career in public service was itself filled with risk—and plenty of reward.

"Hooked on learning"
At the University of Michigan, Cooper—whose father is an anesthesiologist— was contemplating a science and biology track before he took his first risk and switched to political science and communications. But when he took part in a summer 2008 WorldTeach service project in Namibia, his career began to bend toward the law and specifically its interaction with diplomacy, development, security, and social justice.
"In Namibia, I helped schools and teachers get acquainted with computer literacy and the Internet after the Ministry of Education passed a law mandating that all teachers must have a basic, working knowledge of computers. Many of them had never used a computer before," Cooper says.
"I can't tell you how many information interviews I have done, even with my peers. As an African American, there are constant barriers to entry, and you have to squeeze every resource around you for all they are worth."
His post was in the far north of the country, beyond the "red line," a 600-mile fence (officially for pest control measures) that demarcates the rural north from the former colonial south. "I helped a school get its first Internet connection, and I became hooked on learning how laws worked differently in different countries."
Returning home to the 2008 economic crash, Cooper decided to take another chance and switch from journalism—where jobs were becoming scarce—toward legal studies and Syracuse.
Another big leap saw Cooper return to southern Africa at the end of his 1L year. "I wanted to get involved in international law, so in summer 2010 I studied abroad at the University of the Western Cape in South Africa, as part of a Howard University-run program." While in Cape Town, Cooper took international law classes, worked at a law firm, and in the evenings enjoyed World Cup games being played across South Africa that year.
Back in Syracuse, Cooper continued to specialize, taking national security classes with professors William C. Banks and David Crane L'80, international law classes—such as Law
of the Sea with Professor Tara Helfman—and international relations classes at the Maxwell School.

"Squeeze every resource"
Graduating with certificates in national security and postconflict reconstruction, Cooper spent time networking and shopping his resume, especially at the United Nations headquarters in New York City.
His second piece of advice to students is borne out of these experiences. "Find ways to get connected to people in your chosen field," he
observes. "I can't tell you how many informational interviews I have done, even with my peers."
"As an African American, there are constant barriers to entry, and you have to squeeze every resource around you for all they are worth. Many internships and fellowships, which lead to great job opportunities, are unpaid. This instantly rules out candidates from marginalized and untapped communities."
His determined networking eventually led to a job at the UN Population Fund, where he helped edit a landmark report called "Marrying Too Young: End Child Marriage." He also coordinated legislative initiatives pushing countries to raise their legal age of marriage to 18 and organized a high-level panel event for the 2012 International Day of the Girl Child, which included luminaries such as Desmond Tutu and Michele Bachelet. "I later packaged up the report and sent it to all 193 member countries," he adds.
After that essential experience, Cooper moved to Washington, DC, as an International Law Fellow at the American Society of International Law (ASIL). Because of the fellowship's low stipend, Cooper notes that "I was only able to move to DC as my godparents live here and were gracious enough to host me, changing my career trajectory."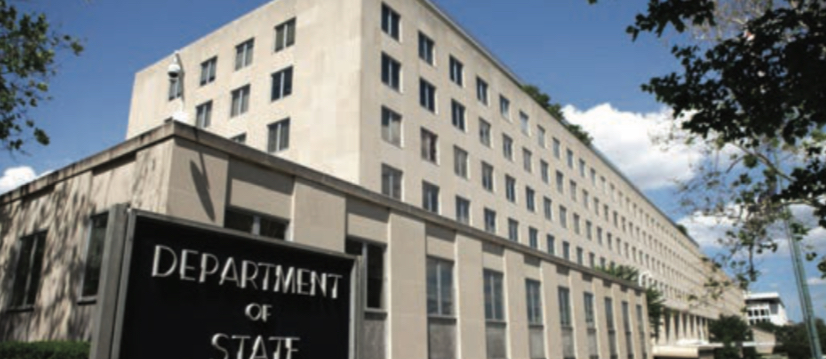 "A historical lens"
After ASIL, Cooper joined consultants Lee Bayard Group LLC as Legislative and External Relations Director. Then, after responding to an ad on a Syracuse University listserv, he moved to the state department in early 2015.
Cooper says the focus on "high threats" at the Bureau of Diplomatic Security is a response to the 2012 attack on US government facilities in Benghazi, Libya, which led to the deaths of two diplomats and 10 government investigations.
One recommendation from the 2012 unclassified Congressional Accountability Review Board called on the state department to reform its security approach at "high threat posts," or embassies and consulates in conflict zones. With his background in national security, development, and international law and relations—as well as his experiences abroad—it's work Cooper is well- suited to do.
Today, in addition to his state department duties, Cooper is a fellow at the Truman National Security Project, a leadership development project of the Truman Center for National Policy for which Cooper has returned to another of his vocations: writing.
"The Truman Center encourages its members to get their voices out there. So in 2020, I started writing and publishing more," says Cooper, whose work has been featured in Just Security, NY Daily News, USA Today, and elsewhere. "I write about things that aren't often addressed, and I like to look at contemporary issues of national security through a historical lens."

"Find your tribe"
Cooper's Just Security article— "US 'National Security' Must Apply to the Entire Nation"—is an example of his approach. It connects his maternal grandfather's service on a World War II submarine chaser to his and his African American compatriots' experiences before and after the war ("continually exposed to domestic enemies at home, in the forms of institutionalized racism and hate groups"), to the importance of the US "effectively addressing foreign policy and national security challenges and issues" by doing more "to acknowledge, accept, and confront its flawed history."
Recently, Cooper contributed a personal narrative to a Truman Center report— "Transforming State"—about modernizing and diversifying the state department.
Like his opinion pieces, this narrative also interrogates the nation's "flawed history." He writes about his uncomfortable experience passing Confederate flags and monuments while on a temporary tour of duty (TDY) near Charlottesville, VA, at the time of the notorious 2017 "Unite the Right" rally. "The fact that I was working on international security issues during this TDY while there were clear and present domestic security issues close to me is sadly ironic and dysfunctional."
Cooper urges the state department to find "the personnel, ethos, or resources" to ensure the safety of its increasingly diverse personnel, "and it must address this domestically in the same manner that it does abroad."
This latter comment brings us to Cooper's final piece of advice to students, especially "students who look like me interested in this kind of career." It echoes his "Transforming State" narrative and its call to support people from marginalized and untapped communities in national security.
"You will need a close group of friends to bounce ideas off and to vent to," he notes, admitting that the path won't always be smooth. "Every day, I still connect with three other African American alums—David Chaplin L'13, G'13; Yemi Titus Falodun G'12; and Jonathan Marshall G'11—via a group text we started before we graduated. No topic is off limits, and we support each other. We talk about everything: relationships, finances, sports, politics, and life decisions. So, I'd tell students to 'find your tribe!'"