Ahmed Hmeedat LL.M.'16 on Using Law and Art to Empower Fellow Palestinians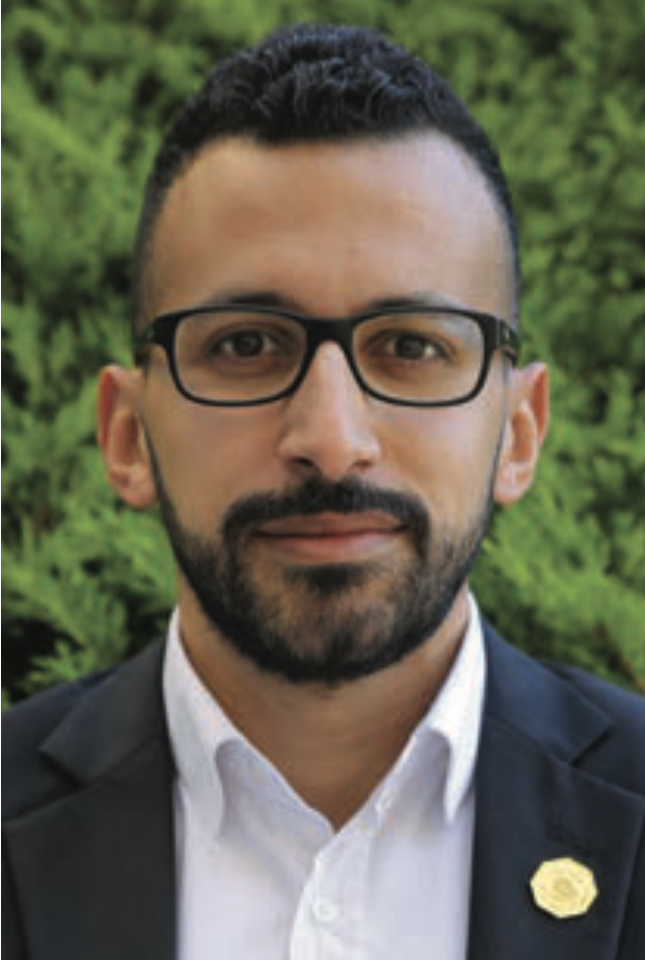 In his remarks during the Class of 2016 Commencement exercises—at which now President Joseph R. Biden Jr. L'68 delivered the formal address—Ahmed Hmeedat LL.M.'16 told of growing up a refugee and the importance of the rule of law.
Hmeedat recounted how he was raised in a refugee camp built near Jerusalem for internally displaced Palestinian people. During high school, he started to study the law, believing that "the rule of law and the development of a strong civil unoccupied society was what my country needed the most."
In his speech, he noted the ongoing injustices in Israeli-occupied Palestine, and at its conclusion, he shook Biden's hand and offered him an open invitation to visit Bethlehem. Biden welcomed the gesture, as well as a gift of a charcoal portrait of himself that Hmeedat had drawn.
After his studies in Syracuse, Hmeedat moved to Washington, DC, to support humanitarian work, first as a legal assistant with Physicians for Human Rights and then at Usilaw, a firm that provides immigration services and solutions.
Although helping immigrants was rewarding, Hmeedat decided to return home, choosing to work at his former undergraduate university, Al-Quds Bard College for Arts and Sciences in Jerusalem.
In addition to the role he plays as a member of the College's administration, he has developed and now teaches a course incorporating his two passions: art and law.
We recently caught up with Hmeedat to see how his career is progressing in Palestine…
How has your training at the College of Law helped in your current position?
Law school taught me to be organized, professional, and a hard worker. During my time at Syracuse, I familiarized myself with a rigorous study style. I'd spend five to six hours daily at the library after classes. That became a habit even on brutally snowy days.
Also, serving as the LL.M. senator and representative for the Student Bar Association helped my professional journey. In my current role—as an Al-Quds Bard College communication and recruitment officer and a lecturer in human rights and international law—I am constantly applying what I learned at Syracuse Law on different levels. For example, in law school I organized student events, whereas now I organize college fairs and tours. Also at Syracuse, I wrote long legal research papers and practiced presentations; now I teach students the same writing, research, and presentation skills.
What is your fondest memory at the College of Law?
Sharing the Commencement podium with law school deans and Joe Biden and delivering a Commencement speech was a very profound experience. I got to speak to a huge crowd and truly be myself. I loved it because I sensed the trust that my fellow LL.M. students put in me to represent them at that landmark event.
Outside of school, I greatly enjoyed exploring Central New York, and I miss the area's natural beauty. On Fridays and Saturdays, I hosted gatherings at my home on Ostrom Avenue for international students. These were fun times to socialize and cook together.
What advice do you have for a foreign lawyer who wishes to study in the United States?
I do not like to advise. Advising is about telling people what to do and what not to do. It is like forcing others to try a shoe that only fits my foot.This would not be practical or helpful. I'd rather suggest some thoughts that people might benefit from:
Have a five- to 10-year plan thought out and written down before you graduate.
Find a mentor and ask about their experience.
For instance, if you have a passion to be a criminal law attorney, find someone who is working in that field. You can get connections with many alumni through the law school's LinkedIn page. Then, ask that person for a Zoom or phone call. The goal is to find someone in the same field you dream to work in. When you meet, ask how they feel about their current role and what a typical workday is like. Next, visualize yourself in that position and ask if this is what you envision for yourself? If yes, pursue that path, knowing the law school will point you like a torpedo towards that goal. If no, adjust your plan and use the school to further explore the things you are passionate about.
Ensure balance. Try to manage your time to include room for shopping for healthy food, working out, and socializing. Expand your networking circle outside of the master's degree class. Meet with
J.D. students and participate in other clubs. Such connections might help refer you to jobs. You never know when you will use these connections, so always network.
"In my current role, I am constantly applying what I learned at Syracuse Law on different levels."
You've been described as a gifted artist and presented Biden with a portrait at your Commencement. Do you think it might be hanging at the White House?!
It was the idea of the law school to present my work as a gift from the college. I visited the art store in Syracuse for nearly 30 minutes to buy the needed supplies. I used charcoal to create the portrait, which took me at least four hours. I sat for quite a while to think about how I could make a detailed portrait that would resemble him. It can be quite easy to create a portrait but to achieve resemblance is quite challenging.
I wasn't allowed to present the portrait directly to Biden, but it was given to one of his consultants who said it would be delivered as a gift. I can't say if it is now hanging at the White House, but it would be great if I could know where it ended up!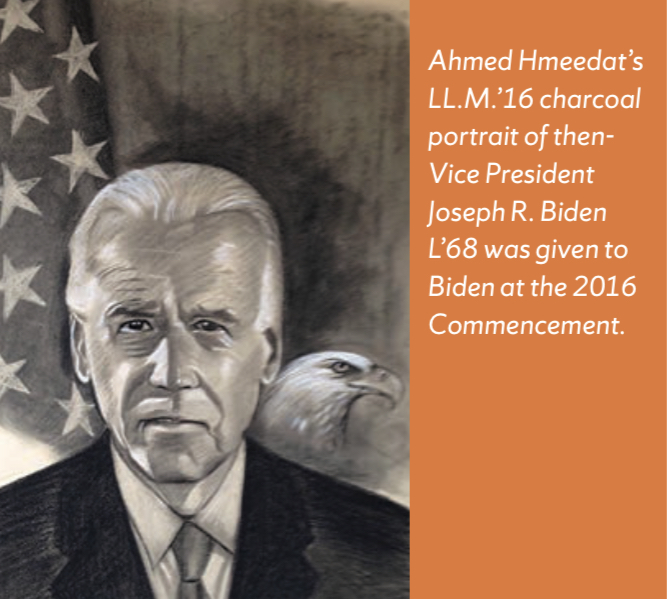 How would you describe the relationship between art and law?
For some, the relationship between art and law might be arbitrary; however, I have found a compromise. I see art as creativity—thinking out of the box, being adventurous, and willing to take risks. Law is about rationalization, circumstances, and reasoning. I like to blend these.
Regarding law, I am always ready to take risks and jump into new tracks. I have used both vocations to create the syllabus for a new course, which I taught in spring 2021. In this interdisciplinary course—"Resistance: Art of Activism and Human Rights"—I bridge the gap between art and law. Students read texts about the Palestinian citizenship legislation, and they study art projects that empower their sense of citizenship.