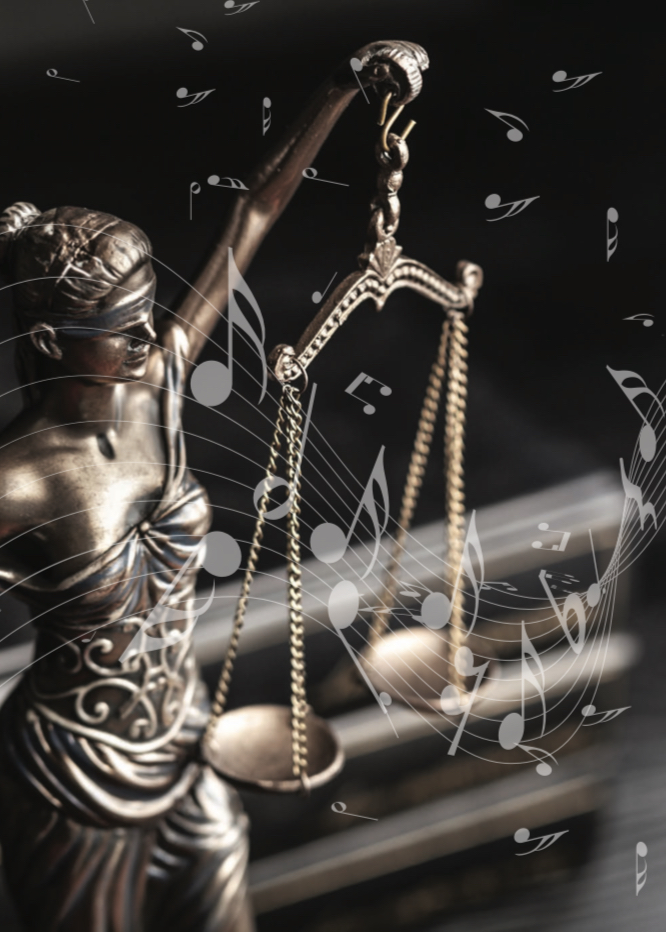 Where do you stand on the "left brain v. right brain" debate? Anecdotally, you may know of effortlessly creative people—artists, actors, writers, musicians—who get a little flummoxed by math, and of brilliantly rational minds who wonder at the emotions others feel for paintings, songs, or movies.
But in reality, there is plenty of debate about whether our brains really are wired in such a strict, bicameral way. In fact, when it comes to practicing law, the ability to combine and balance our rational and artistic "sides" might give those entering the profession from creative disciplines special advantages. But what are they?
In the 2020 Stories Book, we explored the nexus of creativity and law with alumni who write fiction and non-fiction. In this issue, we turn our lens on five musician- attorneys—four alumni and one professor, representing a spectrum of instruments— and ask them about how their passion for music has affected their practice of law.
Organizing the article in a form familiar to musicians of all abilities, we present their perspectives in five lessons …
Lesson 1: Pursue your passions, both within and outside the law.
As a partner at Northern California firm Hanson Bridgett LLP, David Miller L'69 has enjoyed a long and successful career in public agency law. Over
the years, he's provided counsel to the Golden Gate Bridge Highway and Transportation District and the Caltrain commuter rail system, among other high profile clients, and this deep experience has meant invitations to offer his wisdom to graduating students.
"When you go into practice, don't let go of what drove you into those other areas of your life. Be multidimensional."
"I once gave a commencement address about pursuing one's passions," Miller recalls. "I told the graduates that you might be entering a field that you spend a good part of your day doing, but anything that's an avocation is a vital piece to carry forward, be it acting or music or art. When you go into practice, don't let go of what drove you into those other areas of your life. Be multidimensional."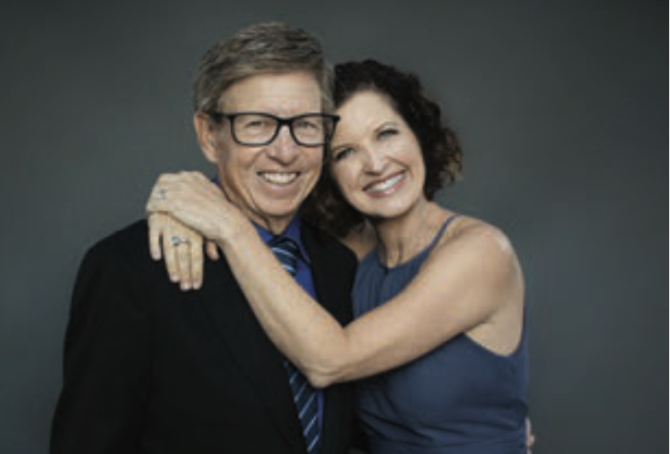 Miller certainly practices what he preaches. His avocation is piano, particularly jazz piano: "I was trained classically, but today I play a range of jazz styles." His combo has been productive during the coronavirus pandemic, recording two CDs—featuring his daughter Rebecca DuMaine on vocals—for Summit Records, Someday, Someday and The Mask-erade. "Both CDs, but particularly Someday, Someday, include tunes that speak to loss of the types experienced by so many during the past year."
Encouraged by his musically gifted family—and especially his maternal grandmother—to pursue musical study, Miller admits that the piano lid was closed while he studied law. But as a young attorney in California, his love of playing re-emerged, thanks in part to happenstance. Miller recalls a Hanson Bridgett function that had booked a three-piece jazz combo, but when the pianist didn't show up, Miller filled in. "That function was 38 years ago. I wound up making a lifelong friendship and partnership [with drummer Bill Belasco] out of that gig!"
After that event, music continued to dovetail with his practice, often because his public service clients requested music at events. "One example was when I worked with former US Sen. Barbara Boxer. Through this relationship, I got to play political events and was invited to Senate retreats, where I would accompany musical shows the senators put on," recalls Miller. "The connection between work and music seemed natural to me."
Lesson 2: Music can balance a sometimes stressful occupation.
Also dovetailing—or to use a term familiar to a drummer, syncopating—his law career and love of music is Michael W. Tyszko L'15, a business and tax practice associate at Syracuse, NY, firm Bousquet Holstein PLLC.
Like many attorneys, Tyszko is active in his community, and for him that service has a musical flair. He plays drums in Bousquet Holstein's company band, which has participated in Syracuse's Rockin' the Red House Battle of the Bands fundraiser (for the Red House theater) since 2016. His jazz combo— which includes fellow alum Joseph Frateschi L'14, of Baldwin, Sutphen & Frateschi PLLC, on saxophone— plays local fundraisers and other events, including for the Volunteer Lawyers Project of Onondaga County, the Women's Bar of Central New York, and the College's Law Alumni Weekend.
Rounding out the styles this versatile percussionist plays, Tyszko also has time for a brass ensemble. "Since before law school, I've played in the percussion section of the Syracuse University Brass Ensemble," says Tyszko, who currently serves as Chair of the group's Board of Directors. "It's a great community of friends, and I want music to be like this, to be joyful."
"I always had to prove my chops earlier in life," says Tyszko, who holds a bachelor's degree in music education from the University of Michigan and who at one point wanted to be a school music director. "Now I don't want to take myself too seriously."
"Law can be such a stressful profession at times," Tyszko continues, admitting that during his undergrad studies, music "got wound up" with stress too. "I was starting to think of it as a job. I didn't want my music to be like that, so that was the beginning of my move into law."
Today, Tyszko says that he sees music as a "balance point" for his legal career, or as he observes— paraphrasing jazz drumming great Art Blakely—"music washes away the dust of everyday life."
Lesson 3: Skills required by music can give lawyers an edge.
Miller and Tyszko address how music can both complement and balance a legal career, but what of skills that transfer between the two disciplines? It seems that, like a good duet, there's plenty of interplay.
"In my opinion there is a great deal of transfer of skills," says Tyszko, noting that one of these transferable skills is problem solving "which for a musician means working on a passage of music and being aware of how it is performed before presenting it."
Another skill is what David Miller calls "refinement," akin to a writer's editing and shaping process. "What do we learn in law school? To refine our ability to communicate, to be logical and understandable, and to simplify complex issues," he observes.
To these commonalities, Professor David Driesen offers another: "There's a special skill both law and music require, to quickly and intuitively respond to a complex situation." Much like musicians learning to play as an ensemble, lawyers must process and synthesize information quickly. In law, says Driesen, "You need to read a lot of cases, see patterns, and intuitively understand them."
Like Miller and Tyszko, Driesen was formally trained—he holds a master's degree in trumpet performance—before switching disciplines and becoming one of the nation's leading experts on environmental law and the rule of law. Earlier in his music career, he played orchestral works, "but today I play in the SU Brass Ensemble and the Excelsior Cornet Band."
The latter bills itself as New York State's only authentic Civil War-era brass band, performing period music on 19th century instruments. That means Driesen must master a different kind of brass: the modern trumpet is a piston valve instrument, but for the cornet band he picks up the rotary valve Bb saxhorn (sometimes called a rotary valve cornet).
"It's good exercise to flit back and forth between writing and music playing. That's just good for your mind."
Having been a professional musician in his 20s, Driesen says that—like Miller—playing took second fiddle once his law career began. Today, like Tyszko, he sees playing as "a sort of balance thing."
"If you are working all day in one way, it gets stale. It's good exercise to flit back and forth between writing and music playing. That's just good for your mind," says Driesen. "These days, I don't have the time for three hours of practice a day and hustling for gigs. With Excelsior and the brass ensemble, I have found a nice balance."
Lesson 4: A critical common skill is performance—whether playing for an audience or advocating for a client.
Fear of public speaking is a potential barrier for anyone entering the law. Whether being called upon in class, speaking in court, or advocating for a client in front of a stern hearing panel, young lawyers must learn to speak in front of others with confidence and flair.
Musicians call this fear stage fright, something which afflicts even top professionals, such as singer Barbra Streisand and guitarist Robbie Robertson. But it seems that if you can overcome stage fright, public speaking comes more naturally.
"I find public speaking to be a lot easier since I have been a professional musician," observes Driesen. Similarly, Tyszko notes that, "As attorneys we must persuade and influence a court or third party to be favorable to our client. A lawyer's work product can be thought of as a performance."
Vocalist Gabriela Wolfe L'16, an Assistant Public Defender in the Monroe County (NY) Public Defender's Office, knows the trials of public performance only too well. In fact, pushing through a bad turn and eventually triumphing is at the heart of one of her enduring law school anecdotes.
"It's tradition for a 3L to sing the national anthem at Commencement," Wolfe recalls when asked about singing the National Anthem at the 2016 ceremony. That year, Wolfe—who has no formal training in music but grew up singing in church—decided she would audition, not knowing that the speaker would be now President Joseph R. Biden Jr. L'68.
"I was very nervous and remember warming up my voice in my car before the audition," Wolfe recalls. She hadn't sung in a while, and initially the audition did not go well. "When I reached a high note, my voice cracked," she says. "So I yelled an expletive, touched my toes, took a few breaths, and was determined to try again." The judges looked as though they had seen enough, she says, "but I insisted." Suggesting they turn their chairs around, the judges let Wolfe have another go. "I sang again, and I got the part."
Asked whether Biden's presence made her nervous on the day all over again, Wolfe explains, "By the time I heard he was speaker, I was so nervous in general, it didn't make much difference!"
In the end, Biden helped Wolfe relax, and her performance was flawless. "I didn't realize I'd have so much interaction with him. As soon as he shook my hand, it calmed me down."
The take-away? "For me, performing is about proving to yourself that you are capable," Wolfe says. "I'm the first in my family to go to college, so
I always want to throw my hat in the ring. When showtime comes, I give it all I've got. I'm so grateful I didn't let my first attempt to sing the anthem be the end of it."
Lesson 5: There's a reason they call it "practice".
For pianist and Board of Advisors Member Susan K. Reardon L'76, two threads that bind music and law have intertwined throughout her successful career—which culminated in her serving as Director of International Policy, Worldwide Government Affairs, and Policy at Johnson & Johnson—and into her retirement, which came in 2014.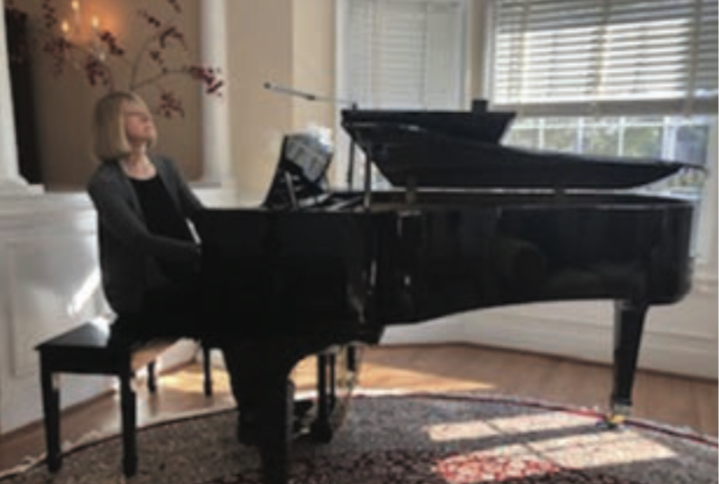 First is the ability of music to balance stress. "Playing piano requires total concentration, so you are immediately removed from daily and global sources of stress," says Reardon, who took lessons in childhood at Baltimore's Peabody Institute of Music and who would sneak into the University's Crouse College piano practice rooms to play as a student. "When I was working, I still managed to set aside most Sunday evenings to play two or three hours with my duet buddy before I delved into what I had to do in the week ahead. That planning was made less stressful with the lingering joy of music making."
Second is performance. Although these days Reardon mostly plays solo or with her duet partner, there was a time when she gigged. "That was many years ago at a Gay 90s bar in Ocean City, MD, as part of a trio with banjo and trumpet. That is the only time I was paid to play. We weren't very good though!"
"Both music and law require, to a degree, showmanship," Reardon continues. "As a lawyer, I brought those skills together to perform for judges, juries, clients, and employers. As a pianist, I perform almost daily, albeit mostly for myself. Music and the law have contributed enormously to my quality of life." Ultimately, Reardon says, both music and law "are characterized by order, discipline, and beautifully crafted language. Learning to read music and learning how to think like a lawyer require training your brain through hard work and concentration."
"Playing piano requires total concentration, so you are immediately removed from daily and global sources of stress."

To an outsider, it might seem odd that lawyers "practice" their profession. Don't you already have a law degree?! But Reardon gets at the heart of why the two disciplines share that word in common, for both require the constant application and exercise of skills and craft built over a lifetime.
Or, as Mike Tsyzko puts it with a drummer's final crescendo: "Law is called a 'practice' because you are improving all the time and working on the fundamentals, working toward more refinement."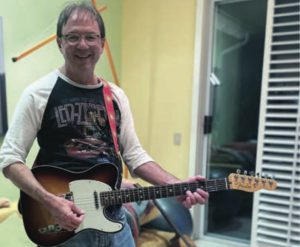 It's said that good things come in threes. That's certainly true of a College of Law tradition remembered fondly by one of its founders, Mark Kompa L'80: the Groundhog Day Chili Festival. A staple of the College's social scene in the late 1970s, Kompa recalls the three elements—music, friends, and food—that served as the festival's inspiration.
First was Kompa's love of music, and in particular the Outlaw Country music made famous by Willie Nelson, Waylon Jennings, Merle Haggard, and Kris Kristofferson in the Seventies. "I've always been a music lover," says Kompa, whose Law Offices of Mark A. Kompa are in Laguna Hills, CA.
A native of "Music City" Nashville, TN, Kompa recalls his first concert was a triple bill featuring Steppenwolf, The Grassroots, and Chairmen of the Board, a combination that could inspire anyone to try their hand at guitar. By the time he was in law school, his taste had turned to country. In particular, it was Willie Nelson's famous Fourth of July Picnic, which began in 1972, that gave him the idea for the College of Law's own music-and- food fest.
The second source of inspiration was Kompa's colleagues. Fellow first-year classmates—Brigid Carroll Anderson L'80, Marguerette Hosbach L'80, Lon Levin L'80, and Eric Smith L'80— helped him run with the idea, with Hosbach providing the venue. "Marg was living in an apartment building at the time that had a large party room," remembers Kompa.
The date of the festival seemed particularly fitting for a gathering of friends. "Around Groundhog Day seemed a good time to hold the festival because everybody was settled in for the spring semester. That was a good time to get together and catch up."
The third element—the food—also came from Nashville. Founded in 1907, Varallo's Chili Parlor and Restaurant is a well-known gastronomic destination that is famous for serving "Chili Three Ways," described as by The Tennessean as "layered combination of spaghetti, tamales, and chili."
"The first year we charged $5 to cover our costs and about 85 people showed up," says Kompa, who served as a "Chili Three Ways"
chef. Music was also provided by Kompa, joined by Levin and Bruce Wood L'80, whom he remembers as "excellent guitarists." They covered songs by The Beatles, Neil Young, and others before inviting classmates up to the front to play.
"The second and third year, even more people showed up," recalls Kompa. "It was a lot of work cooking for that many, but several of my classmates pitched in with the cooking, and it was a lot of fun."
No wonder Kompa has such good memories of his law school days, although the social scene he helped create was by no means the whole story. "Syracuse was a good place to attend law school. I went when a lot of professors—such
as Daan Bravemen and Peter Bell—were just starting. There was a lot of enthusiasm. Syracuse really prepared me for my career."
Although the Groundhog Day Chili Festival may be gone, it is far from forgotten. It was a topic of conversation when the classmates got back together via Zoom for their 40th anniversary at Law Alumni Weekend 2020. And the stirring of those memories—plus thoughts of retirement after 32 years at his own law firm and attending a concert by another music legend, Sir Paul McCartney—have inspired Kompa to pick up his ax again.
"My Christmas present to myself last year was a Fender Telecaster, and I have also bought myself a Martin D28 acoustic guitar," he says. Because they say good things come in threes, perhaps Kompa might be adding something else to his guitar collection soon: a country-style resonator guitar, perhaps, or a McCartney violin bass?!