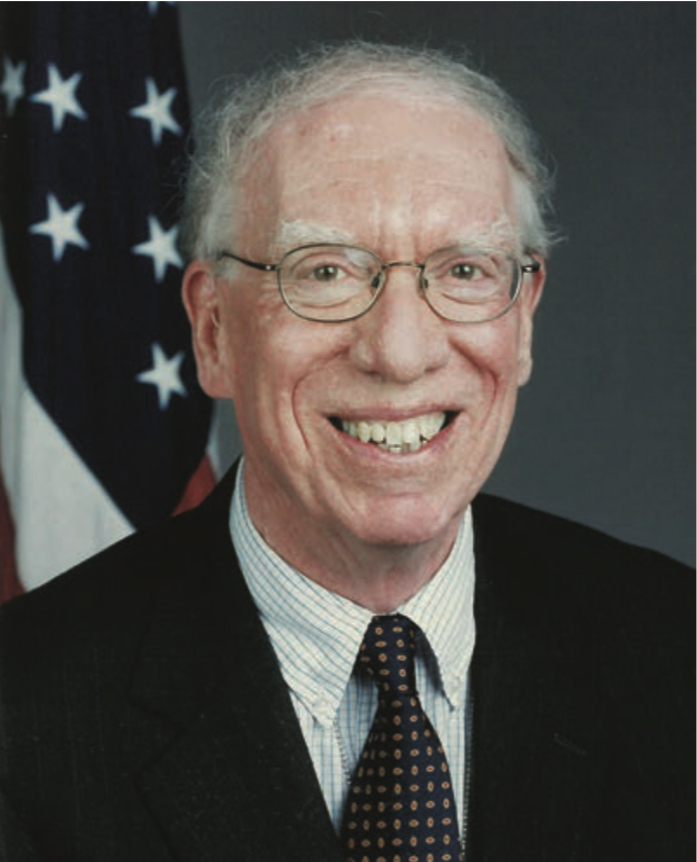 H. Douglas Barclay L'61, of Pulaski, New York, a Syracuse University Life Trustee and former Board Chair whose renowned career in public service included 20 years in the New York State Senate and positions under two U.S. presidents, died March 14 at age 88.
Barclay was elected to the Syracuse University Board of Trustees in 1979 and served as a Voting Trustee until 2007. He held several leadership roles during his time with the Board, including chair of the Board from 1992 to 1998; chair of the Board Investment and Endowment Committee from 1985 to 1992; chair of the $160 Million "Campaign for Syracuse University"; and chair of the search committee for the Chancellor in 1991.
Barclay was also a member of the College of Law Board of Advisors. In 1984, he received the George Arents Award, the University's highest alumni honor.
"Doug was such a force in his professional life of public service, yet he found time to remain connected to his alma mater and serve Syracuse University in many valuable ways," says Board Chair Kathleen Walters '73. "On behalf of the Board, we extend our deepest sympathies and support to Doug's wife, Dee Dee, the entire Barclay family and everyone who knew and loved Doug."
Barclay earned a J.D. from Syracuse University's College of Law in 1961 and a B.A. from Yale University in 1955. He served in the United States Army from 1955 until 1957. He was recognized with honorary degrees from Syracuse University, Clarkson University, the State University of New York at Oswego, Le Moyne College and St. Lawrence University.
Barclay and his wife, Sara "Dee Dee" Seiter Barclay, provided the lead gift for the establishment of the H. Douglas Barclay Law Library in the College of Law. They generously supported other initiatives in the College of Law, the Maxwell School of Citizenship and Public Affairs, Syracuse University Athletics, Syracuse University Libraries and international enrollment.
"A towering figure in local, state and national government, Doug never forgot his Central New York roots," says Chancellor Kent Syverud. "Doug remained a strong advocate of Syracuse University, and we all benefitted from the knowledge and experience he brought to the Board and the generosity he showed to our students."
Barclay was elected to 11 consecutive terms in the New York State Senate from 1965-84. During his tenure, he chaired the Senate Codes Committee, the Senate Judiciary Committee, the Select Task Force on Court Reorganization and the Senate Republican (Majority) Conference.
In 1990, President George H. W. Bush appointed Barclay a public board member of the Overseas Private Investment Corp. He served there until 1993, when his successor was named. In 2002, President George W. Bush appointed Barclay to represent the United States at the inauguration of the president of the Republic of Costa Rica and to serve as a member of the panel of conciliators at the International Center of the Settlement of Investments Disputes. He also served as U.S. ambassador to the Republic of El Salvador from 2003-07.
"Ambassador Barclay was a larger-than- life figure whose distinguished career in public service spanned many years,'' says College of Law Dean Craig M. Boise. "He made many significant contributions to the University, the College of Law, New York state and the nation. The College of Law community extends our deepest condolences to the Barclay family."
Barclay was counsel to, and former partner of, Barclay Damon LLP, Central New York's oldest law firm, with offices throughout New York, Boston, Connecticut, Washington, D.C., and Toronto. He specialized in banking and administration law.
Barclay was chair of the Board of Directors of Douglaston Manor Inc., and owner and operator of Douglaston Salmon Run fishing reserve and Quality Machined Products (QMP), a family-owned and operated machined products company. He was past chair of the Board of Directors of Panthos Corp., QMP Enterprises, Eagle Media and CenterState CEO (formerly the Metropolitan Development Association).
Barclay also chaired the Compensation Committee of KeyCorp, which operates through Key Community Bank and Key Corporate Bank. His previous board service included KeyBank of Central York, Key Trust Company of Florida, Key Financial Services, Key Pacific Bancorp, Empire Airlines, Syracuse China Corp., Giant Portland and Masonry Cement Co., Coradian Corp., Mohawk Airlines, and Excelsior Insurance Co.
A former overseer of the Nelson A. Rockefeller Institute of Government, Barclay was a Fellow of the American Bar Foundation and chair of the Alexis de Tocqueville Society of the United Way of Central New York. He was also the former president (1991-2003), chairman emeritus (2003-present) and member of the Board of Directors of the Syracuse Metropolitan Development Association. Barclay also served on the New York State Economic Development Power Allocation Board, the Board of Directors of Modern Courts, and the Board of the New York Racing Association.
Barclay was a recipient of the Private Sector Initiative Commendation from the President of the United States; the John Jay Education Award from The Commission on Independent Colleges and Universities in New York; and multiple El Salvadorian honors, including the "Noble Amigo de El Salvador" ("Noble Friend of El Salvador") award from that country's legislative assembly in 2006, and the Republic of El Salvador's Award of the Orden Nacional Jose Matias Delgado en el Grado de Gran Cruz de Plata in 2007.
Doug is survived by his wife Dee Dee and their children Kathryn, David, Dorothy Chynoweth G'88 (School of Education), Susan G'91 (School of Education) and William L'95 (College of Law) and 10 grandchildren, including granddaughter Sara Chynoweth '15 (Martin J. Whitman School of Management) and grandson William Chynoweth '18 (College of Arts and Sciences and the Maxwell School of Citizenship and Public Affairs), G'19 (School of Education).