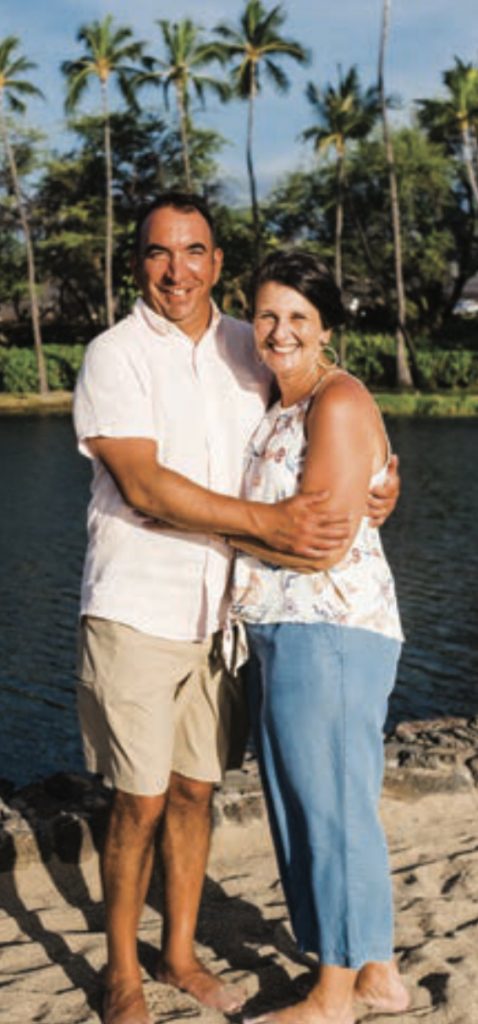 Jay Brown, who grew up in the Pacific Northwest and studied finance and economics at Santa Clara University, combined two desires when he came to Syracuse in 1992: the study of law and the experience of going East. He didn't expect to meet his future wife, Consuela Pinto.
Growing up in North Jersey, Consuela was thrilled to go out of state to Boston University's Questrom School of Business. She always knew her aim was college, as her first-generation Italian parents desperately wanted their children to become either doctors or lawyers.
She was settled and established in Boston, working in human resources for a bank that wanted her to stay after graduation. However, with law school in the back of her mind, Consuela knew if she didn't go right after graduation, she may never go.
In their words, Jay and Consuela's relationship started as a solid, comfortable friendship. Cast together in Professor Richard Ellison's 1L Law Firm section, they ended up in a small study group.
In the second semester, Jay asked Consuela to have dinner at Pastabilities in Armory Square. There, they started a pastime that still holds after 23 years of marriage—debate, or what Consuela calls "ridiculous discussions." That night they deliberated over the existence of New Hampshire's coastline (for the record, the state does have a 13-mile stretch of Atlantic shoreline called the Seacoast Region).
Consuela, who had also graduated with an M.P.A. from the Maxwell School, says, "Jay is very calm and I'm the polar opposite, and if there was a point in my life when I needed an infusion of calmness, it was my time in Syracuse."
After graduation, the couple headed to Washington, DC, where Consuela went to work for the Department of Labor. This was the perfect location for Jay as well, because his focus was antitrust law.
Making their home in Silver Spring, MD, the couple have raised two children. Isabel is in Boston attending Northeastern University, while Matthew is a high school junior studying from home because of the coronavirus pandemic.
Upon leaving the labor department, Consuela, who had been the President of the DC Women's Bar Association, became a shareholder at FortneyScott, a leading management employment law firm. Her focus is Equal Employment Opportunity compliance, with a specialty in government investigations.
Today, Jay is still steeped in business law as Deputy General Counsel at the US Chamber of Commerce. He says 2020 was a busy year for the Chamber with the discovery that going virtual added the benefit of reaching a larger audience. Before the pandemic, he says, they would draw hundreds to an onsite event, now they virtually reach thousands at a time.
Both have been working from home for the past year, which they say has turned out to be great, adding tremendously to family time. Cutting out the commute, they can even have breakfast together; with the bonus of being available for Matthew if he has study questions.
Referring to his career spent in the nation's capital, Jay compliments the College of Law's impact, noting its great alumni network. "Our class had a particularly large group of graduates relocate to DC. Among them are alums who have reached high levels in government agencies, prominent firms, and well-known companies with offices in the capital."