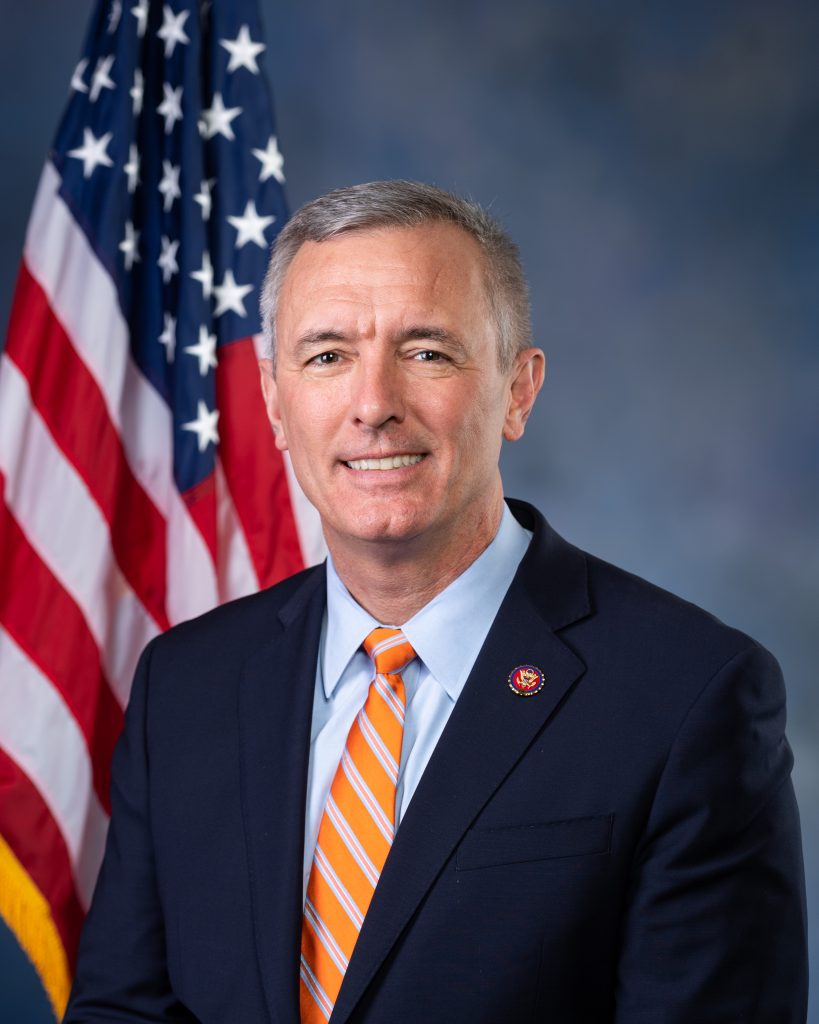 John Katko L'88
Elected for a fourth term in the US House of Representatives in November 2020, Rep. John Katko L'88 serves New York's 24th Congressional District, which includes all of Onondaga, Cayuga, and Wayne counties, as well as the western portion of Oswego County in Central New York.
Currently, Congressman Katko is Ranking Member on the House Committee on Homeland Security—leveraging his years as a federal prosecutor litigating narcotics and gang cases—as well as a member of the House Committee on Transportation and Infrastructure.
Serving as a Congressman is the latest position in a distinguished public service career for the Central New York native. Today, Congressman Katko resides in Camillus with his wife, Robin, a registered nurse, and is the proud father of Sean (currently a second lieutenant in the US Army), Logan, and Liam.
After earning degrees from Niagara University and the College of Law, Congressman Katko began his career at Washington, DC, firm Howrey & Simon. He then worked at the US Securities and Exchange Commission before becoming an Assistant US Attorney for the US Department of Justice, serving as Special Assistant US Attorney in the Eastern District of Virginia and with the DOJ's Criminal Division, Narcotics and Dangerous Drug Section. In this capacity, he served as a Senior Trial Attorney on the US-Mexico border in El Paso, TX, and in San Juan, PR.
"It's clear that the College provided both President Biden and me with a high-quality education that we've relied on for our successes."
Later, Congressman Katko returned to Central New York as a federal organized crime prosecutor in Syracuse for the US Attorney's Office in the Northern District of New York, spearheading high-level narcotics prosecutions.
Throughout his 20 year career as a federal prosecutor, Congressman Katko was repeatedly tapped to train prosecutors in Central and South America, Eastern Europe, and Russia. He also was selected to serve as the only foreign prosecutor to lead an investigation and prosecution of government troops in Albania who shot and killed numerous protestors. He was awarded top prosecutor awards by three different Attorney Generals.
Notably, in the mid-2000s, Congressman Katko led the Syracuse Gang Violence Task Force, which employed the Racketeer Influenced Corrupt Organizations Act, along with other federal statutes, to prosecute gang-related crime in the city. Between 2003 and 2012, the Task Force prosecuted 90 suspected members of six Syracuse street gangs.
While first running for Congress in 2014, Congressman Katko referred to his work breaking up Syracuse gang violence in a Syracuse Post-Standard interview: "If I can get gang bangers to cooperate, I can certainly work with the knuckleheads in Washington and help them straighten things out."
We recently caught up with Congressman Katko to ask him about his service to his community and the nation, how Syracuse Law prepared him for life as a prosecutor and Congressman, and what it takes to lead in Washington, DC, in the midst of a highly partisan atmosphere.
What led you to pursue a law degree at Syracuse Law?
As a student, I quickly developed an interest in public service and found that I enjoyed working on issues that supported my community and our nation. That, combined with the appreciation I always had for Syracuse University growing up, sort of instinctively led me back to the College of Law after my undergraduate degree, and that turned out to be a great decision.

When did you know you wanted to be a federal prosecutor and later seek public office?
I still remember the first time I was at the podium while serving at the US Securities and Exchange Commission and was introduced as "John Katko on behalf of the United States of America." That was the moment where everything clicked for me, and I knew what I wanted to do.

How did Syracuse Law prepare you to become a federal prosecutor?
I remember how fired up I would get for trial practice classes, and how much that feeling stuck with me. Those classes really prepared me to pursue a career as a prosecutor.

Why is public service important to you, and what should the public understand about the role of public servants in a democracy?
As a federal prosecutor, it was drilled into your head to always be non-political and to only look at the facts. Integrity and ethics always came first and foremost, and it was important to remember that I was in that role to seek justice, not just to win cases.
Those principles date back to my earliest classes at Syracuse Law. It was hammered into our heads as students that upholding the law is a tremendous responsibility to be entrusted with, and therefore we have to be as objective as possible in every decision we make.
Now, as a member of Congress, I still make every decision by analyzing the facts and assessing the evidence in front of me. Sometimes, that leads to a choice that's not popular with everyone, but ultimately, I'm here to do what's right.

Many alumni serve the public—from your perspective, is that a coincidence or the result of a Syracuse Law education?
Syracuse provides a lot of opportunities to serve our communities, such as the legal clinics and other chances to deliver pro bono service to give back and make a difference. I learned very quickly that there was a lot of good that someone could do with a law degree, and you could tell the College of Law deliberately worked to instill this lesson in us.
All Syracuse Law students should know that it's a distinct honor to serve the public and to realize our ability to have a positive impact on society. There's no better reward than being able to help people and feel good about the work done along the way.

In your opinion, what makes a good leader? How do these skills relate to your work as a Congressman?
People have to recognize when they don't have all the answers and learn to value other sides of an argument. In Congress, I interact with a lot of different opinions on just about every issue imaginable. Whether I'm listening to constituents or working on a bill with members of Congress representing different districts across the country, I always want to keep an open mind and find ways to make compromises.
I've been fortunate enough to be elected to Washington, DC, and to advocate for policies that help my district. It turns out that writing off half your colleagues as enemies isn't the most effective strategy to get this done, so I've been willing to work with anyone, regardless of party, who shares my concern for an issue.
What are your thoughts on a fellow alum being elected President while you are serving in Congress?
I'm proud of our school. It's clear that the College provided both President Biden and me with a high-quality education that we've relied on for our successes. It's exciting to see that we're just two of the many distinguished alumni who have come out of Syracuse Law, and I hope the school continues the tradition of providing a superb education that helps students do good in the world.

How would you define your legacy in public service?
I'm a normal guy who's been granted some extraordinary responsibilities in my life. I guess I want to be remembered as someone who never let these get to his head and as someone who used his good fortune to give back to the community he grew up in and loved.