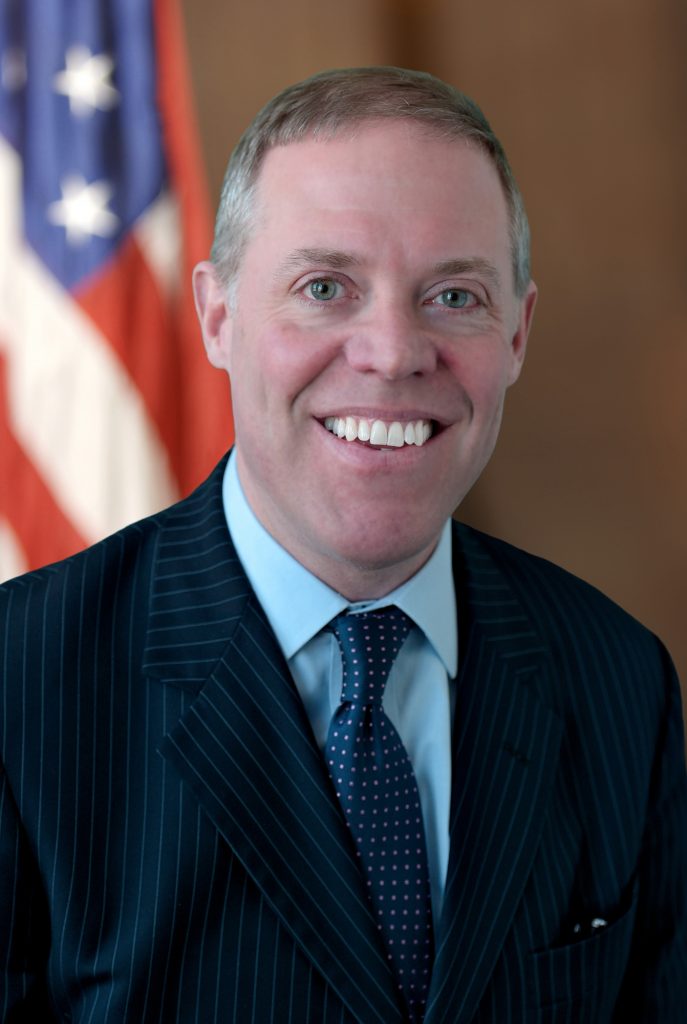 Will Barclay L'95
"Think about it. Nine generations. It's an incredible fact." William A. Barclay L'95, New York State Assemblyman from the 120th District, who currently serves as Assembly Minority Leader, is referring to his deep roots in the small Central New York village of Pulaski, NY. That's where his family settled on a farm in the early 19th century, on the banks of the Salmon River, known worldwide for its excellent fishing.
Today, Leader Barclay and his family—wife Margaret and sons Harry and George—live on that 500-acre farm, as does his mother Sara (known as "Dee Dee"), wife of the late H. Douglas Barclay L'61. A Life Trustee of Syracuse University and a former New York State Senator in Albany, NY (1965-1984), who served as US Ambassador to El Salvador from 2003 to 2006, Ambassador Barclay passed in March 2021 (see the In Memoriam for Ambassador Barclay on page 60).
If there's a thread that connects bucolic Pulaski to Syracuse to Albany to El Salvador, it's the Barclay family's stewardship of the natural beauty and resources that abound on and around their homestead. In recent generations, care for the land has grown into a sense of duty and service for the people and communities who share and depend on those resources.
"We're blessed to have these natural resources," says Leader Barclay. "These are some of the best fisheries in the world. We do our best to protect them, and that really informs how we take care of our property. It's something that's in the blood."
"I've done a lot of things in my life that didn't leave me with a great impression, but that was not my experience at Syracuse Law."
Asked whether stewardship of the land informed his decision to go into public service, Leader Barclay points out that while "people provide for their communities in many ways, be it volunteering at church or for not-for-profits. I naturally enjoy politics, which has given me the ability to be a voice for the community where I grew up, that has shaped so many generations of my family."

Something Deeper
That enjoyment may come from the fact that Leader Barclay—the youngest of five children— had his formative years during the peak of his father's political career.
"I'm the only one of my siblings who became an attorney and went into public service," he explains. "When my older siblings left, I was still with my father. I admired and respected what he did, and that was a big influence on me. I always liked the political side of things, and I would go to events with dad."
But before Leader Barclay followed his father's footsteps to Albany, there was Syracuse University, another enduring family legacy. "I am an Orange fan, so going to Syracuse was an easy decision," he observes. "My dad did have an influence on that decision, but there's also something deeper that runs in my family."
Leader Barclay notes that he has uncles who are Orange alumni, "and my grandfather on my mother's side was a three-sport letterman." Then there are Leader Barclay's sisters— Susan Barclay G'91 and Dorothy Chynoweth G'88—and niece Sara Chynoweth '15 and nephew William Chynoweth '18, G'19.
Of course, many College of Law graduates will know Ambassador Barclay for the White Hall library named in his honor. "It was sometimes tough to be studying in the Barclay Library at 2 a.m.," says Leader Barclay, noting the portrait of his father that hung outside. "I got a little ribbing for that."
A Good Feeling
It's hard to underestimate the influence Ambassador Barclay had on the University. As a Trustee (1979-2007; Chairman, 1992-1998), he chaired the committee that selected Kenneth "Buzz" Shaw as the 10th Chancellor and President, and he was awarded the George Arents Pioneer Medal for Excellence in Law and Public Service in 1984. He also led the University's first major capital campaign, surpassing the initial $100 million goal by $60 million, enabling endowed professorships, merit scholarships, and other expansive academic goals to be realized. Ambassador Barclay also served as a College of Law Board of Advisors member.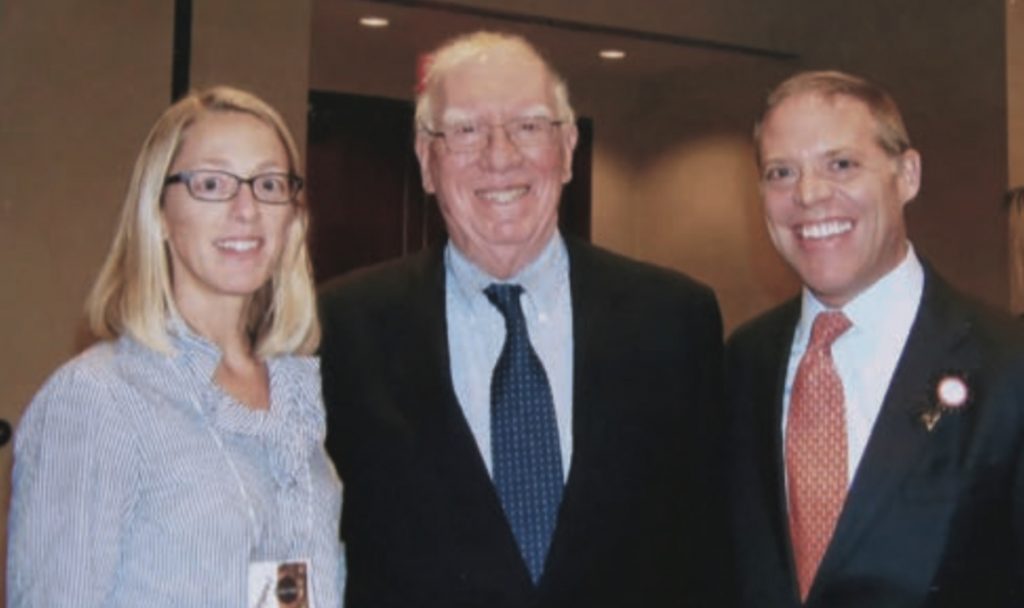 Nevertheless, Leader Barclay admits there was some trepidation when he stepped
on the campus after receiving his undergraduate degree from St. Lawrence University in Canton, NY. "Syracuse University is a much bigger institution, and I didn't know what to expect," he says. "But starting with Dean Michael Hoeflich, I always felt I was part of a community at Syracuse Law, which was a big concern for me coming from a small place like Canton, but I made great friends immediately."
Leader Barclay recalls that in particular professors William C. Banks and Robert Rabin made him feel at home. "I've done a few things in my life that left me feeling unfulfilled, but that was not my experience at Syracuse Law. I made great friends, got a great legal education, and I left law school with a good feeling and an important foundation."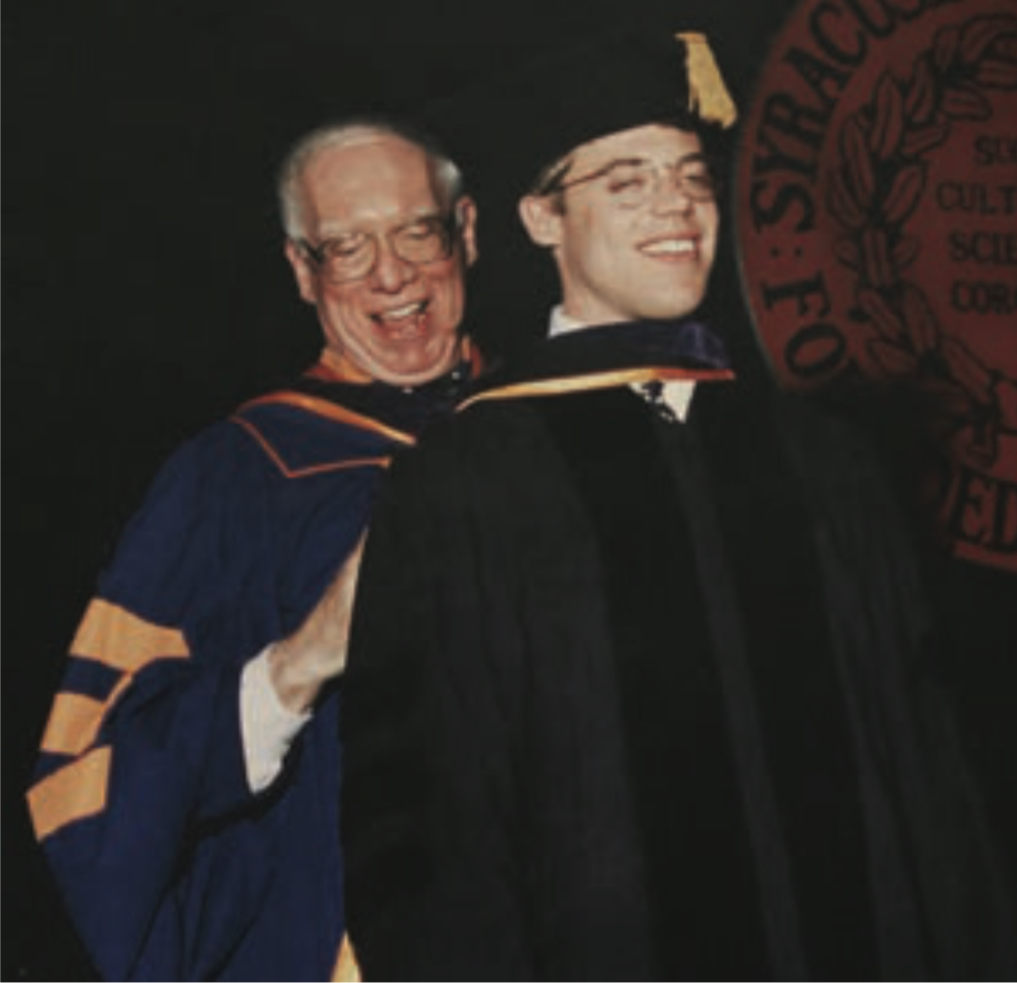 Respect & Compassion
After graduating law school, Leader Barclay served as a clerk for the Hon. Roger J. Miner of the United States Court of Appeals for the Second Circuit, before joining the law firm of Hiscock & Barclay, now Barclay Damon, the firm his father first joined in 1961. Whereas Ambassador Barclay specialized in banking and administrative law, the younger Barclay—now a partner—concentrates his practice on business law with an emphasis on contracts and mergers and acquisitions.
First elected New York's 120th district Assemblyman in 2002, Leader Barclay has risen through the ranks of his Republican conference, taking on a number of key roles. Before being elected Minority Leader by his colleagues in January 2020, he served
as Deputy Minority Leader, Assistant Minority Leader, Chair of the Minority Joint Conference Committee, Vice Chair of the Minority Program Committee, and Ranking Minority Member on the Ways and Means Committee.
Asked what influence his father has had on his leadership style in Albany, Leader Barclay is clear: "I watched how my father would manage and treat people. He always treated them with respect and compassion."
Like his impact on Syracuse University, Ambassador Barclay left an enduring mark across the New York State. In his 19 years in the Senate, he was responsible for more than 500 pieces of legislation, and he served as Chair of the Committee on Judiciary, the Select Task Force on Court Reorganization, and the Senate Republican Majority Conference.
"It's an honor"
Referring to his own ascension in the state capitol and Republican conference, Leader Barclay says he always looks "at where I can be most helpful, and sometimes that means moving up the ladder." He notes his father did the same, especially when the call came from President George W. Bush to represent his nation as Ambassador to El Salvador. "My father loves local and state government, but he also thought he could do something on the national level too."
After his post ended in 2006, Ambassador Barclay turned his attention toward
home and to the Central New York economy. He became President of the Metropolitan Development Association (now the CenterState Corporation for Economic Opportunity) and spearheaded the ambitious Vision2010 regional economic plan.
Ambassador Barclay's collaboration with multiple stakeholders during his time at MDA again left a deep impression on his youngest son. "He'd get really involved, take everyone seriously, and talk to people from the other side of the aisle," recalls Leader Barclay. "He always spoke highly of them, listened to them, and was empathetic toward them. That kind of understanding is a skill."
When asked what drives his passion for public service, Leader Barclay turns again to his abiding love of Central New York and a desire to help its citizens. "Pulaski has given us a lot, and there's something about giving back," he explains. "I'm rewarded by helping constituents because that's one thing you can really do. Anything I can do to help, I'm willing to do it. I don't see it as a burden. It's an honor."
And is the torch of public service being passed to the next generation? Yes, says Leader Barclay. "I want my kids to be happy and to feel as though they are contributing something to their community as my parents have done," he says. "We don't take things for granted. It takes work, effort, and compassion, but it makes me happy. That's why I continue to do it. And I know my father felt the same way."
There's no doubt that tough yet finely honed leadership skills are required for the rough and tumble politics of New York State, yet Assembly Minority Leader Will Barclay L'95 knows that getting things done in Albany means listening, collaboration, and not digging in your heels too hard:
"When I have ideas about what I want our conference to accomplish, I strategize on how to do that, get input from staff and policy experts, and then meet with the conference to go over these strategies and get their perspective. You can find you are not always right, and you must be open to other viewpoints. Sometimes you have to let things go."
"In other words, don't be so rigid that you can't adapt. In my business, if you are too rigid, you will lose the faith of your conference. So try to be flexible and don't take it too personally. If that process means you come out with a better policy, that's good."