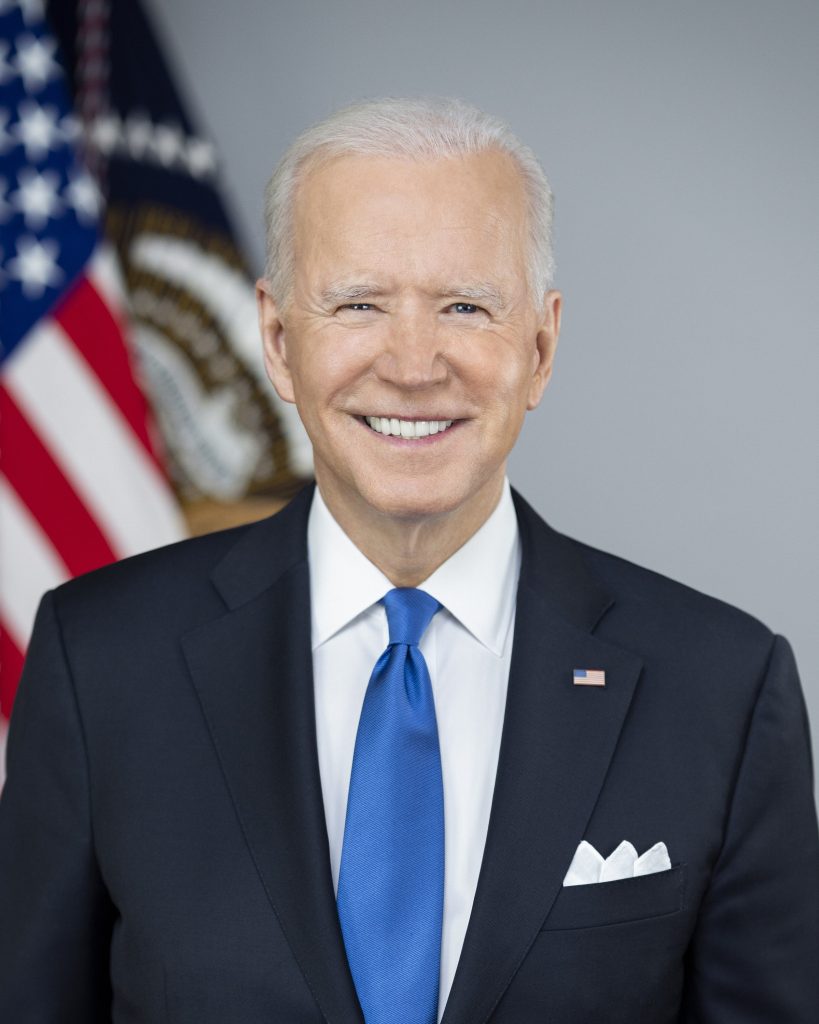 President Joseph R. Biden Jr. L'68
In his final speech before leaving for his Jan. 20, 2021, inauguration in Washington, DC, President Joseph R. Biden Jr. L'68 referenced Syracuse, as he recalled the beginning of his life in public service:
"When I came home after graduating from Delaware and then going on
to law school in Syracuse, I came home after law school to Wilmington, to
our county. And it had gone dark. Dr. [Martin Luther] King was assassinated. Wilmington had been in flames. The National Guard patrolled the streets. That turmoil inspired me to become a public defender: a step I never anticipated would lead me towards this improbable journey" (as quoted in Syracuse Post- Standard, Jan. 19, 2021).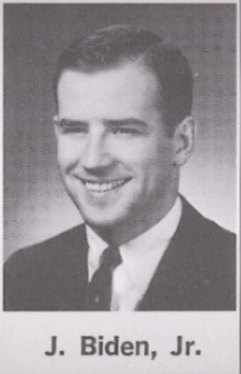 Biden may have called his journey from law student, to public defender, to Delaware councilor, to senator, to vice president, to the first Syracuse alumnus elected to the nation's highest office as "improbable." But to some of those who know him best, the steps President Biden first took in law school always pointed in that direction.
In this article, we deliver a profile on President Biden in the words of his Syracuse friends and professors who taught him or later worked with him, and a new generation of students who are inspired by his story and his service.
Themes emerge through these vignettes, traits that can be seen as touchstones for anyone considering public service in any form, including deep empathy that balances focused ambition, an ethical core that underwrites trust in public institutions, and faith and self-assurance that help to overcome obstacles and, in President Biden's case, multiple tragedies.
Syracuse University and the College of Law are proud to count a President of the United States among our alumni. But public service is no exception among our Orange family. However you serve your community—whether as a volunteer; a public defender; in the military, the judiciary, or public office; or in any other way on the front lines or behind the scenes—we dedicate this profile to you, and we thank you for your service.
"A job is about a lot more than a paycheck. It's about your dignity. It's about respect. It's about your place in your community."
— President Joseph R. Biden Jr. L'68
In Their Words: Classmates and Other Friends
William J. Brodsky L'68
Chairman, Cedar Street Asset Management, LLC; Former Chairman & CEO of Chicago Board Options Exchange (CBOE)
"The only political race I ever lost was to Brodsky," has come up many times.
I didn't know Joe well during my first semester of law school, but I beat him by one vote even though I had never run for Class President before. Later I learned that Joe had held that position all through his high school and college years.
Years later, I held a fundraiser for him in Chicago with high-level executives such as Jamie Dimon, and Joe would publicly announce: "That SOB Brodsky was the only guy who beat me." It was my political claim to fame!
I remember conversing with Joe in the school lounge sometime before graduation. All of us were focused on the bar exam and finding a job. I asked him what his plan was post-graduation and he said, "I'm going into politics." My thought was "that's not a job!" In hindsight, it is clear that he knew exactly what he wanted to do. At that time to me, success meant finding a legal position.
Our lives intertwined in many ways over the years, and that has led to a long, pleasant, and warm relationship. I supported him financially in every election he was in after graduation. Later, two of my sons interned for Joe. My oldest had interned for a member of the House of Representatives. When my son, Michael, and I ran into Joe as we were walking around on the Hill one day, Joe asked who Michael was interning for, and Mike said the congressman's name. Joe then said to me, "Your other two sons, Stephen and Jonathan better work for me!" And they did!
How does it feel now that Joe is president after all the ups and downs he's had, and what does it say about him? Determination, character, kindness, and decency.

Roger Harrison '65, G'68
President, RH Associates
I first met Joe in 1965 while I was a Resident Advisor in my first year of graduate school. Joe was Assistant Resident Advisor to me in Watson Dormitory. We were only a few doors apart. After activities, we'd spend time talking as peers, and we became friends. In fact, I was asked to be an usher at his and Neilia's wedding, and I asked him to be an usher at my wedding.
I knew of Joe's ambition to run for political office early on. In 1972, he had a decision to make: run for governor or the US Senate. The Senate played into his long-term goal.
I joined his '72 campaign as a volunteer, helping with communications and advertising. That period further solidified my relationship with Joe and the Biden family. When he became a senator in January of 1973, I was appointed Administrative Aide (similar to a Deputy Chief of Staff today) for his Washington, DC, office, and I commuted with him to Delaware for a while. When you travel with someone, you get to know them in a way that others don't.
There's consistency in his personality. Joe's the same person in public as in private. He is smart, confident, charming, and opinionated. He stands by his convictions. He's strong in his ambitions, but not arrogant. His confidence was always contagious, without a hint of superiority. His presidency brings attention and pride to the University, and it bucks the Ivy League trend.

Clayton Hale L'68
Partner and Co-General Counsel, Mackenzie Hughes LLP
Joe and I were good friends. We had a lot of fun hanging out together. He's a nice guy. In law school, it was obvious he wanted to get into politics. He had a stutter, so he spent a lot of time talking to high school groups. As a little kid, you might dream about being president, but somewhere along the way that changes, so it's an awesome thought that someone I used to hang out with holds that office.

Jeffrey Harris L'68
Managing Partner, Rubin, Winston, Diercks, Harris & Cooke LLP
I recall being in the White Hall lounge one day and asking Joe what he was going to do after law school. He said, "Go home and be elected to the Senate." That answer stuck with me— it wasn't the answer I expected: we were just looking for jobs and to pass the bar!
As a classmate, he was an affable guy. The same traits you see today were how he was in law school: a regular guy, fun to be with, easy to talk to. He's made for this moment. He has the qualities that are needed, and they are the same ones he had in law school. SU Football Coach Dino Babers has said that Joe Biden being President will make recruiting easier. I hope the law school can be enhanced by his presidency.

Donald T. MacNaughton L'68
Syracuse University Trustee and Member, College of Law Board of Advisors Partner, White & Case LLP (Ret.)
Joe was open, warm, and well-liked. He had no pretensions. That was one of Joe's appeals as a classmate, and it remains so today. He is a natural leader who brings people together. I see him as the quintessential Irish American politician, much like Tip O'Neal. When Joe ran for Class President, he made sure to meet everyone, and he got along with everyone.
Two years out of law school, I ran into Joe at a New York City Bar meeting. He was running for Newcastle County Council. Why? Joe explained that Delaware is a small state and Newcastle County is the premier county, so it would give him statewide recognition for an eventual Senate election. There was an older Republican incumbent in the Senate, and Joe had eyes on taking him on. He wasn't casual about it. He had his eyes on it.
Joe gets things done and brings people together. I'm very proud of him, the law school, and the Class of 1968, which has in it a very impressive group of people who have had terrific careers. Syracuse prepared us well for the future. Plus, I can joke with my old law firm partners that their law schools don't have a United States president!
One dear memory I have of Beau Biden L'94: Joe had given the law school Commencement address in 2006. It was now several years later, and Beau had been invited to give the 2011 Commencement address. I saw him in the old Dean's library practicing his speech. He was nervous. I told him he'd do fine, but Beau said that he knew he was following in his dad's footsteps, and he didn't want to let his dad down.
Beau was a wonderful young man. His speech was terrific and very well received. Syracuse is very proud to have both Joe and Beau as part of the Orange family.
"I'm very proud for the University; having an alum at the highest level will be very good for the law school's future."
— Robert Osgood L'68

Ed Moses L'68
Partner, Mackenzie Hughes LLP
Joe was conscientious. He and I were close in law school. I met him on our first day and asked what he wanted to do with his law degree. Joe's idea was to run for office. His goal was clear: to get into politics in order to help his community.
When he was a 1L, as a Resident Advisor, he was always looking out for the isolated kids. He's a compassionate guy, and he genuinely cared about the well-being of those who didn't seem to fit in easily. He helped them tremendously. His empathy serves him well.

Robert Osgood L'68
Partner, Sullivan & Cromwell LLP (Ret.)
Looking back now on his journey to Washington, DC, Joe's rise in politics seems very natural. He was personable as a student, with a winning personality and the best smile in politics.
He was friends with everyone! In one class, when he was called upon by the professor, the professor said "Mr. Bidden." In 1965, it was gutsy for a first-year, first-semester law student to correct a stern professor in class, even if was over the pronunciation of one's name. It was slightly brash but done with a dazzling smile.
I recall that Joe was co-chair of the students' Speaker's Committee, and he'd look for opportunities to go into the city of Syracuse and speak to people. It was an indicator he'd pursue a political career. He was good at it. His character is not a fabrication, it's real. I've been in the Senate lunchroom with him and seen how he jokes and throws his arm around Republican members as if they were brothers.
I'm very proud for the University; having an alum at the highest level will be very good for the law school's future.
"Syracuse holds a special place in my heart. I made lifelong friends here at the law school, including my best friend Jack Owens, who ended up being my law partner and my brother-in-law."
— President Biden, Congratulations video to the Syracuse University Class of 2021
John T. (Jack) Owens L'68
Former Deputy Attorney General of Pennsylvania
Chairman, Mediguide International LLC
Joe and I spent up to an hour and a half in the locker room talking during our first encounter. We hit it off. I grew up on Long Island and had some interest in politics, but here's some guy from Delaware saying he was going to be a senator. I am often asked if he brought up wanting to be President of the United States. I was expecting it, but he never did bring that up.
Joe may not have been too serious about books in law school but over time, he became a very serious person. He does not get enough credit for how bright he is. The truth is he's very smart and strategic. He's focused on getting things done correctly, and he's a natural-born leader who draws people to him. His son, Beau, was the same way.
His first wife Neilia deserves a lot of credit for helping him pass the Delaware bar on the first try. Delaware was one of the tougher bars at the time, and she helped him prepare for the test. Neilia was a star. Plus, Joe had the boys [Hunter and Beau] to keep him motivated.
After Neilia died, my wife—and Joe's sister—Valerie, became the boys' second mother. When Valerie and I were engaged, we moved in with Joe and the boys, and we lived together for two to three years. During these tough times, not a single cross word was passed between us.

Richard Boddie L'70
Vice President, Coast Community College Association
I remember my Orientation days in 1967. It was crowded in the old building, but I heard what I thought was this Black guy talking. I couldn't wait to meet this brother. It turned out to be Joe Biden holding court in the room. We became close friends. I remember political discussions in the law school, and it would often be me and him "against" 10 classmates. Joe and I were generally the only two or three voices in any debate regarding what is now called "social justice," and know that I am still trying to understand and accept that term.
In law school, I knew Joe would have success in politics. He said even back then he'd be the youngest senator ever. He had name recognition in Delaware because his father had the largest Chevy dealership in the state: Biden Motors. In fact, in my day, the law school parking lot had lots of Chevy Corvettes in it—about 15 to 20 of us had them: we got them at cost through Joe!

The Hon. Joseph E. Fahey L'75
Onondaga County Court (Ret.)
The friendship between Judge Fahey and Joe Biden began back in the 1960s. The pair lived in Syracuse's Strathmore neighborhood, while Joe finished law school and while Judge Fahey was heading into his freshman year at Onondaga Community College.
Joe and his first wife Neilia lived on Stinard Avenue (Neilia taught at the nearby Bellevue School) and I lived on South Geddes Street. He got to know all the guys in the neighborhood. He'd play stick-ball and basketball with us. Anytime the Biden name comes up, we talk about how Joe was my neighbor in law school and what a nice, great guy he is. (As told to the Syracuse Post-Standard, March 23, 2019, and WSYR, Jan. 19, 2021).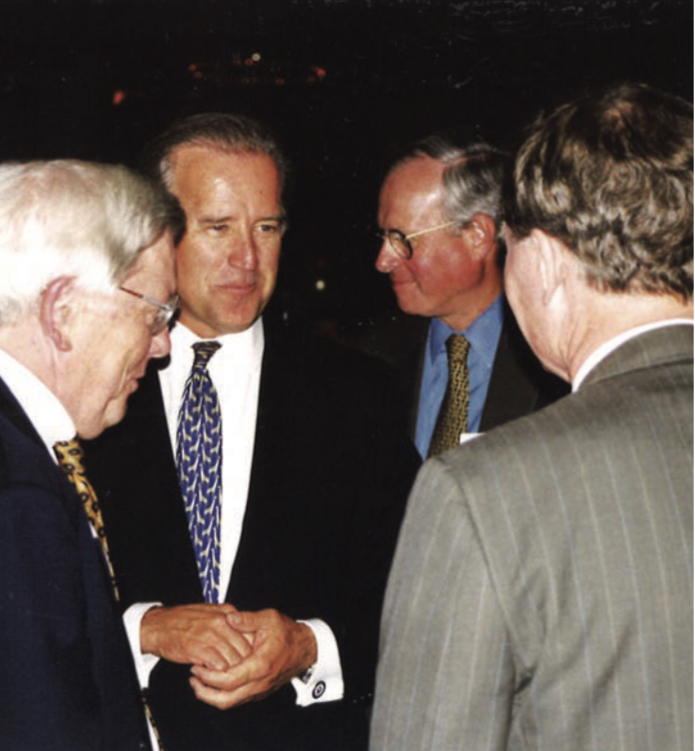 Professor Emeritus Thomas Maroney L'63
I'm very proud of him, and I'm proud for myself, not just because I had a little part in his development. I'm a first- generation Irish American. My parents were Irish immigrants who moved to Syracuse. That Joe Biden—an Irish American like me—is President of the United States makes me deeply proud.
I remember one day after class he came in to have a chat with me. It was a long, interesting talk. I came home and told my wife; this student has a presence. I said he's going to be something one day. I had a good feeling about him. I think he will do what is right. He has experience, he has integrity, and he has compassion. (Quoted in Syracuse Post-Standard, Jan. 20, 2021.)
Robert M. Hallenbeck G'80, L'83
Chair, College of Law Board of Advisors
Becton, Dickinson & Co. (Ret.)
In 2009, when Joe Biden was sworn in as Vice President, I took even greater pride in my degree from the College of Law. Every time I saw the life-sized cutout of him grinning in the Admissions office, I couldn't help but return his smile.
Twelve years later, although few of us have been able to get to campus in a long while, I still smile when I recall that cutout. Along with all of the other Orange alumni, I feel immense pride in the accomplishments of someone who walked the same halls I did.
President Biden's election reinforces the pride I feel in the accomplishments of so many of our amazing fellow alumni. From judges to legislators, from entrepreneurs to corporate executives, from the military to public service, and from firms large and small, the College continues to admit, educate, and graduate individuals who through their time, talent, and treasure have made their communities better places.
Michael Hoeflich
John H. & John M. Kane Distinguished Professor of Law,
University of Kansas School of Law
Dean, Syracuse University College of Law, 1988-1994
I got to know the Bidens when they stayed with me while Beau was a law student and I was Dean. Speaking of Beau, he was my Research Assistant during his 2L and 3L years. There was pressure on him coming from a public family, to be sure.
One memory I have of Joe and his wife, Jill, was of a dinner together at the Brewster Inn in Cazenovia. I had asked the owner to find us an area away from the main dining room, to help avoid the predictable traffic jam. As we walked through the dining room, Joe spent an hour going from table to table since he was so friendly and wanted to connect with people.

"The University, its law school, its public policy school, and all its components, value, inspire, and nurture those who serve the public in all walks of life."
— The Hon. James E. Baker
The Hon. James E. Baker
Director, Institute for Security Policy and Law

One of the things I respect about the University and President Biden is they share a common belief that public service has something to do with serving the public, not oneself. Service is not measured by the attainment of a particular position, but by what you do in the position you attain.
In the case of President Biden, this is reflected in his response to the COVID pandemic. He has mobilized the nation; he has communicated clearly and consistently; and he is relying on fact-based science, public health specialists, and logistics professionals.
I also value and respect all University and College of Law graduates who have gone on to serve the public, whether in the military, Peace Corps, public health work, teaching, or elective office. I respect the College as much for the hundreds of lawyers it has sent into government service as much as I do for the emergence of the 46th President. I do not presume to speak for him, but I suspect President Biden would agree.
The University, its law school, its public policy school, and all its components, value, inspire, and nurture those who serve the public in all walks of life. There is no better academic institution in the world to prepare to do so. And now that Syracuse Law becomes only the fifth law school to graduate a President of the United States and Commander-in- Chief, we have added an exclamation mark to this long tradition.
Professor Emeritus William C. Banks
I first met Joe in 1992, when he came to campus to visit Beau. In 1994, he asked me to serve as Special Counsel to the Senate Judiciary Committee that was considering the nomination of Stephen Breyer to the Supreme Court. Even though Justice Breyer's confirmation was not in doubt, Joe treated the task with the seriousness and dedication that he devotes to all of his public service.
At some point, I either asked him or he volunteered why he was working so hard to learn about Justice Breyer and the issues that he would confront on the Court. He reminded me that he and the Senate need to take the confirmation of justices seriously so as to educate Americans about the role of the Supreme Court. Throughout the process and on the floor of the Senate on the day of confirmation, I could see Joe doing what he does best—providing a basic civics lesson to the American people.
Joe demonstrates a seriousness of purpose; a dedication to our fundamental values of decency, humility, and empathy; and a commitment to make our democracy just a little better.
President Biden's ascension shows that hard work, persistence, and perseverance has its rewards, and that a law student from Syracuse can go toe-to-toe with anyone and come out on top. No one has overcome the tragedies and picked himself up as Joe has. There has never been a more dedicated public servant. All of us can learn from his example.
Ken Knight L'21
President, Student Bar Association, Class of 2021

There have only been 46 presidents, and to have one of them from the College of Law is historic. We must celebrate our victories. Public service has always been a staple of the College. To see this commitment reaffirmed at the highest level is a confirmation for all who are connected to the College.
President Biden also demonstrates that, with public service, there is always more work to be done. There are times when you will be called upon to follow and other times when you will be called upon to lead, but leadership does not outweigh service. Service must be to all the citizens of our country, and I hope to see action that is very intentional and impactful for the communities that have been disparately impacted over countless generations of oppression.
I hope this administration leads us towards equality and beyond performative justice. I am proud to put that challenge in the hands of a College of Law graduate, and I know that greatness awaits all of our graduates.

Troy Parker L'21
President, Class of 2021

When I think that a College of Law alum is President of the United States, I'm inspired and so proud. President Biden's stature highlights the strong academic work we are conducting at Syracuse.
It shows that with drive and passion, the degree we're receiving can make a large impact on people's lives. And it reinforces that a J.D. gives us immense power and privilege, and that we all have a duty to use it for good. It is an honor to share the same alma mater as the President. Hopefully, he isn't the last.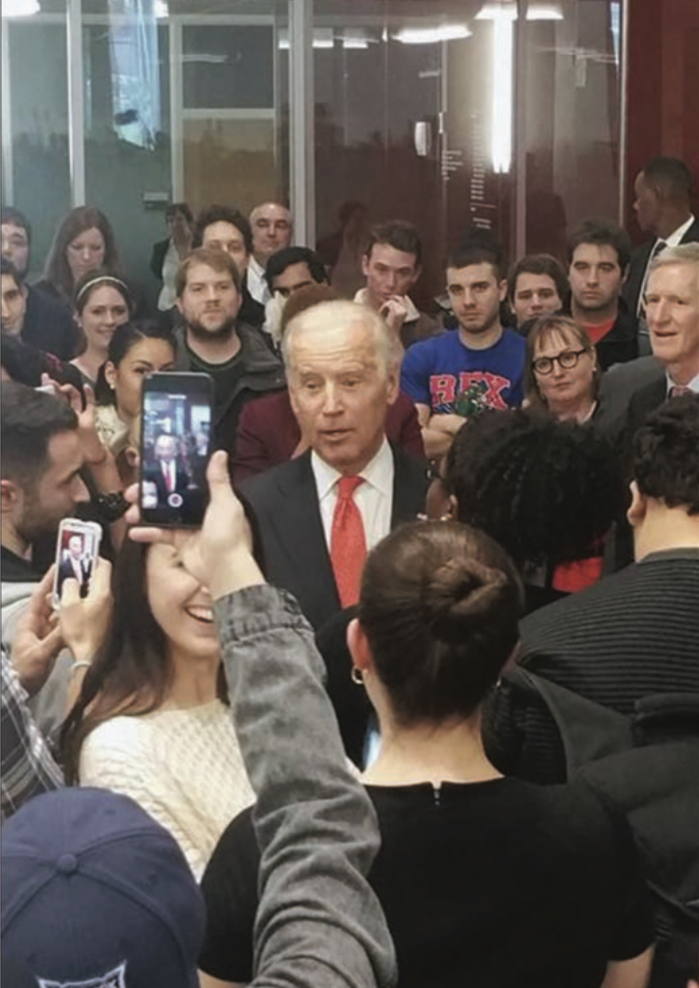 Gabriella Kielbasinski, Class of 2022
President, Class of 2022

President Biden's commitment to public service is evidence of something that is already made clear within the College of Law every day: that its students, past and present, have a regular and renewed commitment to serving the community at large. It is encouraging to think that our College of Law played a role in shaping the President who is to meet this unprecedented moment. It makes you think, for what future moment is my present education preparing me?
"It makes you think, for what future moment is my present education preparing me?"
— Gabriella Kielbasinski, Class of 2022
Kendall Anderson, Class of 2023
President, Class of 2023

We have a vast alumni network, people who are dedicated to serving their communities and their country, and President Biden is one of those alums. Whether it was his defense of public housing in the 70s or his work with President Barack Obama on the Affordable Care Act, he has a desire to defend his community, a desire I feel is shared by many in the College of Law community.
President Biden's election reaffirms my belief that we can do anything we set our minds to. We can be the change we want to see from the world and push it forward. Seeing an alum in this prominent position is nothing short of inspirational.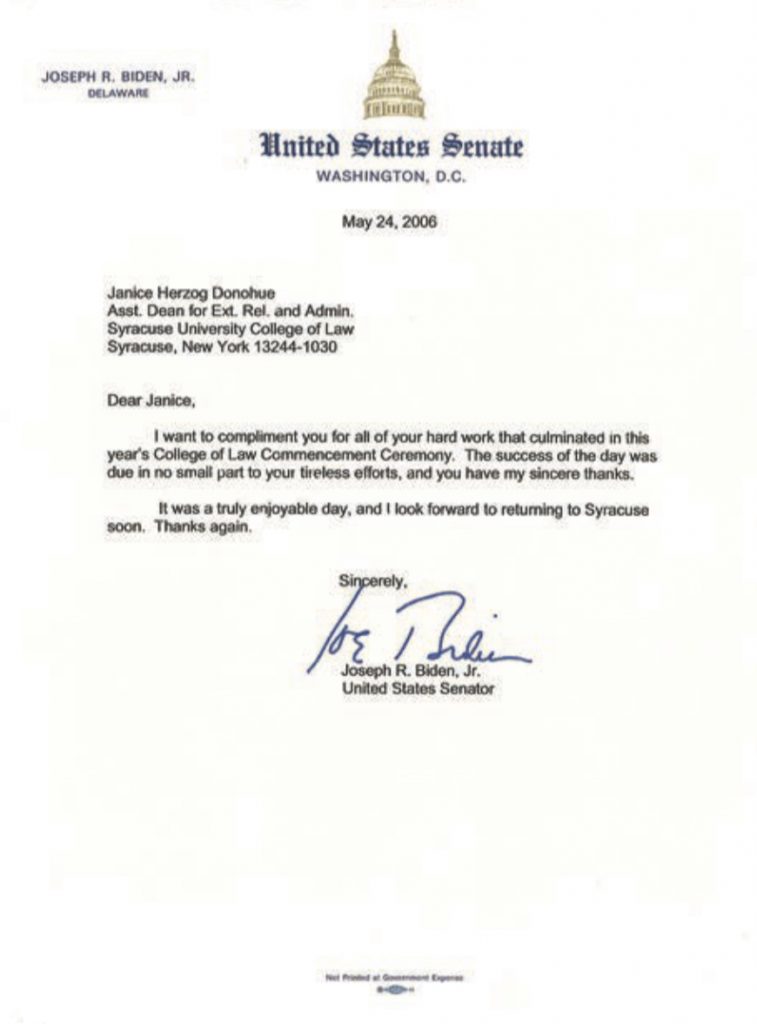 Chancellor Syverud on President Biden
In his address to the Class of 2021, President Biden talked about his love for Syracuse University and his appreciation for the education he received here. I can attest to the truth of these words and the passion with which he lives them. He credits the College of Law with instilling the confidence that launched his life in public service. He also expressed unwavering faith in our students' ability to take their Syracuse education and transform their lives, their communities, and the world.
That faith and optimism are character traits that President Biden has exhibited since he was a young law student. I am struck by how the new generation of law students reflect those characteristics in their comments. Their sense of purpose is infectious and inspiring.
President Biden has talked about his feeling, upon graduating from the College of Law in 1968, that he and his classmates were entering public life at a critical inflection point in our history. He believes this is also true for the present generation of Syracuse University graduates. To declare victory over the coronavirus pandemic, to advance justice and equity for all, and to surmount the global challenges we face will require all the talent, hope, and courage our graduates have to offer. It will take greatness.
As we reflect on an alumnus' ascent to the highest elected office in our land, we can all be proud that Syracuse University produces graduates who rise to the highest levels indeed. We should all stand taller as Orange alumni knowing that leaders and luminaries continue to build their foundation for making an impact here at Syracuse University.
Dean Boise on President Biden
One of the enduring phrases from President Biden's inaugural address is, "We will lead not merely by the example of our power but by the power of our example." Reading their reflections on Biden's presidency, I know that our students have taken this phrase to heart. They recognize and share
his qualities of hope, resilience, and confidence whether or not their politics align with President Biden's. These are traits that those who know President Biden personally recognize as a constant, driving force throughout his life.
Perhaps these shared qualities are driven by a sense of urgency and destiny. Biden himself has drawn parallels between his generation—graduating into the tumult of the late 1960s—and this one: the Boomers and the Zoomers, if you will. Today's graduates are facing, as Biden notes elsewhere in his inaugural address, a "historic moment of crisis and challenge." I have no doubt our students can and will meet these numerous challenges and summon the willpower to turn them into triumph. But they can't do it alone.
Let's not forget the role we must play as alumni and supporters of our great College, the role President Biden remembers his alma mater playing in his journey. Whether it be service to your community, ethical and inclusive leadership, or offering guidance to aspiring lawyers that cultivates them beyond the classroom, our students appreciate and draw strength from what you do.
As we look forward, let's strengthen our resolve to support our students in whatever ways we're able. And like you, they
will not only make us proud of their leadership, they will continue to pay it forward.