September 11, 2001, fell during the first week of high school for John C. Jensen L'12, and the impact on him was profound. The events of that day sparked in Jensen an interest in the law and in international affairs. "I also developed a great respect for firefighters," Jensen remembers. Today an Assistant Attorney General at the Office of the New York State Attorney General, Utica Regional Office, Jensen also volunteers as an Emergency Medical Technician-Basic (EMT-B) and firefighter for the New Hartford, NY Fire Department.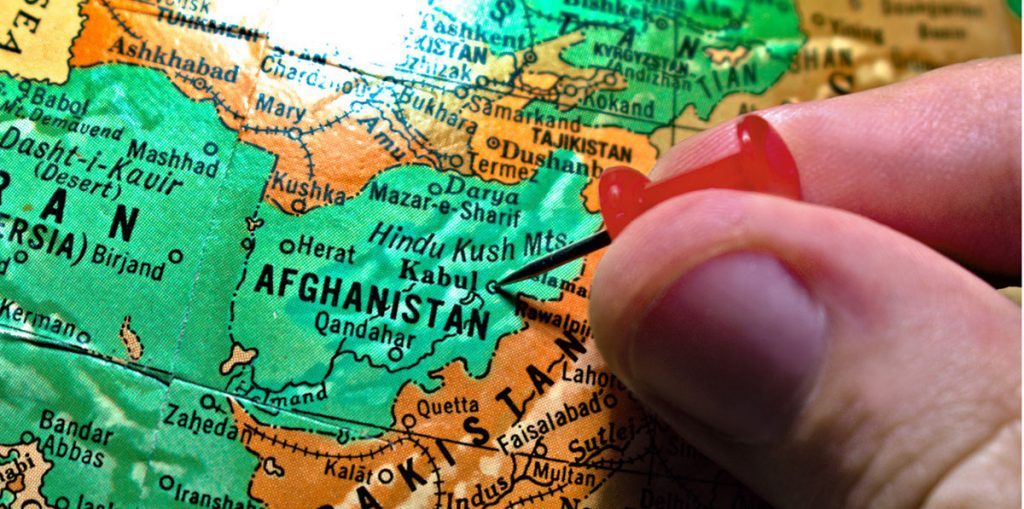 ​It was through this volunteer work that Jensen learned about the plight of an American family desperately trying to flee Afghanistan last August. Using his legal skills and knowledge of international law and bolstered by the aid and assistance of numerous people, most notably his former professor and mentor David M. Crane L'80, Jensen went on to help 16 people—15 Americans and one Afghan national— escape Afghanistan as the U.S. completed its withdrawal from the country.
It started in mid-August 2021, when fellow volunteer firefighter Sean Mahoney shared with Jensen that his friend, Schenectady, N.Y. resident Faziya Namaty had traveled to Afghanistan for a family gathering, and found herself unable to return to the U.S. When the Taliban seized control, Namaty was stuck with her family, unsure if they would be able to fly home. She sent videos of the deteriorating situation on the ground, showing Taliban checkpoints and the chaos near the airport in Kabul. 
"It started with rescuing one person," Jensen remembers. "As more stories of persons left behind emerged, it became a mass effort."
Jensen and Mahoney began working the phones and reaching out for assistance. "I felt like I had a pretty good idea who could help—the roles of the different government agencies," Jensen said. Jensen was grateful for the help and direction they received from the offices of Congressman John Katko L'88 and Senator Kirsten Gillibrand. It was Katko's office that advised Jensen to compile GPS coordinates, passports, and other information about the evacuees, which were obtained via secure messaging apps.
Jensen also connected with other fellow Syracuse Law alums. "I just picked people's brains. These relationships you have built over the years—in classes, the Student Bar Association— they all translate later," he said.
Jensen also got help to arrange the rescue mission from a key group known as "Digital Dunkirk." The volunteer group, largely made up of U.S. veterans and service members, worked to facilitate the evacuations of Americans and Afghan refugees. At one point, Jensen made a cold call to U.S. Central Command, which helped him get in direct contact with those coordinating the evacuations.
Important to the task at hand was Jensen's coursework and experience at Syracuse Law. He took three classes from Professor Crane: National Security Law, Atrocity Law, and International Criminal and Civil Practice and Procedure, and he completed additional courses in the College's Institute for National Security and Counterterrorism (now the Institute for Security Policy and Law).
"Professor Crane's courses provided me with an in-depth knowledge of international law, the law of armed conflict, and importantly the role of various federal and international agencies and NGOs in responding to international disasters, such as the one we experienced with the fall of the Afghan Republic," Jensen said. "They also gave me a clear-eyed appreciation for the risks of leaving people, particularly U.S. persons, behind and the realities of the complex relationships between nations when dealing with humanitarian crises."
During the crisis last August, Jensen felt part of his responsibility was to reassure the families he and Mahoney were working with. "You are limited in what you can do. We just tried to keep them calm." Jensen advocated around the clock for a rescue mission to escort the Americans hiding from the Taliban to the airport. At one point, a military officer they were working with asked Jensen "What agency are you guys with, USAID?" The answer, of course, was "The New Hartford Fire Department."
For Namaty and her family, there was a happy ending. Jensen and his wife, Sarah Murnane Kelly Jensen L'12, were driving with their infant son Colin on the way to Cape Cod when he received a call that Namaty and 15 family members, then trapped in Kabul and Kandahar, would be rescued once those in Kandahar could relocate to Kabul. Under cover of darkness, the Kandahar group made their way to an undisclosed location where they were rescued by the U.S. military. All of them then flew from Kabul to Qatar, and then to Washington, D.C., on August 25.
For Jensen and his friend Mahoney, the work continued. With the assistance of Hale Transportation, a bus company in Clinton, N.Y. that donated a bus, and two volunteers, Namaty's family was driven from the Washington, D.C. airport to the family home in Schenectady. Everyone is doing well now and back to their lives, Jensen reports. He hopes to meet them all in person soon.
Jensen has now turned his attention to the crisis in Ukraine, volunteering with the Global Accountability Network, led by Professor Crane, to document the current war crimes and crimes against humanity taking place in Ukraine.