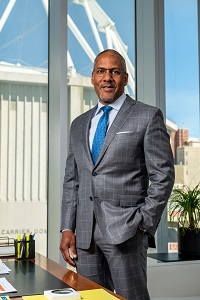 ​A telling theme that runs throughout this year's Stories Book is "family." I invite you to read on to learn about our alumni and their connection to each other as a family and as a community, and to explore with admiration how they are making an impact on the world. Both in professional and private lives, family and community inspire action and drive change.
Most obvious are our family legacy stories. One is an update on the Murphy family and its ongoing relationship with the College of Law that now crosses three generations. Since we first wrote about them in 2018, a third-generation member of the family has graduated from the College, and another is now entering his third year. When we meet up with the Pearce family, we learn that both father and son are celebrating milestone graduation years in 2022 while their forefathers first graduated from the College of Law and Syracuse University more than 100 years ago.
You can feel the impact of world events on families in the story about John Jensen L'12 and how he utilized the skills he learned at the College of Law to selflessly help families escape from Afghanistan in the aftermath of the U.S.'s withdrawal of troops there. Daria Ivasiuk LL.M.'20 shares her journey from Ukraine to Syracuse, and her appreciation for the commitment to diversity she found here.
The practice of law is a team sport, and sports teams are prime examples of individuals coming together as a single unit, or a family, for a common goal. This spring, we continue our examination of how the law intersects with other pursuits and disciplines, in our special feature on Orange athletes. See how their experience as members of an athletic team made them feel part of a broader mission and helped shape their careers and their leadership styles in law practice.
With the gradual relaxing of COVID restrictions over this past academic year, I am reminded every day of the close-knit College of Law family that embraces our students and its importance during their studies. Each of the stories in this magazine illustrates the impact made by generations of the College's dedicated faculty and staff on our alumni.
I hope you enjoy these pages as moments to learn, reminisce, and laugh with fellow alumni. Thank you for sharing your stories and being a part of our Orange family's bright future.
Very truly yours,
Craig M. Boise
Dean and Professor of Law