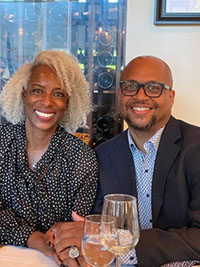 Nichole Thompson L'95 met the man of her dreams at her undergraduate college, Clark Atlanta University, and thought she had to say goodbye to him for three years when she came to Syracuse in 1992 for law school. Little did she know that in 1993 the man of her dreams, Troy Thompson L'96, would follow her to Syracuse and join her at the College of Law.
Growing up in New York City, Nichole knew that she wanted to go to Syracuse for law school, as she wanted to pursue a degree in communications as well. Her initial goal was to enter the field of entertainment law, but she also knew that she wanted to return to Atlanta after law school.
During her undergraduate experience, Nichole was a part of the Divine Nine Panhellenic Council, where she met Troy and the two immediately hit it off. Both held leadership positions and their friendship quickly kindled into a romance.
"There was a spark that just drove me towards his connection because of his intellectual probe and his ability to not just look at me as a beautiful woman, but as a beautiful mind, and we were connected in that space," Nichole says.
After separating post-graduation so Nichole could follow her dreams of pursuing entertainment law, the two talked every night on the phone, with Nichole telling Troy about all of her coursework and exciting College of Law opportunities that she was experiencing.
"He said 'you know what, I think I'm going to apply' and I couldn't believe it," Nichole says. "And low and behold, he joined me the next year as a law student."
In 1994, Nichole and Troy were married and welcomed their first child while still vigorously pursuing their law degrees. Despite the obvious challenges of raising a child while simultaneously seeking a law degree, Nichole and Troy flourished and had what they believe to be their most successful semester.
After graduation, the couple moved back to Atlanta, with three daughters eventually joining their family. Their son is a lieutenant in the Navy, their oldest daughter is an accountant, their middle daughter is finishing her undergraduate experience with the hopes of being a psychiatrist, and their youngest daughter is heading off to high school soon.
Although Nichole expected to pursue entertainment law, she quickly learned that she had a knack for Human Resources (HR). Over the last 25 years, Nichole has worked in an HR capacity at Target and at Union Pacific Railroads, which helped pave the way for other senior-level HR positions. Today Nichole is the Senior Vice President of HR and the Chief People Officer at FLS Transport. Since Troy's time at Clark Atlanta, his passion has always centered around technology. As President of Business Development and Government Relations at Judicial Innovations, Troy can blend his passion for technology and law together.
"I certainly can only speak to what I know and what I know is that Syracuse forged an indelible relationship between my husband and me, and the start of our family," Nichole says. "The fact that we were married there, matriculated through the law school, and then had our first child there, those are memories and those are lasting impressions that are very favorable for us. It delved into a love of the institution that you can't get in any other way."