Lawyers from more than 40 countries have earned their degrees from the College of Law LL.M. program during its 10 years of existence. Seeking to study and further their knowledge in the theory and practice of law in the U.S., LL.M. students are international lawyers who already possess a degree in law from their respective countries. These students come to the U.S. to learn and for a one-year program (or more if they would like to extend), and make the transition to practicing law in the U.S.
One of these students, Daria Ivasiuk LL.M. '20, found her experience at the College of Law to be particularly beneficial in preparing her for future success.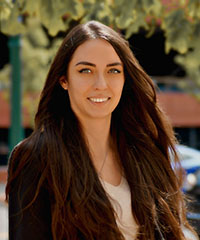 ​Path to America
Ivasiuk is originally from Ukraine. She graduated from Ukrainian University with bachelor's and master's degrees in law. After working in Information Technology (IT) briefly after graduating, Ivasiuk's family decided to move to the U.S. where they had family in the Syracuse area. Relocating to another country introduced a major professional transition for Ivasiuk, and she found herself on the fence about whether she should pursue a career in law or computer science.
Curious about the U.S. legal system, Ivasiuk ultimately chose to pursue law. She was pleased to discover that Syracuse Law offered a one-year LL.M. program that she was eligible to enroll in to practice law in her new home.
"When I was accepted into the program, my happiness was beyond any measure," Ivasiuk explained. "Syracuse Law school is a nice place to study, in all terms, and was very helpful and welcoming to me in my journey. No matter your background, Syracuse will help you pursue your legal dream."
Embracing Diversity
Ivasiuk quickly found that what makes the College of Law unique is how it embraces diversity, helping students of all different backgrounds and nationalities feel welcome and supported. She specifically remembers a meeting of LL.M. students held on the first day of orientation week.
Ivasiuk painted the scene, saying, "when I entered, I saw maybe 30 or more people from all around the world. Each brought their own background, history, cultures, and food preferences—and all were different. I was impressed by this diversity and that Syracuse welcomes everyone. It made me feel that I'm not a stranger here."
The College of Law provides all LL.M. students with peer mentors to ease the transition in the social aspects of law school and living abroad. Embracing cultural differences and learning from each other is a mutually beneficial experience for both the mentors and students. The social aspect of this experience is also key, as students are immersing themselves not only in the study of U.S. law but also in the whole experience of what it means to be a law student in the U.S.
The U.S. Law School Experience
As she began taking courses at the College of Law, Ivasiuk learned how the U.S. legal system and standards differ from that of Ukraine. She recalls the American Legal Systems course taught by Professor Shannon Gardner where she and her fellow classmates learned about constitutional law in the U.S. piece-by-piece, with a focus on the differences between law at the federal and state levels.
Legal Writing for International Students is another course specifically designed for LL.M. students. This course focused on legal research, essential knowledge for all legal careers. Preparing for her legal memorandum assignment, Ivasiuk researched many facts and cases, piecing her case together to articulate her position. These types of legal writing skills have been very helpful to Ivasiuk in providing background and understanding of what her legal career in the U.S. would soon entail.
Keeping classes small and providing access to professors sets LL.M. students up for success, enabling them to have enriching discussions around the subjects that they are seeking to master. "Professor Deborah O'Malley took the time to review every question we had until we had no more," Ivasiuk was happy to find. "It was very helpful to me."
Preparing for the Future
The main takeaway Ivasiuk learned from law school is that you must work for your results.
"You gain determination and become disciplined while at law school, which greatly prepares you to be a hardworking attorney," Ivasiuk said. "I also learned communication skills at Syracuse that I use in my career now, mainly in how to pitch my own ideas."
After graduation from Syracuse, Ivasiuk worked at a six-month internship focused on immigration law and asylum cases at the Law Offices of Jose Perez L'07. That fall, Ivasiuk received the good news that she passed the New York Bar exam. She then accepted an offer to join the Olinsky Law Group, focusing on disability law, and recently transferred to a nonprofit, Hiscock Legal Aid Society, as a staff attorney.
In the Next Five Years…
Ivasiuk's favorite component of her current position is the fact that she can help underrepresented people and those with low incomes.
"I want to serve our community and help as many people as I can," Ivasiuk explained, "because I believe that justice should be provided to everyone. Over the next five years, I want to deepen my knowledge of divorce law and be able to say I am a specialist. I'd like to advise people on every step of their divorce, and to make the process as amicable as possible so people won't be traumatized, especially when there are children involved."