J. David Hammond L'07 and Melissa Swartz L'14
"I kept fighting for the court to do the right thing." The words of a man who spent 16 years in prison and decades professing his innocence. The words of a man who sought help from the Innocence Project, the infamous Johnnie Cochran, and multiple attorneys including one who took his money, all his files and did nothing. The words of a man who finally succeeded in getting his conviction overturned in court because he never gave up, and because of the two tenacious graduates of the College of Law who have made justice causes their life's work.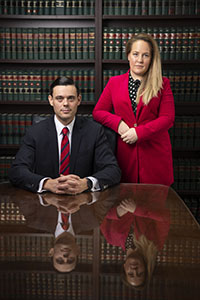 J. David Hammond L'07 and Melissa Swartz L'14 work for different law firms in Syracuse, but they have forged a formidable team in confronting injustice and incompetence in pursuit of what Hammond describes as "meaningful representation" for the client. Last fall, they succeeded in winning exoneration for Anthony Broadwater who was imprisoned in 1983 after being wrongfully convicted of raping Alice Sebold, a Syracuse University student who later detailed the rape in her memoir Lucky. Though released from prison in 1999, Broadwater was further "sentenced" to life as a registered violent sex offender, severely limiting his ability to work and build a future. He waited forty years to be declared a truly free man after Hammond and Swartz produced evidence that led a judge to vacate the conviction.
"No lawyer is perfect. But when you have a case that involves another attorney's mistakes or misconduct, it's vital that you place yourself in the shoes of a client and appreciate what they went through with that lawyer," says Hammond. "The legal concept of 'meaningful representation' defines what a lawyer must do in terms of strategy and diligence in providing assistance to the client. If you are operating in a system that is patently unfair, you can't just go in there kicking and screaming. Coming into a courtroom and expressing outrage is kind of a JV approach to lawyering. You have to know when it's appropriate to challenge the system or just preserve an appellate issue."
And you need to know when to call upon colleagues for specialized help. That's why Hammond contacted his friend Swartz at Cambareri & Brenneck Attorneys at Law and asked her to join him on the Broadwater case after he was approached by a film producer and private investigator who was doing research related to a movie adaptation of Sebold's memoir. The case raised alarming questions about misidentification in a police line-up and microscopic hair analysis that allegedly linked Broadwater to the rape. Hammond knew he would need the help of an attorney who specialized in forensic analysis.
"Melissa is a phenomenal lawyer, and probably among the best in this area," says Hammond. "I've never met any lawyer better in forensics—blood spatter, DNA—she just eats it up! For every case with a forensic aspect, there's nothing better than a lawyer who could moonlight as a forensic expert. Most lawyers can't do that. And it's good to have a teammate to plan with."
Hammond says his methodical approach to developing and presenting a case was forged by his experiences in law school, followed by nearly ten years of military service. "Law school essentially reprograms your brain to think in a different way. Through the process of a good legal education, you can look at things less subjectively. It also takes tremendous self-discipline, and that was really strengthened for me during my time in the military."
Hammond served in the military first as a Judge Advocate in the U.S. Army, prosecuting court-martial cases, and conducting training on the military justice system for the Army's police academy. Eventually, he became a Battalion Judge Advocate for the Airborne Special Forces at Joint Base Lewis-McChord (WA) where he served as the primary legal advisor to all levels of command on military justice, operational law, international law, domestic and foreign policy, fiscal law, administrative law, and legal assistance. He provided training to service members in the Law of Armed Conflict (LOAC) and Rules of Engagement (ROE). He finished his military career on the defense side, representing soldiers convicted at courts-martial on appeal before the U.S. Army Court of Criminal Appeals and the U.S. Court of Appeals for the Armed Forces.
"As a military officer you're programmed to think strategically: every action has a consequence which produces another consequence, and so on. Whether you're in a courtroom or preparing for the appellate argument, you have to plan for those third and fourth order effects," says Hammond. "There's an amazing quote attributed to former President Dwight D. Eisenhower when he was overall Commander of the Allied Forces in World War II. He famously said, 'Plans are useless, but planning is indispensable.' In my view, it's also the lawyer's motto. There are lawyers who wing it and take things as they come, and they usually aren't the best. It's that methodical approach to every case that sets lawyers apart, and I think that's what law school begins to teach and the military reinforced for me."
The practice of law demands the same kind of discipline and focus that Hammond employed in military service. "I've dealt with the stress of military leaders relying on me for split-second decisions: Can I drop this munition on this target? If you can learn to deal with that sort of scenario, there aren't a lot of situations in the civilian legal world that can shake you up. It's about planning within the bounds of the law and ethical considerations. You have to continually ask yourself 'What's your desired end state and what plans can be put into place to achieve that desired end state?' Thinking through all the possible courses of action. It's the process that allows you to come as close to perfection as possible, to apply a method to the madness."
Hammond now works for Syracuse-based CDH Law, a veteran-owned legal defense firm, which states on its website: "We achieve results because we are disciplined. Our military, police, and prosecutorial backgrounds forged unmatched self-discipline into our character." Certainly, that disciplined process has defined Hammond's career and continues to impact the cases he takes on. He served as the only military-appointed lawyer on Chelsea Manning's appeal, following her conviction and court-martial for leaking classified information (Manning was granted clemency in 2017 by President Barack Obama and her appeal continued for several years after). Manning's trial record consisted of nearly 50,000 pages, one of the largest files in military history.
Hammond defines the Manning case as another "justice cause" involving government overreach and an unjust sentence by the court.
"Even though I am methodical and strategic in my approach, these justice cases also involve a personal element," says Hammond. "I can't help but become personally invested in the outcome. A lot of people get jaded and keep their personal feelings out of the equation. But it should matter to you."
Swartz agrees that justice cases demand discipline and passion for the law and the client. "To be an effective attorney you really need to know your area of practice. You don't just dabble, especially in criminal law, where lives hang in the balance," says Swartz. "You can be a great orator, but that's not enough." In the Broadwater case, Swartz says her years of working "on the other side" in the Onondaga County district attorney's office honed her appreciation for forensic evidence (or the lack thereof). The Broadwater conviction, largely based on microscopic hair analysis that has proven to be suspect, represented prosecutorial misconduct in her view.
"The system didn't work for Anthony Broadwater," says Swartz. "I've never had a case keep me up at night, until this one. The idea is that he lost 40 years of his life. I want to do everything I can so that he is able to move forward." She and Hammond are part of the legal team that recently filed a lawsuit in the New York State Court of Claims, working toward getting the state to compensate Broadwater for the years of life lost to the unjust conviction. "In law school, they teach you about making people whole again," says Swartz. "In reality, in cases like this one, you can never really achieve wholeness. We will fight the state of New York and pursue other avenues for relief, so he can be financially compensated."
Swartz's passion for justice and criminal law developed long before law school. "I was in fourth grade when my math teacher allowed us to watch the OJ Simpson trial on television. It was obviously completely inappropriate," she recalls. "I remember coming home one day and telling my parents I wanted to be Johnnie Cochran." The irony of that is not lost on Swartz, given that Cochran turned down a request by Broadwater to take up his case.
Swartz grew up with what she terms an obsession with the criminal mind. "One of my beloved books was Helter Skelter," she says. She approached law school with that same obsession, tailoring her courses to her passion. "I didn't take a lot of bar courses to get ready for the bar, I didn't care about law review or moot court. I took a seminar on the death penalty because I knew exactly what I wanted to do." Most valuable to her were the experiences she gained externing in the district attorney's office and the classes taught by working attorneys. "One of my bosses now, Steve Cambareri L'89, was my trial practice professor. I remember him telling me that I was sometimes dangerously close to being overly dramatic. And I was over the top. I've toned myself down," she adds with a laugh.
Swartz still loves legal drama, real and fictional. With both sincerity and humor, she easily shares a long-time dream—to play a character in a two-part episodic Law & Order, starting off as the victim who eventually unveils herself as the murderous perpetrator of the crime. Art imitating life? Life imitating art? The fact is, Swartz loves and lives her work.
"To be good at what you do, you need to love what you do," says Swartz. "To be effective at it, you need to love your area of practice. I'm obsessed with it."
Swartz says she and Hammond make a good pair because they are similarly passionate about criminal defense, and similarly hard-working, but bring very different viewpoints to each case. They argue. They debate. They trust each other. And, ultimately, they give to each client the best possible representation.
"We treat every case and every client as if it's the case or the client of the century," says Hammond. Because it just might be.