When speaking with the Murphy family, one can't help but notice their shared love of family and the city of Syracuse. Although each family member has a unique personality, the interest in law is a strong recurring gene. Every Murphy who has gone to law school has chosen the College of Law at Syracuse.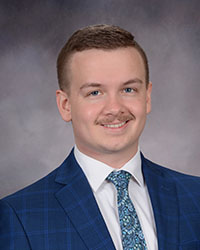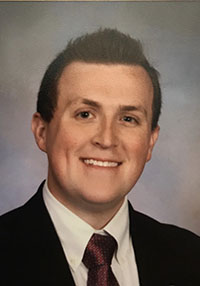 ​The legacy started with Hon. Thomas J. Murphy L'54, and three of his sons who followed his footsteps and share a deep pride in continuing his legacy in law and at Syracuse. Now, the story continues with the family's Class of 2021 graduate of the College, a current student at the College, and potential future applicants, too.
The Hon. James (Jim) Murphy L'84 said his mentor has been his father. They've followed similar paths towards the bench, Jim now serving as Chief Administrative Judge for New York's 5th District.
Jim and his brothers, Timothy (Tim) P. Murphy L'89, Managing Partner at Hancock Estabrook, and Martin (Marty) Murphy L'86, now retired after 34 years at the Onondaga County Attorney's office, see and experience law as an opportunity to help people and make a difference. They all agree that if a family member expresses interest in law, they encourage them to explore it, but don't pressure them.
Timothy (Tim Jr.) Murphy Jr. L'21 is part of the third generation of Murphys to graduate from College. He became interested in law after he took a pre-law course in college and loved it. "That's what got me more interested, and then I started approaching my dad, and asking him more about his career and law school. The spark was ignited in college, but my dad was there to help my exploration, and answer questions," he said.
Although they could go anywhere, Syracuse is home to the Murphys. Tim Jr. and Daniel (Dan) M. McGarvey L'23, a nephew of the Murphy brothers, and son of their sister, say the proximity to family influenced their decision to pick the College of Law. Dan said the family's connection to the College also factored into his decision, as it's special to him, and he's honored to be a part of the legacy.
When asked why they think their family continues to choose Syracuse Law, Jim says that it may be because he speaks highly of it and that his brothers have also had positive experiences. Tim emphasizes that the College offers great opportunities to get hands-on experiences. For Marty, the academic preparation he received at the College made all the difference; he described it as the foundation of his career. He's also advised his nephews to get as much practical experience as possible, recalling that an internship led him to his 34-year-long career at the County Attorney's office. Similarly, for Tim Jr., it was his externship that placed him in his current job with the Department of Commerce.
"I think our children see a lot of people happy with the career they chose, and it kind of rubs off on you in a funny way," Marty said.
The Love of Family, First
As he grew up, Tim Jr. saw his predecessors' successes and satisfaction with their legal careers, but he also observed how much they value their Murphy family. "I got to see the part that really mattered for all of them, which wasn't the career itself, but what they came home to at the end of the day," he said. "It's great to have a career you love, but I've always appreciated that each of them also placed so much value on their family lives, and I'm a product of being raised with that love and care."
For Jim, thinking back on his trial lawyer days, the importance of family was still relevant in the courtroom. When convincing a jury, Jim said he imagined them as family members. "I'm from a big family, so to me, it was always about convincing all my aunts and uncles that we're right," he said. "Believe me, families argue about everything, so if you can carry the day with your family, you're probably a pretty good trial lawyer," he joked.
Thinking of his father's legacy, Jim appreciates the reputation he set for his family. "I like to think that I could build on that as having a reputation of being fair, open-minded, and prepared," said Jim. For his nephews, "I hope that I give them the same thing my dad gave me, which is a good reputation in the legal community."
Tim echoed his brother's sentiments, sharing that he's proud his family has continued his father's career. "He was the first person in my family to become a lawyer, and now we're onto the third generation," Tim said. Proud of all of his three children, he thinks law was the suitable choice for Tim Jr., as it matches his strengths in reading and writing, and feeds his intellectual curiosity.
The Third Generation
In the span of 70 years, each generation has received the same excellent education, but in different classrooms. "My father told us he went to law school in downtown Syracuse, and when I went it was next to the Carrier Dome," said Marty. "Now, my nephews are going to the law school down the hill a little bit, across from the Stadium. It's interesting and amazing that each generation attended the same law school, in three different locations."
For the younger Murphys, they're honored to continue and be a part of their family's legacy, which they highly value. "There's some responsibility in that, but it's absolutely special, and it is definitely something that I'm keenly aware of every day," Dan said.
"I acknowledge how privileged I am to have had two generations before me who had gone to law school," Tim Jr. said. "It's something I've never taken for granted or taken lightly because it is such a massive privilege, and I do appreciate that."
Marty echoed feeling proud of his family's legacy, and of his nephews who continue it.
The Dinner Table Conversation Continues
Law is still a hot topic at the Murphy family dinner table, but a few members' roles in the conversations have changed. As a law student, Dan's questions have changed from general questions about the law to specific advice seeking.
"Everybody needs help every now and again, and I'm so lucky to have such willing people there to ask," Dan said.
Tim Jr. is also grateful for the advice his father and other members have given him. "I've had no shortage of people who could offer me advice. I always listened to what they said," he said.
For Jim, it feels like he was sitting in his nephew's spot not too long ago. Seeing young lawyers like them enter the field makes him feel better about the profession. "I think very highly of them," he said. "Watching them grow up and hone their skills, I think they will do well. I have no doubt."
Although nothing is for certain, most of the Murphys admitted they wouldn't be surprised if a few more family members soon joined the legacy.