College of Law Holds Commencement for Class of 2022
On Friday, May 6, Syracuse University College of Law held Commencement for its 199 J.D. and 33 LL.M. graduates. The event, the first in-person Commencement since 2019, featured the first graduating class of JDi students. Luke Cooper L'01 CEO of Latimer Ventures, Partner at Preface Ventures, and 2022 Visiting Scholar at the University of Maryland Baltimore was the Commencement speaker.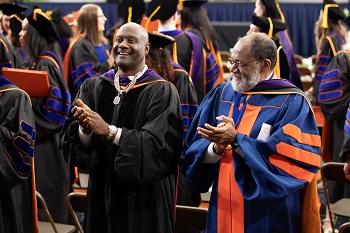 Syracuse University Chancellor Kent Syverud provided remarks and announced the Hon. Theodore A. McKee L'75 Endowed Law Scholarship, thanks to the generosity of Board of Advisors Member Richard M. Alexander L'82, Chairman of Arnold & Porter, and his wife Emily. The scholarship will provide Syracuse Law students with the education and cultural context to enable them to carry forward the legacy of Judge McKee, who has served on the United States Court of Appeals for the Third Circuit for 27 years.
Professor Todd Berger received this year's Res Ipsa Loquitur Award, given to a faculty member for "service, scholarship, and stewardship" to the students. Professor Richard Risman was voted by the LL.M. Class of 2022 as the recipient of the Lucet Lex Mundum Award, for his significant impact on the successes and experiences of the LL.M. students during their studies.
In his remarks to graduates, Cooper emphasized the importance of always embracing the most authentic pieces of ourselves and broadcasting how these strengths can play to our advantage in overcoming challenges. Reflecting on his personal journey, he also encouraged students to find their purpose and to find the "mud" that's beneath and around all of us, and to ask themselves how they will help clear the mud and bring about a more inclusive world. "A great orator once asked, what's most important… the flower… or the ground that grows it? In order for the flower to fully blossom and mature it must traverse a muddy path slowly, and with intention, bending it toward the light. That muddy path contains the secrets to its beauty… the secrets to its magic."
Syracuse Law Graduates Inaugural Class of Ground-breaking Online JD Program
On May 6, 2022, students in the inaugural class of Syracuse University College of Law's first-of-its-kind JDinteractive (JDi) program graduated alongside their peers in the College's residential JD program. This fully ABA-accredited program is the first in the nation to combine live online class sessions with self-paced class sessions. Its innovative design served as a model for other law schools pivoting to online education amid the pandemic.
The members of the inaugural class, which comprised 45 of the 199 College of Law's JD recipients this year, distinguished themselves in their legal studies. Many are graduating with honors and were active in extracurricular activities and pro bono work. Twelve served on the Syracuse Law Review or other journals, many participated in the Student Bar Association and other student organizations, and some started new student organizations.
"I'm extraordinarily proud of all our 2022 graduates, but I'm particularly pleased to see our inaugural JDi cohort earn their law degrees," says Dean Craig Boise. "From across the country and around the world, they have studied with us year-round for more than three years, while balancing full-time work and family obligations. They are incredibly talented and motivated, and we're honored to count them among our Syracuse Law alumni family."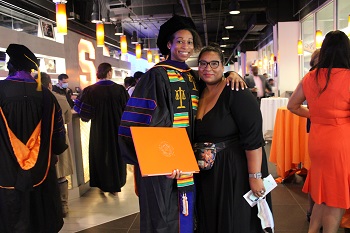 Consistent with the program's goals of increasing access to legal education, the JDi graduates are a diverse group:
They hail from 25 different states, including Hawaii and Alaska, and have taken classes while living in multiple countries, including Germany, the Netherlands, and Japan.
Eleven are members of the military or military-affiliated, including high-ranking, retired veterans and spouses of active-duty military personnel based in Germany and New Mexico.
30% are students of color.
Their median age is 35.
"These students are the embodiment of the goal at the core of JDi: to expand access to legal education and the legal profession," says Professor Shannon Gardner, Associate Dean for Online Education. "Without this program, this diverse group of talented, accomplished, and ambitious grads would not have been able to pursue their aspirations of becoming lawyers."
"Designing JDi required us to rethink how we deliver education and gave us the opportunity to take the best of what we do in our residential program and translate it into the online space," says Professor Nina Kohn, Faculty Director of Online Education, who led the design and launch of JDi. "We could not be prouder of these students for their achievements here. Their success shows that—with careful planning and an insistence on always putting student learning first—we can deliver a high-quality legal education to students no matter where they may be located."
College of Law Adds Five New Board of Advisors Members
This year, the College of Law has appointed five new Board of Advisors members: Peter Carmen L'91; Prashanth (PJ) Jayachandran G'98 L'98; Terence Lau L' 98; Benita Miller L'96, and David Wales L'95. These appointments reflect the heft of the College of Law's alumni and underscore the College's commitment to project on its board the diverse talent and leadership represented by its alumni community.
Peter Carmen
Chief Operating Officer, Oneida Indian Nation and its enterprises
In this role, Carmen works closely with Oneida Indian Nation leadership to oversee the daily operations and administration for Oneida Nation Enterprises LLC, which includes Turning Stone Resort Casino, YBR Casino & Sports Book, Point Place Casino, Oneida Innovations Group, The Lake House at Sylvan Beach, The Cove at Sylvan Beach, SavOn Stores, Maple Leaf Markets, The Preserve hunting grounds, Salmon Acres fishing lodge, five golf courses, three marinas, two spas, and dozens of restaurants. His role also includes oversight of Oneida's administration, including Legal, Finance, IT, Human Resources, Governmental Affairs, Security, Marketing, and Supply Chain, and he works with the Oneida leadership in overseeing the Oneida Indian Nation Police Department.
Prashanth (PJ) Jayachandran
Chief Supply Chain Counsel for Colgate-Palmolive Company
As lead counsel for the Global Supply Chain, Jayachandran oversees global commercial contracting, labor relations, and legal issues related to logistics, transportation, trade, manufacturing, and product distribution. Jayachandran also addresses key global policy issues related to human rights, environmental impact, and sustainability. In his prior roles for Colgate, Jayachandran served as Chief Human Resources and Benefits Counsel, and Division General Counsel for Colgate Asia.
Jayachandran serves as Distinguished Lecturer for the College of Law's JDinteractive program, teaching a course related to corporate sustainability ("The Corporate Lawyer in a Sustainable World").
Terence Lau
Dean, College of Business at California State University, Chico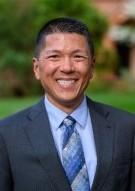 For the past four years, Lau has been Dean of the College of Business at California State University, Chico. Previously, Lau held several senior academic leadership positions at the University of Dayton School of Business Administration, including as Executive Director of Academic and Corporate Relations, at the University of Dayton China Institute; Associate Dean of Undergraduate Program; Department Chair, Department of Management and Marketing; Director, International Business Program; and Professor of Business Law.
Lau was also a U.S. Supreme Court Fellow, assigned to the Office of the Administrative Assistant to the Chief Justice, which aids the Chief Justice in his administrative, policy, and ceremonial responsibilities, among other tasks. Prior to his Fellowship, Lau was an attorney in Ford Motor Company's International Practice Group
and served as director of Ford's Association of Southeast Asian Nations (ASEAN) Governmental Affairs.
Benita Miller
Executive Director, Powerful Families Powerful Communities; and Executive on Loan, State of New Jersey Department of Children and Families
Miller is currently the Executive Director of Powerful Families Powerful Communities and an Executive on Loan to the State of New Jersey Department of Children and Families overseeing a five-year demonstration project created to re-imagine New Jersey's child welfare system through a human-centered design process that leverages the voice of community members as co-designers. She previously served as the President and CEO of Children's Aid and Family Services in New Jersey. Prior to her work in New Jersey, Miller served as the Executive Director of Brooklyn Kindergarten Society where she expanded the agency's early childhood education footprint from five to seven centers as well as built the first sensory gym co-located in New York City Housing Authority development.
David Wales
Partner, Antitrust/Competition, Skadden, Arps, Slate, Meagher & Flom LLP's Washington, D.C. office
Wales is recognized as a leading antitrust lawyer and has over 25 years of experience in both the private and public sectors. His practice focuses on providing antitrust advice to U.S. and international clients in a wide range of industries on all aspects of antitrust, including mergers and acquisitions, alliances, criminal grand jury investigations, dominant firm conduct, distribution arrangements, licensing, and competitor collaborations.
"The College of Law benefits greatly from our dynamic, engaged Advisors who provide essential guidance in support of our mission and our students," says Dean Craig Boise. "Peter, PJ, Terence, Benita, and David bring varied backgrounds, perspectives, and experiences to our distinguished Board. I look forward to working with them closely as we continue to advance our mission and prepare our students for their careers in law."
"Law schools must anticipate and respond to a rapidly changing legal profession, with innovative educational offerings and opportunities for students," said Board of Advisors Chair Robert M. Hallenbeck L'83. "These four highly regarded lawyers and community leaders will help provide insight into the future of the profession that will ensure that the College of Law is well-positioned to meet the needs of our students and build a bench of influential and practice-ready Orange lawyers."
The Cold Case Justice Initiative Announces the Second Annual Wharlest And Exerlena Jackson Legacy Project Interactive Program
The Wharlest and Exerlena Jackson Legacy Project and the College's Cold Case Justice Initiative (CCJI) hosted the second annual Program on April 1 and 2, 2022 in honor of the memory of Wharlest and Exerlena Jackson for their major contributions and sacrifices to the cause of racial justice, civil rights, voting rights, and full civic engagement
This year's program theme was: Honor Their Memories. Continue Their Legacy. The second annual program of the Wharlest and Exerlena Jackson Project was designed to recognize the sacrifices of the Jacksons for civil rights, to provide information and resources for students to achieve their aspirations and goals, and to continue the Jacksons' legacy for racial and social justice.
The program featured a keynote presentation by Brad Lichtenstein and Yoruba Richen, directors of the PBS Frontline documentary, "American Reckoning," about the lives of Wharlest and Exerlena Jackson, and the Black community's resistance to racial injustice. There were remarks by Jackson family members, including Denise Jackson Ford and Wharlest Jackson, Jr., CCJI Director Professor Paula C. Johnson, and law students in the Cold Case Justice Initiative, among other presenters
IAPP, Syracuse Law Partner to Present Inaugural Kurt Wimmer L'85 IAPP Westin Scholar Award
The International Association of Privacy Professionals (IAPP), the largest and most comprehensive global information privacy community and resource, is partnering with the College of Law to present the new annual Kurt Wimmer IAPP Westin Scholar Award in memory of Kurt Wimmer L'85, a longtime privacy professional and 1985 graduate of the College of Law who passed away earlier this year.
With the growing need for well-qualified privacy and data protection professionals, this award will support law students who consider a career in privacy and data protection. "Kurt Wimmer was an exceptional privacy leader and lawyer and has left an indelible mark in the field," says J. Trevor Hughes, IAPP President and CEO. "We're pleased to offer this award in Kurt's memory at a time when developing privacy professionals is essential to the privacy industry, and we look forward to recognizing outstanding students and emerging lawyers with this honor."
As a privacy and technology lawyer, Wimmer had a passion for working closely with clients including Facebook, Microsoft, Samsung, and other multinationals, in addition to non-traditional clients such as the National Football League and National Hockey League. He provided invaluable counsel in navigating constantly evolving challenges with acumen and alacrity. Most recently, he had served as Co-Chair of Covington & Burling's global data privacy and cybersecurity practice in Washington, DC.
Congratulations to 3L Clifton L. Stacy III for being named the inaugural Kurt Wimmer IAPP Westin Scholar. Stacy will receive a $1000 stipend, free membership to the IAPP for two years, and the opportunity to pursue career-advancing certifications for privacy professionals through IAPP, free of charge.
SPL, CSET Publish Groundbreaking AI Framework for Judges
As artificial intelligence transforms the economy and American society, it will also transform the practice of law and the role of courts in regulating its use. What role should, will, or might judges play in addressing the use of AI? And relatedly, how will AI and machine learning impact judicial practice in federal and state courts?
To provide a framework for judges to address AI, the Institute for Security Policy and Law at Syracuse University and the Center for Security and Emerging Technology at Georgetown University have published the first-of-its-kind policy brief "AI for Judges."
Law rarely, if ever, keeps pace with technology. The legislative and appellate processes simply do not move at the same pace as technological change and could not do so if they tried. Likewise, scholars and commentators are currently better at asking questions than answering them.
To access the report and more news on AI and the law, visit securitypolicylaw.syr.edu/our-work/law-policy- artificial-intelligence
Syracuse Law Offers AccessLex Institute's Helix Bar Review to Students at No Charge
In a national first, the College of Law has partnered with legal education nonprofit AccessLex Institute to offer AccessLex's interactive Helix Bar Review prep course free of charge to all Syracuse Law students.
Helix Bar Review is a state-of-the-art, comprehensive bar review program that offers students full access to the program during their third year of law school, up to 20 weeks before the bar exam. Early access is one of the distinguishing characteristics of the Helix Bar Review, and it ensures that students with multiple responsibilities can start their review early and complete the entire course on the schedule they choose. Other bar preparation programs are not fully open until much later.
Helix Bar Review's online, adaptive learning platform uses an integrated content approach, an active learning interface, personalized pathways, and flexible access options designed to adapt to individual learning styles and to help students efficiently use study time to confidently prepare for the bar exam.
While Helix Bar Review uses all the traditional components of a bar review course—such as substantive law outlines, practice questions, and flashcards—the program employs active learning and other methods that are based on the most up-to-date learning science and support long-term retention of knowledge. Learning methods include short videos, illustrations, checklists, and workshops called "Pass Classes."
"Continuing our track record of innovation in legal education, I am thrilled that Syracuse Law is the first school to partner with AccessLex as they launch their new Helix Bar Review program. This groundbreaking program offers the tools and preparation our graduates need to efficiently and effectively prepare for the bar exam," says Dean Craig Boise. "At Syracuse Law, we are laser-focused on student success at every step of the law school journey. This partnership will give our students a distinct edge in studying for the bar exam—setting them squarely on the path to career success—while reducing their debt by eliminating the need to finance a commercial bar prep course."
"We are grateful, honored, and excited to be partnering with Syracuse Law in bringing Helix Bar Review to its students. At AccessLex, we have long said it is an accident of history that the bar exam preparation industry exists as it currently does, which makes this, potentially, a seminal moment in legal education," says AccessLex President and Chief Executive Officer Christopher P. Chapman. "As the leader of a law school whose reputation for innovation and progressive action is well known, Dean Boise recognizes that the Helix approach to bar prep tracks with his strategic vision for student success. It is why we feel Syracuse Law is a perfect partner for the public launch of this game-changing endeavor."
"We know there are law students who do not purchase a commercial bar prep program because of the cost implications," says Kelly Curtis, Teaching Professor and Director of Academic and Bar Support at the College of Law. "The additional cost of bar prep should never be a barrier to a graduate's success on the bar exam. With this partnership, we remove that barrier."
Race and Justice in Central New York" Series Wins NYSBA Award
The New York State Bar Association Committee for Bar Leaders of NYS has announced that "The Bond, Schoeneck & King Series on Race and Justice in Central New York" is the 2021 winner of the NYSBA "Innovation Award" for medium-sized associations. The series—launched in the fall 2020—is a collaboration among the College of Law, Onondaga County Bar Association, Bond, Schoeneck & King PLLC, and other community partners and CNY law firms. The series was created with the goal of helping people examine and better understand the structure of local and national legal systems and their impact on disparate outcomes for those in historically disenfranchised groups.
As Professor Paula Johnson, Director of the Cold Case Justice Initiative and a "Race and Justice in CNY" project coordinator, explained at the series launch, "The deaths of George Floyd, Breonna Taylor, Ahmaud Arbery, and other unarmed Black people and people of color at the hands of law enforcement compelled the Bar Association and the College of Law to respond in ways that involved, informed, and collaborated across our community."
The inaugural event in the series was the "Racial Justice Community Book Read," which discussed the memoir, Just Mercy, by Bryan Stevenson. Professor Johnson and Associate Dean of Equity and Inclusion Suzette Meléndez, a member of this collaborative, were two of the facilitators who led these book discussions, along with other community members. The Series also included a June 2021 discussion of "The State of Police Reform in Central New York," a Facebook Live event moderated by Professor Johnson that convened officials from Syracuse-area towns and law enforcement organizations.
Brian J. Gerling L'99 Named Executive Director of Innovation Law Center
Syracuse University College of Law alumnus Brian Gerling L'99 is the new Executive Director of the Innovation Law Center (ILC). Gerling, who brings nearly two decades of intellectual property and commercial litigation experience to the role, takes the helm from M. Jack Rudnick L'73, who will remain engaged with the ILC as Senior Advisor.
Gerling most recently served the College of Law as an adjunct professor, teaching innovation law and technology law courses. In his new role, he will continue to teach as a member of the College of Law faculty. He also will retain his Of Counsel affiliation with Syracuse law firm Bond, Schoeneck & King PLLC, where his practice focuses on IP, data privacy, emerging technology, and economic development.
Gerling serves on the Board of the Central New York International Business Alliance and on the Technology Council of the Manufacturers Association of Central New York, and he holds other ex officio board positions. In addition to his J.D., cum laude, from Syracuse University College of Law, Gerling holds a B.S. in Biology from the State University of New York at Binghamton.
As ILC Executive Director, Gerling oversees the center's applied learning course—the Innovation Law Practicum—in which students from the College of Law and across Syracuse University gain practical skills and experience assisting companies with IP, regulatory, and market landscape research, as well as capital sourcing.
Gerling will work with Professor Shubha Ghosh and the Syracuse Intellectual Property Law Institute to administer the College's Curricular Program in Technology Commercialization Law Studies. He also will direct the New York State Science and Technology Law Center (NYSSTLC), which is a grantee of the Empire State Development´s Division of Science, Technology, and Innovation (NYSTAR).
"As one of ILC's brightest alums and biggest advocates—and a former student of its founder Ted Hagelin—Brian brings expertise and enthusiasm to the center. His deep and wide-ranging practice experience in IP law, and especially emerging technology, will enrich our students' educational experiences," says Dean Craig Boise. "I look forward to working with Brian to build on Jack Rudnick's remarkable work expanding ILC and NYSSTLC so that our students continue to get real-world experience working with a wide variety of technology clients."