The 2021-22 academic year marked another first for the College of Law, with the matriculation of the inaugural cohort of Doctor of Juridical Science (S.J.D.) students. Comparable to Ph.D. programs in other disciplines, S.J.D. is an advanced research doctorate program during which students work under the supervision of a College of Law faculty member to produce an original dissertation that makes a substantial contribution to legal scholarship.
"The College of Law's new S.J.D. program builds on our highly successful LL.M. program that offers unique specialties in international and comparative disability law, national and international security law, technology and innovation law, as well as other disciplines," says Professor and Faculty Director of International Programs Arlene Kanter. "Syracuse also offers S.J.D. students the opportunity to pursue interdisciplinary coursework and academic engagement with other academic programs of Syracuse University—an R1 research institution— including at the world-renowned Maxwell School of Citizenship and Public Affairs, S.I. Newhouse School of Public Communication, and Whitman School of Management."
Four students entered the S.J.D. program this year:
Ricardo Britto Pereira LL.M.'18 from Brazil, to focus his research and dissertation on expanding enforceable legal protections for people with disabilities who face discrimination in employment in Brazil. His advisor is Professor Antonio Gidi.
Jawad Salman LL.M.'18 from the Palestinian Authority, to focus his research and dissertation on the taxation of foreign income by the United States, the Palestinian Authority, and Israel. His advisor is Professor Robert Nassau.
Renci "Mercy" Xie LL.M.'20 from China, to focus her research and dissertation on the role of human rights indicators in advancing the right to inclusive education for students with disabilities in China pursuant to Article 24 of the UN Convention on the Rights of People with Disabilities. Her advisor is Professor Arlene Kanter.
Yohannes Takele Zewale LL.M.'19 from Ethiopia, to focus his research on a comparative legal analysis of the application of "reasonable accommodation" requirements under the Americans with Disabilities Act, the UN Convention on the Rights of Persons with Disabilities, and Ethiopian law. His advisor is Professor Michael Schwartz.
Including the S.J.D. students, nearly 50 students and scholars representing the legal education systems of 21 countries attended the College of Law in its International Programs in 2021-22. Forty-two LL.M. students took classes at the College of Law this year, 24 of whom graduated in the spring of 2022.
Visiting Scholars
The College of Law also welcomed three semester-long exchange students from Italy and visiting scholars from Brazil, Georgia, Japan, and South Korea in the spring of 2022. They joined their counterparts who had arrived in the fall of 2021 from Brazil, Georgia, India, Japan, Poland, and South Korea.
The College's visiting scholars program provides a unique opportunity for researchers worldwide to work with the College of Law's renowned faculty, observe course lectures, use Syracuse's state-of-the-art facilities, access vast print and digital library collections and reference librarians, and share their expertise with the College of Law community. Visitors are integrated into the academic life of the College, assigned a faculty advisor, and participate in and attend public lectures and faculty workshops.
International Scholar Lecture Series
In the spring, Syracuse Law students learned new and broad perspectives from lawyers around the world through the College's international scholar lecture series. Lectures covered a wide array of subjects, including: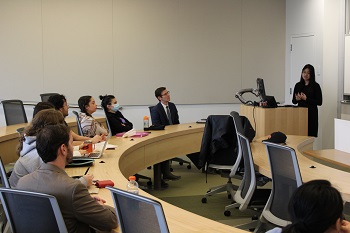 "Perhaps Everything is Going to Be Fine(d): Pecuniary Sanctions and the Path towards Indonesian Criminal Justice Reform" by LL.M. student Sabrina Nadilla.
"The Winding Road to Justice for Women in Afghanistan" by LL.M. student Beheshta Rasekh.
"The Metaverse: The Future of the Internet or a Futuristic Idea? Copyright Challenges in the Metaverse" by Visiting Scholar and Fulbright Fellow Levan Nanobashvili.
As a part of the lecture series, S.J.D. students also presented their research to the Syracuse community:
"No Free Rides Anymore: A New Tax Policy!" by Jawad Salman.
"Enforcing International Law to Enforce Systemic Employment Discrimination Protections in the Workplace Through Union- Initiated Class Actions" by Ricardo Jose Macedo De Britto Pereira.
"Voting Systems and Their Implications for Representing Persons with Disabilities" by Yohannes Takele Zewale. "Human Rights Indicators, A New Way to Think about
Protecting Human Rights" by Renci (Mercy) Xie.
"Unions' Class Actions Against Systemic Discrimination in the Workplace in the United States and Brazil" by Ricardo Jose Macedo De Britto Pereira.
"Beyond Laws and Numbers: What Happens in the Real World?" by Renci (Mercy) Xie.
"The Legal System and Policy of the Taxation of Foreign Income of The Palestinian Authority and Israel Within the Vision of the U.S. Tax Legal Policy and International Economics" by Jawad Salman.
New and Renewed Partnerships
The newly launched partnership between the College of Law and the Republic of Georgia Bar Association (GBA) earlier this academic year yielded a five-part lecture series to members of the GBA in the spring to discuss a range of topics that covered foundational aspects of the U.S. legal system, and nuances of criminal procedure, commercial law, national security law, and intellectual property.
The College of Law was a natural partner for this inaugural institutional effort, given the broad expertise of our faculty, overall interest in supporting internationalization efforts, and alumni members of the GBA.
Executive Director of the GBA Giorgi Tshekhani praised the partnership, commenting that "while enhancing the quality of justice in Georgia is one of our priorities as well as main challenges, sharing of knowledge and experience from our highly qualified U.S. colleagues is of significant importance. I would like to thank the representatives and professors of the S.U. College of Law for their active and valuable involvement in the lecture cycle."
This partnership not only promotes the expertise of the College of Law faculty, but also advances the teaching of law and exposure to diverse perspectives beyond borders and provides visibility to prospective students in countries around the world.
A guest lecturer in the series, on United States Criminal Procedure, Professor Todd Berger explained, "this program builds on several different international collaborations that we've done with other academic institutions over the years, connecting us with actual practicing lawyers in other countries. Each partnership, including this one with the GBA, shines a bright light on key differences and new perspectives from around the world that are illuminating to our faculty as we conduct our own research and incorporate abundant points of comparison from which to learn in our classrooms."
In a similar spirit of partnership, Professors Jamie Baker and Cora True-Frost L'01 traveled to the University of Bialystok in May for a training and research visit. While there, they each delivered public lectures and met with members of the faculty, students, and the local judiciary to discuss topics around human rights, migration, and the rule of law, all within the context of the current war in Ukraine.
Building upon past relationships, the College of Law renewed partnerships this year with Adam Mickiewicz University (Poland), including ongoing visiting faculty members and an online international criminal law course co-taught by faculty from both colleges, and with the University of Rome Tor Vergata and the University of Florence (both in Italy), who send visiting scholars to the College of Law on a regular basis.
Glowing Reviews and Looking Forward
According to a recent survey sent to 193 alumni regarding their LL.M. degree, over 90% said they would recommend the program to others due to their positive experience. Over half of the College of Law LL.M. alumni obtained a new job within a year after graduation with their new skills and qualifications, and nine percent chose to continue their education. The College's Office of International Programs looks forward to continuing to evolve and enhance our programs and partnerships in the 2022-23 academic year, equipping new classes of future Orange lawyers with the tools they need to succeed.