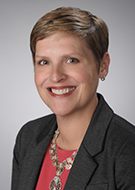 Sarah D. Collins
Director of Student Affairs
As Director of Student Affairs, Sarah Collins serves as the primary point of contact for College of Law students, as the liaison between the College administration and student organizations, and coordinates and oversees student services.
With a background in student-centered education, Collins comes to the College from St. John Fisher College at Onondaga Community College (OCC), where she helped coordinate the Ed.D. program, recruiting and assisting students, liaising with alumni, and organizing dissertation and other critical committees. Before working for the St. John Fisher program, Collins was Director of OCC's Office of Student Leadership and Engagement with oversight of student leaders campus-wide, including leaders in student government and student organizations. In that capacity, she was responsible for training the Student Association Executive Committee, overseeing the Student Association By-Laws, and assisting the delivery of educational and entertainment programs for the entire student body.
Collins began her career at OCC in student services, focused on community college student success with an emphasis on low income students and students of color. She also was assisted in adjudication and due process for alleged student code and disciplinary procedures violations. She holds a B.A. in Sociology from Wells College and a J.D. from Albany Law School.
---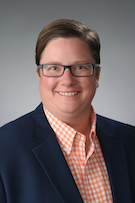 Kelly K. Curtis
Director of Academic and Bar Support
In addition to directing the College of Law's Academic and Bar Support Program, Professor Curtis teaches Professional Responsibility and Women and the Law. Her scholarly interests include legal ethics and feminist legal theory.
Before joining the College of Law, Professor Curtis was both Director of Legal Writing and Director of Academic Support at Cleveland-Marshall College of Law. She also spent eight years on the faculty at Cleveland-Marshall as a Legal Writing Professor of Law. Prior to joining Cleveland-Marshall, she served as Assistant State Public Defender in the Office of the Ohio Public Defender and before that was in private practice as an associate at Schottenstein, Zox & Dunn, LPA (now Ice Miller LLP). While in practice, Professor Curtis focused primarily on appellate practice and has argued multiple cases in the Supreme Court of Ohio and the United States Court of Appeals for the Sixth Circuit.
Professor Curtis holds a J.D. cum laude from The Ohio State University, Moritz College of Law where she was Executive Editor of the Ohio State Law Journal, and a B.A. from Saint Mary's College.
---
Annette Jenner-Mathews
Senior Counselor
The Senior access counselor is a joint position within the College of Law (COL) and the Center for Disability Resources (CDR) located in Dineen Hall Office of Student Affairs at Syracuse University. This senior access counselor works directly with students to determine appropriate accommodations and resources the student will need to ensure equal access in the College of Law.
The current senior access counselor, Annette Jenner-Matthews, she/her/hers, is trained as a Cognitive Neuroscientist with a particular interest in reading disabilities. In recent years she has taken several courses in disability studies and continues to research topics related to disability disclosure, stigma and academic ableism in higher education. She has held faculty positions at several institutions, including Syracuse University before joining the staff at Center for Disability Resources as an Access Counselor in 2014. Annette holds a B.A. from Mount Holyoke College and a Ph.D from Harvard University.
Accommodations for Disabilities