The Syracuse Civics Initiative (SCI) envisions a collaborative space for innovative investment in civics education for young people.
Middle and high-school students are growing up in a political environment characterized by cynicism, partisanship, and dissatisfaction, an attitude that encourages distrust in democratic institutions and discourages civic participation. Fortunately, the momentum to address these issues at the national, state, and local level is growing.
By using available Syracuse University resources and building connections between local school districts and organizations that support civics education, SCI is assisting efforts to educate students about their fundamental rights and instill in them the civic responsibilities that accompany those rights.
To this end, the Initiative will support and augment existing civic engagement efforts, build bridges between funding sources and under-resourced Upstate New York schools, and leverage the expertise and energy at the University to enhance local efforts.
People & Partners
Faculty Co-Directors
Student Fellows & Alumni
Mariah Almonte
Katherine Brisson
Taylor Carter-Disanto
Briana Clayton
Marina De Rosa
Brian Gunderson
Roland Lucas
Matthew Wallace
Community Partners & Affiliates
Kim Wolf Price, Attorney Professional Development and Diversity Officer, Bond, Schoeneck & King (Syracuse Civics Initiative Co-Founder and former Co-Director)
United States Court of Appeals for the Second Circuit Justice for All Program*
*Gouldin and Wolf Price have been members of the Justice for All's Advisory Group of the Civic Education Committee since December 2018. Professor Suzette Meléndez attended Justice for All Annual Convention in October 2019.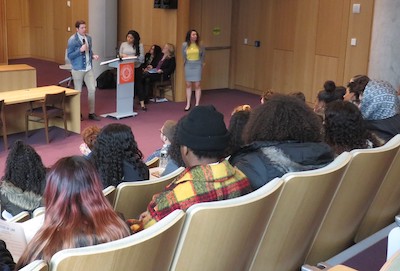 Events
Policing and Reform: A Panel Discussion on Initiatives and Opportunities in Central New York and Beyond | March 31, 2021
This program explored police reform efforts in Onondaga County over the past year and connect those efforts to the broader national conversation about policing practices.
Supreme Court Preview | September 2020
In September 2020, SCI will host its fourth annual Supreme Court Preview, which will bring together Adam Liptak, Supreme Court correspondent for the New York Times, Supreme Court practitioner Reeves Anderson, and law professors to discuss cases pending before the Supreme Court.
Diversity Law Day | Feb. 28, 2020
Together with the New York State Bar Association, the William Herbert Johnson Bar Association, and LSAC, SCI cohosted Syracuse University College of Law's celebration of Diversity Law Day on Feb. 28, 2020.
High school students from Syracuse-area school districts attended and heard remarks from judges, faculty, practicing attorneys, and law students about the importance of diversity, inclusion, and representation in the law. Civics fellows gave a presentation on the trial of Ethel Rosenberg (as part of a collaboration with the Northern District of New York's planned March 2020 live courtroom reenactment of that trial) and led breakout discussion groups that discussed the major themes of the Rosenberg case.
Supreme Court Preview | September 2019
In September 2019, Syracuse Civics Initiative co-hosted the College of Law's third annual Supreme Court Preview. Jess Bravin, the Supreme Court correspondent for The Wall Street Journal, spoke about the current state of the Court, important cases on the docket, and what to expect in the coming term.
Constitution Day Naturalization Ceremony | September 2019
On Constitution Day (Sept. 17, 2020) the Syracuse Civics Initiative hosted the Honorable Margaret Cangilos-Ruiz, United States Chief Bankruptcy Judge for the Northern District of New York who presided over a Naturalization Ceremony at the College of Law. The event was co-hosted with theCollege of Law's Office of International Programs.
Women's Suffrage Exhibit | November 2018
In November 2018, the Syracuse Civics Initiative worked with the New York State Bar Association's Committee on Women in the Law to bring their traveling exhibit, A Centennial Commemoration of Women's Suffrage and the Achievement of Legal Rights, to the College of Law.
The exhibit celebrates the progression of women's suffrage in the United States with a particular emphasis on the movement's connections to Upstate New York. While on display, several quiz questions on the topic of women's suffrage were displayed on the school's video boards, along with announcements introducing the display, in order to help promote the exhibit's presence to students.
Middle School Visits to the College of Law
Starting in 2018, SCI has hosted several middle school student government visits to the College of Law. In November 2019, for example, civics fellows taught a short lesson on caucus voting for presidential primaries and then led a caucus activity where students had the chance to caucus on issues that were important to them, such as the environment and immigration.
Taking the Inside Baseball Out of Your Government | March 25, 2021
Hosted by the Onondaga County Bar Association and Professor Suzette Meléndez, this event includes a discussion about the structure and mechanisms of the City of Syracuse government.
NY Statewide Diversity Pipeline
Civics Initiative Co-Director Suzette Meléndez led the College of Law's participation in the Law School Admissions Council's Statewide Diversity Pipeline.
Through that program, Legal Outreach trained College of Law students as diversity and inclusion instructors to teach law lessons to eighth-grade students in selected middle schools in the region.
The law students selected as diversity and inclusion instructors will expose the eighth-grade students to the role of law as instrument of change through one or more participatory classroom sessions, demonstrating the opportunity and possibility of pursuing a legal education.
Second Circuit's Justice for All Program Annual Courtroom Reenactments
Civics Initiative Faculty and Civics Fellows are regular participants in and promoters of this annual reenactment event.
Nina Totenberg at Syracuse University | March 6, 2019
SCI Co-Director Lauryn Gouldin organized a question answer session with award–winning NPR legal affairs correspondent Nina Totenberg with law students from Syracuse University College of Law on March 6, 2019. Totenberg answered questions from students on the importance of civics education and provided attendees with an inside look at what it means to be a legal affairs correspondent who reports on the nation's highest court.
---
Photo Gallery