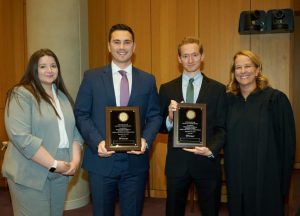 Second-year students Patrick Farrell and Alexander Shaw took home first place in the 51st Mackenzie Hughes LLP Edmund H. Lewis Appellate Advocacy Competition. The pair also won Best Brief, and Farrell was awarded Best Advocate. 3Ls Carlos Negron and Matthew Calogero reached the finals and placed second.
"Congratulations to both Patrick and Alexander on their advocacy performance and a clean sweep of awards!" says Professor Todd A. Berger, Director of Advocacy Programs. "I'm proud of all of our competitors for all their hard work, preparation, and dedication to this year's competition."
Sponsored by Syracuse law firm Mackenzie Hughes LLP, this competition is open to two-person teams consisting of second and third-year Syracuse law students. The competition is named for the Hon. Edmund H. Lewis L'1909, a distinguished alumnus of Syracuse University College of Law, a partner at Mackenzie Hughes, and a Chief Judge of the New York Court of Appeals. Each year, volunteer judges evaluate the teams' written appellate briefs as well as oral argument performance through multiple rounds.
This year's final round judges included: John F. Boyd II L'16, Court Attorney, Fifth Judicial District of New York; Lauryn P. Gouldin, Laura J. & L. Douglas Meredith Professor of Teaching Excellence
2022–2025 & Crandall Melvin Professor of Law; David Katz L'17, Litigator, Smith, Sovik, Kendrick & Sugnet, P.C.; and Thomas M. Leith, Appellate Attorney, Hiscock Legal Aid Society.
16 additional judges, including alumni and professors at the College of Law, judged the preliminary, quarterfinal, and semifinal rounds. Thank you to Professor Courtney Abbott-Hill L'09, Craig Atlas, Piotr Banasiak, Professor Emily Brown L'09, Peter Calleri, Josh Cotter L'09, Carly Dziekan, Professor Roy Gutterman L'00, David Katz L'17, Professor Aliza Milner, Professor Gary Pieples, Brandan Ray, Michael Paul Ringwood, Professor Richard Risman, Neil Smith L'02, and Professor Monica Todd.
This year's problem involved the epicenter of the opioid epidemic in the State of West Hampshire, now second only to West Virginia in the opioid overdose death rate. Following the rapid rise in opioid overdoses in 2017, the United States Drug Enforcement Administration ("DEA"), acting in coordination with the Burlington Sheriff's Department, initiated an investigation into the illicit distribution of prescription opioids to West Hampshire and New Hampshire. The August 2017 search identified Brittney Cooper as an individual with an alarming number of opioid prescriptions. Cooper was charged with fraudulently obtaining several prescriptions for OxyContin and Percocet and distributing the opioids to individuals throughout West Hampshire and New Hampshire, across states, under 21 U.S.C. § 841(a)(1).
In pretrial motions, Cooper filed a motion to suppress the prescription drug records acquired from the Database. She argued that the DEA and Burlington Sheriff's Department violated her Fourth Amendment rights against unreasonable searches and seizures because she had a reasonable expectation of privacy in her prescription drug records. The District Court denied the motion, holding that Cooper had no reasonable expectation of privacy because these records are held by a third party (the state government) and because the prescription drug industry is highly regulated. The case is currently pending before the Supreme Court of the United States.
Questions before the court are first whether an individual has a reasonable expectation of privacy in prescription drug records held in state databases of controlled substance prescriptions under the Fourth Amendment, and also whether the database search was a valid administrative and special needs search, waiving the probable cause and warrant requirements.