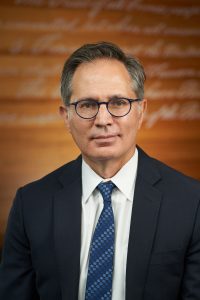 Though much has been said about the prematurely leaked draft decision of Dobbs, there's a great deal to unpack now that the final opinion has been issued. ABA Law Student Podcast host 3L Meg Steenburgh welcomes back Vice Dean Keith Bybee to explore the reasoning of the opinion as well as the newly released concurring and dissenting opinions. 
"The tone of the opinion is very strong," Bybee says. It is as if the concurring justices believe "there is no other way other than overturning Roe and Casey outright, because they are so egregiously in error."
Steenburgh raises an issue with the historical context continuously referenced by the court, saying that the right to abortion is not listed specifically in the 14th amendment. Women didn't have a right to vote at that time, however, and it was the first time that the word "male" was inserted into the Constitution. Steenburgh believes that the clear knowledge of this information made the court's arguments both disingenuous and dishonest.
Bybee explains, "in its decision making, the court will often shape the evidence and arguments that it brings forth so they're completely consistent with the conclusion that it reaches. There's a way in which, you could call it calibration, between the evidence and arguments presented and the conclusion reached. And there is certainly that going on here."