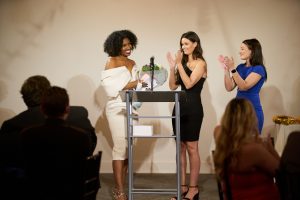 The Syracuse University College of Law's Travis H.D. Lewin Advocacy Honor Society (AHS) hosted its annual Students Award Ceremony at SKY Armory on April 21, highlighting the work of various students, organizations, staff, and faculty.
Travis H. D. Lewin Advocacy Honor Society Executive Director Award
Brandon Bourg and Margaret Santandreu
Richard Risman Appellate Advocacy Award
Scott Ceurvels
Courtcall Scholarship Award (Advocacy Director Award)
Gabby Kielbasinski, Penny Quinteros, and Morgan Steele
Ralph E. Kharas Award
Olivia Stevens
Lee S. Michaels L'67 Advocate Of The Year Award
Austin Milone (2L)
Emil M. Rossi L'72 Scholarship Award
Autumn Burgin (2L) & Angelica Judge (2L)
Models of Excellence in Advocacy Award (In Honor of Michael S. Olsan L'89)
Caleb Gieger (2L) & Roland Lucas (2L)
International Academy Of Trial Lawyers Student Advocate Award
Marina De Rosa & Amanda Nardozza
The following 3L students were admitted to the Order of Barristers: M. Bradley Ace, Marina De Rosa, Kelsey Gonzalez, Amanda Nardozza, Abigail Neuviller, Margaret Santandreu, Morgan Steele, Olivia Stevens, Cierra Thomas, and Gabriella Verdone.
The AHS is comprised of a select group of second and third-year law students, representing the best oral advocates at the College. The College of Law's nationally ranked Advocacy Program enjoys a strong track record of stellar results on the biggest stages competing against other law schools. These competitions, supported by the student-run AHS, teach advocacy skills through mock appellate, alternative dispute resolution (ADR), and trial experiences.
Congratulations to all the award winners this year!