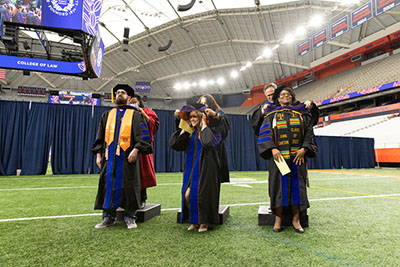 On Friday, May 6, Syracuse University College of Law held Commencement for its 199 J.D. and 33 LL.M. graduates. The event, the first in-person Commencement since 2019, featured the first cohort of graduating online J.D. students. Luke Cooper L'01 CEO of Latimer Ventures, Partner at Preface Ventures, and 2022 Visiting Scholar at the University of Maryland Baltimore was the Commencement speaker.
Syracuse University Chancellor Kent Syverud provided remarks and introduced the Hon. Theodore A. McKee L'75 Endowed Law Scholarship, thanks to the generosity of Board of Advisors Member Richard M. Alexander L'82, Chairman of Arnold & Porter, and his wife Emily. The scholarship will provide Syracuse Law students with the education and cultural context to enable them to carry forward the legacy of Judge McKee, who has served on the United States Court of Appeals for the Third Circuit for 27 years.
Professor Todd Berger was voted by the J.D. Class of 2022 as the recipient of the Res Ipsa Loquitur Award, given to a faculty member for "service, scholarship, and stewardship" to the students. Professor Richard Risman was voted by the LL.M. Class of 2022 as the recipient of the Lucet Lex Mundum Award, given to a professor who has made a significant impact on the successes and the experiences of the LL.M. students during their studies.
In his remarks to graduates, Cooper emphasized the importance of always embracing the most authentic pieces of ourselves and broadcasting how these strengths can play to our advantage in overcoming challenges. Reflecting on his personal journey, he also encouraged students to find their purpose and to find the "mud" that's beneath and around all of us, and to ask themselves how they will help clear the mud and bring about a more inclusive world. "A great orator once asked, what's most important… the flower… or the ground that grows it? In order for the flower to fully blossom and mature it must traverse a muddy path slowly, and with intention, bending it toward the light. That muddy path contains the secrets to its beauty… the secrets to its magic."
Class of 2022 President Gabriella Kielbasinski remarked, "Class of 2022, we have struggled, and studied, and sacrificed for that idea of a career that we now get to pursue. We have lived through some historic, and sometimes exhausting moments, and while today is a great triumph, I also know that some of us feel like we just need a second to catch our breaths, but I have high hopes for our futures. Because, yes, these have been unprecedented times, but I believe that unprecedented times can only create unprecedented lawyers."
LL.M. Student Bar Association Representative Sindy Perez Ospino said, "To my fellow LLM classmates, I want to acknowledge the unique challenges that we as international students sometimes face. But, in a year rocked by invasions, coups, human rights violations, and a pandemic, we must remember that we have to be resilient and continue fighting for our dreams, to speak up, and not give up. Thank you, LL.M. students, for showing me the meaning of kindness, resilience, and brotherhood. "