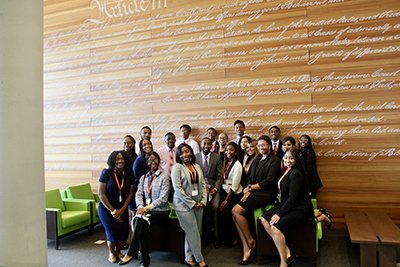 The College of Law held its Inaugural Consortium Summer Residency Program on May 16-20, 2022. Twenty-one undergraduate students from the Atlanta University Center (AUC) HBCUs, representing Clark Atlanta University, Morehouse College, and Spelman College, came to Syracuse ready to learn through a week full of academic, preparatory, social, and cultural events.
Thanks to a grant from AccessLex, these students, interested in pursuing a law degree, were able to travel to Syracuse to learn about the legal profession and how to prepare for law school. Students arrived at the College of Law ready for the slate of events planned for the week, enjoying a tour of Dineen Hall and their first class session prior to a welcome dinner with an address from Dean Craig Boise, and words of wisdom from several distinguished alumni in attendance.
As the week went on, each day began with classroom lectures and panel discussions in Dineen Hall. Topics included a variety of subjects, encompassing:
Diversity, Equity, Inclusion, and Accessibility Developments
Constitutional Law
The Study of Law and the American Legal System
Admissions Processes, LSAT Information, and Various Resources
Instructors, speakers, and panelists throughout the week included Vice Dean Keith Bybee, Professor Kelly Curtis, Professor Shannon Gardner, Professor Paula Johnson, Professor Kevin Noble Maillard, Associate Dean for Equity and Inclusion Suzette Melendez, Professor Deborah O'Malley, Professor Gary Pieples, Mariah Combs L'22, and Keyashia Willis L'22.
Outside of the classroom, students traveled to the Northern District of New York James M. Hanley Federal Courthouse where they heard from and engaged with Hon. Andrew Baxter (United States Magistrate Judge, Northern District of New York), Hon. David Peebles L'75 (Recalled United States Magistrate Judge, Northern District of New York), Hon. Glenn Suddaby L'85 (District Judge, Northern District of New York), and Hon. Thérèse Wiley Dancks L'91 (United States Magistrate Judge, Northern District of New York) and Law Clerk Michael Langan.
This was followed by a visit to the law office of Bond, Schoeneck and King (BSK) to hear a panel of perspectives from the Judiciary along with a networking reception attended by several alumni and attorneys from the Syracuse area. Panelists at the BSK event included Hon. Vanessa Bogan (Judge, Syracuse City Court), Dancks L'91, Hon. Deborah Karalunas L'82 (Presiding Justice, Supreme Court, Commercial Division, Onondaga County), Hon. Ramon E. Rivera L '94 (Judge, New York State Court of Claims), and Judge Derrek Thomas (Judge, Fifth Judicial District of New York).
"There was robust engagement, in-depth learning, and connections made among our faculty, staff, alumni, members of our federal and state judiciary, and our local legal professionals from various public and private law firm offices," Melendez said. "The students exceeded already high expectations with their inquiries and the manner in which they engaged. They demonstrated a great deal of interest and their poised maturity exceeded their years."
The final full day of the program included enriching cultural experiences for the students with a few historic Central New York stops. Traveling to Auburn, NY, the group had an opportunity to tour the Harriet Tubman House. While in Auburn, students also visited the Auburn Public Theater to hear from Angela Winfield, Vice President and Chief Diversity Officer of Law School Admission Council (LSAC). They also heard from Ferris Smith from LSAC, earlier in the day and learned of various resources available to them as law school applicants. After a long and full day of activities, the afternoon wrapped up with dinner at Salt City Market, a new Syracuse food hall representing our community with samples of diverse local foods to enjoy.
One of the students who participated in this program, Eric Jones, explained how invaluable this experience has been for him as a rising senior from Morehouse College.
"I never had a formal introduction to law school," Jones said. "I've talked about it with a few lawyers but haven't had any exposure to it otherwise. When I came across this opportunity, I thought – why not? The special incentive here was that there was no financial burden for us as a student. We could come and participate for no extra charge."
This residency is a part of the College of Law's partnership with the AUC schools, aiding young students in their path to determine how they can achieve their law degrees, the many paths to becoming a successful lawyer, and why the study of law is so important within our society.