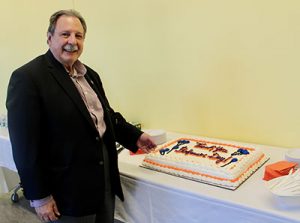 Professor Christian Day taught his last class for the College of Law on Monday, April 25th, 40 years after he taught his first class in 1982. Day has taught more than 20 different courses over the years, mostly in the corporate law area. He has taught large, foundational courses, seminars focusing on a specialized areas of the law, doctrinal classes, and experimental classes. The range and depth of the courses taught by Day demonstrate his commitment to preparing his students for the practice of law, with a fully comprehensive curriculum. During his tenure, Day has taught and prepared thousands of SU students for their professional lives.
As a scholar, Day's research has focused on early capital markets. He has published more than 25 articles and has attended more than 30 scholarly conferences in the U.S., Europe, and Asia. He has been the advisor to several organizations, including the Journal of International Law and Commerce, the Corporate Law Society, and the Federalist Society. The Advocacy Honor Society benefited greatly from Day's mentorship, as he served as the program director for five years and has also coached a number of winning teams. Additionally, Day was instrumental in the development and expansion of the College of Law's externship program in London for the last 15 years. He has also provided significant service to the University, as senator for many years and as chair of the committee on honorary degrees.
The College of Law offers a sincere thank you to Professor Day, for his service over the years and the spectacular impact he has made on the school. Day's retirement will enable him to spend more time with his family and give him a chance to continue to further pursue his love of oil painting. Students and colleagues gathered around his last class to provide a standing ovation, enjoying a reception of cake and celebration.