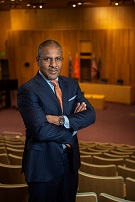 Dear College of Law Students,
Each of you came to Syracuse to learn the law. You were no doubt driven by various conceptions of what the law means, whether our laws are just—or justly applied—or what a career in the law might look like for you.
As your faculty, we pride ourselves on our knowledge of the law, and it is our role to help you learn it, interpret it, analyze it, apply it, and—yes—challenge it, even criticize it.
But yesterday's violent storming of the Capitol by a mob angry with the outcome of the election illustrates more dramatically than any classroom instruction the most important function of the law—to serve as the framework for maintaining a peaceful, orderly, and well-functioning society.
Acts like those perpetrated on Jan. 6, 2021, not only are unprecedented in our country's history, they also threaten the very roots of our democracy and chillingly demonstrate its fragility.
Whatever your political persuasion, we can surely agree that the rule of law must always be paramount, that disagreements are to be resolved through the democratic process, not violence, and that the periodic transfer of power must take place peacefully. A colleague reminded me yesterday of Supreme Court Justice Robert Jackson's statement in his concurring opinion in Youngstown Sheet & Tube Co. v. Sawyer:
… [W]ith all its defects, delays, and inconveniences, men have discovered no technique for long preserving free government except that the Executive be under the law, and that the law be made by parliamentary deliberations. Such institutions may be destined to pass away. But it is the duty of the Court to be last, not first, to give them up.
The events of January 6 remind us of the truths in this statement, that "free government" is not inevitable—it may "pass away"—and that the Courts, and we lawyers, as officers of the Courts, are afforded both the privilege and the profound responsibility of being the last defense against its demise.
Shortly after the outbreak of the Civil War, Frederick Douglass wrote that "nations are taught less by theories than by facts and events." Take stock of the facts and events that have unfolded before you—yesterday and throughout this election process—and as you prepare to resume your studies this semester, know that you are being offered the most valuable lesson of your legal education.
Most importantly, I urge you to commit yourself in whatever way you are able to work toward preserving the framework of law that has secured the freedom we have for so long enjoyed.
Best regards,
Craig M. Boise
Dean and Professor of Law