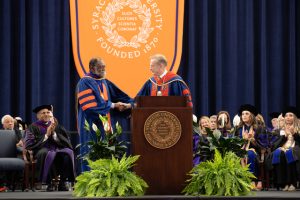 (Syracuse, NY | MAY 11, 2022) Syracuse University College of Law is pleased to announce the establishment of the Hon. Theodore A. McKee L'75 Endowed Law Scholarship with a generous gift from Syracuse University Trustee and College of Law Board of Advisors Member Richard M. Alexander L'82, a partner at Arnold & Porter, and his wife Emily.
The announcement of the scholarship in the name of Judge McKee, a Syracuse University Life Trustee and an honorary member of the College of Law Board of Advisors, came at the College's Commencement ceremony on May 6, before the Class of 2022 and Judge McKee's family, including several of his judicial clerks.
The Hon. Theodore A. McKee L'75 Endowed Law Scholarship will provide Syracuse Law students with the education and cultural context to enable them to carry forward the legacy of Judge McKee, who has served on the United States Court of Appeals for the Third Circuit for more than 27 years.
"This scholarship honors a College of Law legend and one of its foremost pioneers, who as a jurist has earned praise for his fairness, compassion, and incisive questioning from the bench, and whose public service is grounded in a deep concern for social justice," says Dean Craig M. Boise. "The Alexanders' generous gift ensures that Judge McKee's legacy is enshrined at the College and that, in his name, we can assist and inspire students whose backgrounds and experiences will bring diverse perspectives to the College and the practice of law."
Judge McKee graduated from the College of Law in 1975 magna cum laude and as a member of the Order of the Coif and the Justinian Honorary Law Society. He began his legal career in private practice in Philadelphia, PA, before entering public service as an Assistant US Attorney for the Eastern District of Pennsylvania. He then served as Deputy City Solicitor for Philadelphia, as a lecturer at Rutgers Law School, and as General Counsel for the Philadelphia Parking Authority.
Judge McKee first took the bench in 1984 on the Court of Common Pleas of Philadelphia County. After a decade of service, he was nominated to the United States Court of Appeals for the Third Circuit by President William J. Clinton in 1994, receiving his confirmation and commission later that same year. Judge McKee served as the court's Chief Judge from 2010 to 2016.
As to the scholarship, Richard and Emily Alexander said, "We are delighted to be able to honor Judge McKee's distinguished service to our country, his commitment to social justice, and his passion for Syracuse University, by supporting scholarships to deserving students at the College of Law."
Upon hearing the news of Alexander's gift, Judge McKee said, "I am humbled beyond words by the generosity and thoughtfulness of the Alexander family in endowing a scholarship in my honor."  He continued, "the legal education I received from Syracuse University has allowed me to compete with graduates of any law school in the country, and I am very thankful that this scholarship will help me to give back to the university that has done so much for me."
For more information, or to contribute to the Hon. Theodore A. McKee L'75 Endowed Law Scholarship, please contact Assistant Dean for Advancement and External Affairs Sophie Dagenais 315.443.1964 or sulaw@syr.edu.