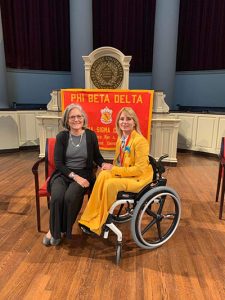 In late April, Professor Arlene Kanter, Faculty Director of International Programs, was inducted as an honorary member of the Syracuse University Pi Beta Delta Honor Society for International Scholars.
Pi Beta Delta is the first honor society dedicated to recognizing scholarly achievement in international education. Kanter served as the keynote speaker for the 2022 induction ceremony. Among her international law contributions, Kanter worked with the United Nations committee on drafting the Convention on the Rights of People with Disabilities.
Kanter is pictured here with Nataliya Kolesova, a Ph.D. student from Ukraine who Kanter is advising on her dissertation and teaching in classes at the College of Law.
"It was a great honor for me to present Professor Kanter with the award," Kolesova said. "I respect her very much and am immensely grateful for the knowledge she has passed on to me. She is my role model."