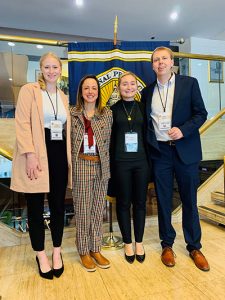 Professor Elizabeth Kubala, Executive Director of the Betty and Michael D. Wohl Veterans Legal Clinic, was recently awarded a grant from the New York Health Foundation (NYHealth) to attend the U.S. Court of Appeals for Veterans Claims (CAVC) 15th Judicial Conference at the National Press Club in Washington, D.C.
A statewide health foundation in New York, NYHealth plays a key role in building the field of professionals working to improve veterans' health in New York State. NYHealth hopes not only to support those already engaged in these efforts but also to attract new professionals to the field. By providing funding for professional opportunities like conference attendance, NYHealth supports veterans' advocacy leaders by enabling them to learn, grow, share, and advance their work. 
A part of the yearly Judicial Conferences held for Judges of the court, this year's program focused on the challenging landscape of veterans' law. Highlights included guest speakers such as U.S. Senator Tammy Duckworth and the Honorable Denis McDonough Secretary, U.S. Department of Veterans Affairs. Topics ranged from legal trends to the Appeals Modernization Act and ethics. The event also featured discussions with the U.S. Court of Appeals for Veterans Claims and the U.S. Department of Veterans Affairs, Board of Veterans' Appeals.
"As a veterans legal clinic director, I gained tremendous knowledge and insights through this conference," said Kubala. "Collaborative opportunities like the CAVC Judicial Conference help us refine the way we both assist our veteran clients and teach our student-attorneys. I'm thankful for NYHealth's generosity in supporting conference attendance at such an impactful convening of legal experts focused on improving access to veterans' healthcare and benefits."
The conference also served as an official Continuing Legal Education training for Kubala and other veteran law practitioners.