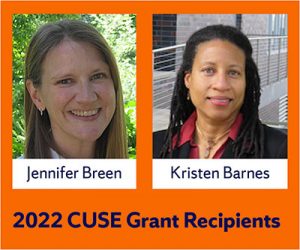 Professor Jennifer Breen and Associate Dean Kristen Barnes have both been awarded 2022 Collaboration for Unprecedented Success and Excellence (CUSE) grants from the Syracuse University Research Office.
Breen will receive a Seed Grant of up to $5,000 for her new research project on the Disparate Responses of Labor Unions to COVID Workplace Protections.
Associate Professor of Sociology Gretchen Purser was a co-primary investigator for this project. The research team is interested in understanding the variation in public health responses to the COVID pandemic from labor unions. According to Breen and Purser's research, unions are important drivers of political participation, particularly among individuals with low levels of education. The team plans to explore how unions might drive political participation, also considering whether unions counter misinformation on the pandemic.
Barnes will receive an Interdisciplinary Seminar Grant of up to $7,500 for her interdisciplinary series on the Write2Vote: Curricula to Enhance Civic Engagement and Representation.
Barnes is one of the investigators on the team, along with Patrick Berry, Associate Professor of Writing Studies, Rhetoric, and Composition, Mark Brockway, Faculty Fellow in Political Science and Religion, Brice Nordquist, Associate Professor and Dean's Professor of Community Engagement Writing Studies, Rhetoric, and Composition, and Hector Rendon, Assistant Professor of Communications. The primary goal of this interdisciplinary series is to develop and connect civically engaged courses, assignments, and experiences across a range of curricular contexts at Syracuse University and assess the impact of implemented civic engagement for students, instructors, and community partners. Building on the Write2Vote civic engagement framework by a national network of scholars, the team seeks to use course assignments and curricular components to promote civic engagement among students and facilitate representation for marginalized groups in local communities.
In selecting CUSE grants, the panel reviews certain criteria in assessing a competitive number of proposals. Subject matters span from the overall merit of the application to potential success for extramural funding, increased scholarship, enhanced reputation, and success with past intramural funding. The panel also reviews the qualifications of project personnel, adequacy of facilities, and significance of the project regarding relevance and alignment with CUSE program priorities and current or future research trends.