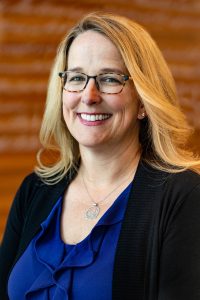 Crandall Melvin Professor of Law and Director of the Syracuse Civics Initiative Lauryn Gouldin has been named a Meredith Professor by Syracuse University, recognizing her excellence in teaching. 
The award is one of the highest teaching honors bestowed by the University, awarded to two appointed tenured faculty annually. The 2022-2025 Meredith Professors are Gouldin and Julie Hasenwinkel, professor and chair of biomedical and chemical engineering in the College of Engineering and Computer Science and a faculty member with the University's BioInspired Institute.
Gouldin teaches constitutional criminal procedure, criminal law, evidence, constitutional law, and criminal justice reform at the College of Law. Her scholarship focuses on the Fourth Amendment, pretrial detention and bail reform, and judicial decision-making. Her articles have appeared in the University of Chicago Law Review, BYU Law Review, Denver Law Review, Fordham International Law Journal, and the American Criminal Law Review, among others.
In 2017, the AALS Criminal Justice Section recognized her article, "Defining Flight Risk," as the first runner-up in the Section's Junior Scholars Paper Competition. In 2015, in recognition of her excellence in teaching, Gouldin was selected by the Syracuse University Meredith Professors to receive a Teaching Recognition Award. In 2014 and 2015, the College of Law Student Bar Association honored Gouldin with the Outstanding Faculty Award. At their commencement, the Class of 2018 awarded her the College of Law's Res Ipsa Loquitur Award for outstanding service, scholarship, and stewardship.
As a newly appointed Meredith Professor, Gouldin will receive a supplementary salary award and an additional fund for professional development for each year of their appointment. The Meredith Professors are enrolled for life in the Meredith Symposium to provide a permanent forum for the discussion of teaching and learning.