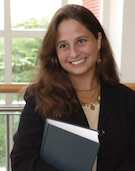 In the investigative article "Failure of Care" for NJ Advance Media/nj.com, Professor Nina Kohn discusses the regulatory changes needed to ensure that known bad actors aren't allowed to operate nursing homes or access public funds—at the expense of residents and taxpayers.    
"If an owner of a nursing home has a history of operating other nursing homes in an inhumane or inhumane manner, or siphoning off funds needed for resident care, the federal government should not certify new homes that the owner buys for Medicaid and Medicare," she said. "To put it bluntly: the taxpayers should not be signed up to pay owners who have a history of seriously failing to provide the type or quality of care that they are paid to provide."
Similarly, in deciding what penalties to impose when nursing homes violate regulations designed to protect residents, Kohn believes regulators should not look at each nursing home separately.
"The fact that an owner has substantial deficiencies across numerous homes should, for example, lead to the government being less willing to waive monetary fines," she said, adding that federal regulators generally do not consider the owner's prior bad acts in connection with other facilities— or even their current bad acts in other facilities — when determining whether or not to certify a home for Medicare or Medicaid.
Read the full article. A subscription is Required.