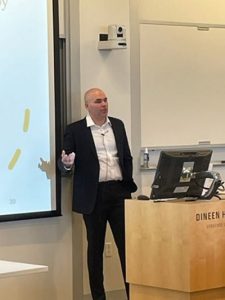 Professor Malloy presented the Annual Zoning Law Update, a continuing education program for zoning and planning board officials in Onondaga County, this past Saturday, April 23. The annual education program is designed to meet the certification requirements for zoning and planning officials in New York State.
Held at Dineen Hall this year, presenters included law students Kate Mazdzer (2L) and Michael Towey (3L), who are both a part of Malloy's Advanced Zoning Law Program, and Alum Christopher Baiamonte L'19 of the Wladis Law Firm.
The program is sponsored by the Center for Property, Citizenship, and Social Entrepreneurism at the College of Law and by the Town of DeWitt, NY. Approximately 40 officials were on hand for the annual training that covered such topics as Area and Use Variances; Article 78 court review; Affordable Housing and the demise of the single-family residential zone, Unconstitutional Conditions; and criteria for evaluating Reasonable Accommodation under the ADA and FHA.