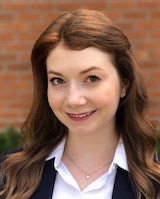 Rising third-year law student Hayley Rousselle has won second place in a writing competition organized by the Association for Education in Journalism and Mass Communication Law and Policy Division, the accreditation group for communications and journalism schools and colleges. Rouselle will present her paper—"Social Media and the Economy of Hate."—on an Aug. 4, 2021, panel during AEJMC's virtual conference.
"Hayley wrote her paper for my Media Law 737 class last fall and we worked pretty closely getting it ready for the competition," says Professor Roy Gutterman L'00, Director of the Tully Center for Free Speech. "The law division has some of the top media law scholars in the country. The competition is pretty tight."
Rouselle explains that her paper addresses Section 230 of the Communications Decency Act, which grants social media companies immunity in making good-faith efforts to regulate content on their platforms.
"However, this legal norm does nothing to encourage transparent, consistent, or effective regulation of harmful content such as hate speech," Rouselle observes. "Instead, Section 230 has left social media companies in a position where they can go unchecked in profiting from the harmful content they often claim to prohibit." Her article examines how Congress can amend Section 230 to best incentivize social media companies to enforce their policies that prohibit hate speech.