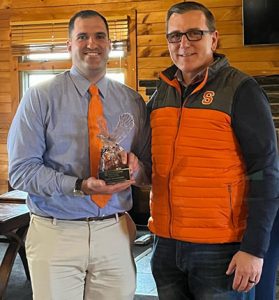 Ryan Marquette L'22 is Syracuse University's 2022 Student Veteran of the Year, awarded by the Student Veterans Organization (SVO) and the Office of Veteran and Military Affairs (OVMA). This award is presented each year to a student who contributes both on and off campus to make Syracuse University "the best place for veterans."
Highlighted in this SU news article by Ausin Philleo, Marquette is a U.S. Army veteran and active member of the Army National Guard. He was a student veteran in the College of Law while simultaneously pursuing a master's of public administration at the Maxwell School of Citizenship and Public Affairs. While his studies kept him busy, Marquette also regularly involved himself with veteran functions on campus and in the community and found the time to volunteer for the D'Aniello Institute for Veterans and Military Families, serving as a guest speaker at a Fort Drum Onward the Opportunity graduation.
The article notes that during the height of COVID-19 in 2020, Marquette had to juggle school and his active role as a member of the National Guard as he responded to the pandemic in New York State. His efforts led to the distribution of 147,809 COVID tests, 36,661 meals, and 507 medical supply deliveries across the state. Off-campus, he leads the Leader-Scholar Scholarship in Rome, New York, where one student is awarded a scholarship for their leadership efforts throughout their high school career and volunteer work in their community. The scholarship was named after Marquette's friend, Capt. John Levulis, who lost his life in a military training accident.
Marquette served as the president of the Operation Veteran Advocacy group at the College of Law and was an executive board member of the Syracuse Law Review. His list of accomplishments while at the University includes receiving the 2021 Student Veterans Organization's Best for Vets award and serving as the first-ever law school appointee to the Syracuse University Board of Trustees, amongst other contributions to the community.