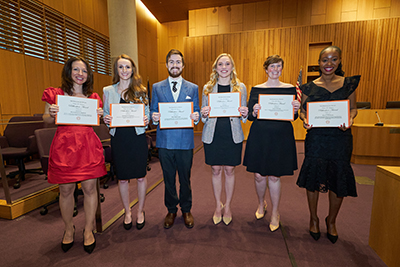 The Syracuse Law Review celebrated the annual award winners for Volume 72 in a ceremony at the Melanie Gray Ceremonial Courtroom on April 7, 2022.
As the first in-person Law Review Banquet to occur since the onset of the pandemic, it was a night to remember. Dean Craig M. Boise offered opening remarks to students, faculty, and alumni, celebrating the achievements of the Law Review staff and winners soon to be announced.
Hilda Frimpong, Syracuse Law Review Editor-in Chief, gave the welcome speech for the ceremony. Frimpong is the first Black Editor-in-Chief in the history of the Syracuse Law Review, a proud accomplishment celebrated on the same day that Ketanji Brown Jackson was confirmed as the first Black woman to serve as a justice on the Supreme Court.
2L of the Year: Emilie R. Cullen
3L of the Year: Hilda Frimpong
Samuel J. M. Donnelly Award: Niloofar Abedzadeh
Faculty & Staff Award: Kyle Davis
Most Dedicated Award: Emilie M. Pascale
Volume 73 Student Notes Selected for Publication
Emilie Cullen
Paul Dipadua
Emily Pascale
Penny Quinteros
Tim Walsh
Robert M. Anderson Publication Award Winners
William J. Cost
Shannon K. Cox
Elisabeth Dannan
Hilda A. Frimpong
Hannah T. Hapeman
Kathryn Morris
Leita Powers
Immediately following the awards ceremony, attendees enjoyed a reception in the David M. Levy Atrium. John Powers L'96, Partner, Hancock Estabrook LLP, delivered the keynote speech for the night as this year's Alumni Achievement Award recipient. To wrap up the festivities, Raymond Scarlata provided a "look ahead toast" as the Editor-in-Chief-elect for Volume 73.