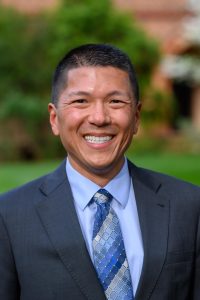 (Syracuse, NY | May 31, 2022) Syracuse University College of Law has added Dean of the College of Business at California State University, Chico, Terence Lau L'98 to its Board of Advisors, effective September 1, 2022. Lau has extensive experience as a lawyer and as a higher education leader, both domestically and internationally.
"Terence brings a unique, critical set of experiences to the College, as legal education continues to evolve at a rapid pace. His industry experience and his decades-long track record as a leader in higher education, particularly at the intersection of business and law, will certainly enrich our programs and practices," says Dean Craig M. Boise. "By coming back to his alma mater as a member of our Board, Terence will help shape how we continue on our path to creating best-in-class 21st-century legal education."
"On behalf of the Board of Advisors, I welcome Terence to our group and am looking forward to working with him on furthering educational excellence at the College," says Board of Advisors Chair Robert M. Hallenbeck L'83. "His understanding of the challenges in higher education will greatly benefit the Board and College."
"I am excited to give back to Syracuse Law, where I started my legal and academic career. The law school played an integral role in all facets of my professional life, and I believe what I've learned and experienced in academia will directly benefit the College," says Lau. "Higher education continues to face myriad challenges that demand focus, creativity, and forward-looking solutions. I hope my involvement on the Board will help the College of Law meet those challenges."
For the past four years, Lau has been Dean of the College of Business at California State University, Chico. Previously, Lau held several senior academic leadership positions at the University of Dayton School of Business Administration, including as Executive Director of Academic and Corporate Relations, at the University of Dayton China Institute; Associate Dean of Undergraduate Program; Department Chair, Department of Management and Marketing; Director, International Business Program; and Professor of Business Law.
Lau was also a U.S. Supreme Court Fellow, assigned to the Office of the Administrative Assistant to the Chief Justice, which aids the Chief Justice in his administrative, policy, and ceremonial responsibilities, among other tasks. Prior to his Fellowship, Lau was an attorney in Ford Motor Company's International Practice Group and served as director of Ford's Association of Southeast Asian Nations (ASEAN) Governmental Affairs.
Lau is the long-time editor of the American Business Law Journal and has written extensively on international business law topics in several law journals. 
Lau received a Bachelor of Arts degree in political science from Wright State University in 1995 and his J.D. from Syracuse University College of Law in 1998.