Zabrina Jenkins' G'97, L'00 journey to become a lawyer was anything but conventional.
Arriving at Syracuse Law in the summer of 1994, she was full of hope and excitement for her future as the first person in her family to graduate from law school. She kept her head down, studied hard, and fully dedicated herself to her classes. Unfortunately, things did not go as planned.
A series of events over the next six years led her down a different path to obtain her law degree, from taking a Leave of Absence from law school to attend the Syracuse University School of Education, to obtaining her Master of Science in Higher Education degree, and finally re-enrolling in the College of Law in 1997 with a new perspective, attitude, and life experiences. This time around, Jenkins learned the importance of balance. She made time for extracurricular activities, a job, and studying smarter, not harder. The new approach paid off, as she made the Dean's List and graduated cum laude in the spring of 2000.
"My journey here was one that's very different than most people share," Jenkins explains. "I have fond memories of my time spent at Syracuse Law. It was a time in my life that was very personally transformative. People tend to go into the law thinking they have to be on specific path, but the journey is not always linear. You can learn a lot from the experiences you have along the way. Things are not always going to be easy, but if you move outside of your comfort zone and open yourself up to new experiences, it will pay off in the end."
Two degrees later, Jenkins was prepared to utilize the knowledge she gained at Syracuse University as she embarked on her professional journey. After four years in private practice, she landed a job at Starbucks, where she advanced through the ranks over 18 years to become the only person in the 52-year history of the company to go from the most junior lawyer position as a corporate counsel to the top seat as general counsel.
Jenkins currently serves as an executive advisor to the company. She also plays a vital role as an executive champion for the Starbucks Black Partner Network and serves as an advisor to the diversity committee in the Law & Corporate Affairs department.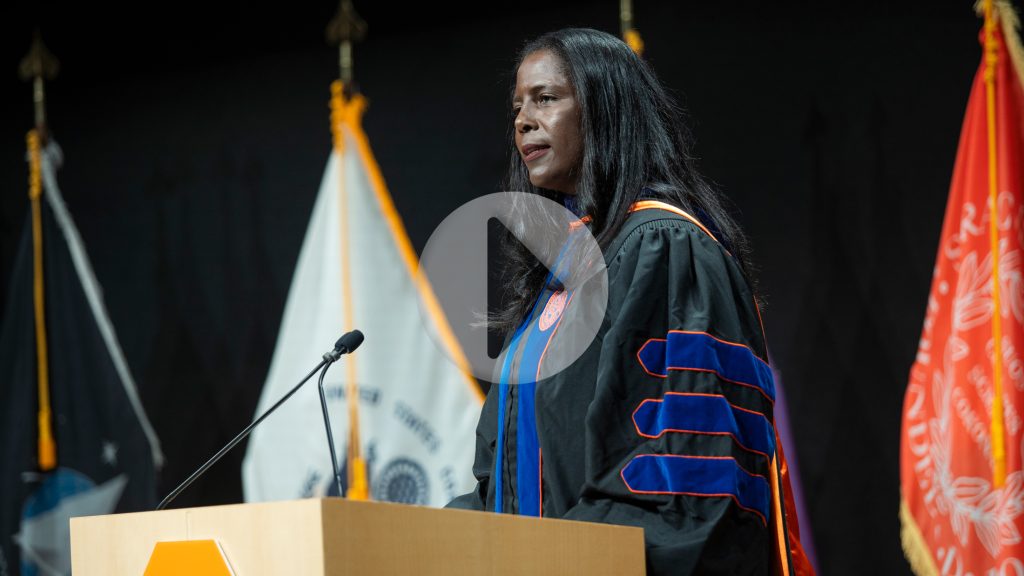 A Lasting Connection
Through her many career triumphs, highs, and lows over the years, Jenkins never forgot the place that she accredits with setting the foundation for her career trajectory—Syracuse Law. It is a rich connection that inspires her to give back to current students now in the shoes that she once wore, and the place to which she believes she owes so much.
Jenkins returned to Syracuse Law this academic year as the College's 2023 Opening Convocation speaker. She also led a Fireside Chat discussion for the August 2023 JDinteractive residency, "Trailing Blazing General Counsel: Keys to Success for In-House Legal Practice."
"Knowing that I can be a role model and an inspiration to others is something that is very important to me. I truly appreciate having such a welcoming invitation to interact with the current students at Syracuse Law, and am thankful to Dean Boise for engaging with alumni like me to bridge the relationship between the alums and the current law students."
In addition to her new connections with current Syracuse Law students, Jenkins remains in touch with many of the classmates and friends that she made during her educational journey. One of her classmates even ended up marrying her brother and became her sister-in-law.
"Law school is such a unique experience. When you go through it together with your classmates, you establish lasting relationships and connections with people who are experiencing it all with you."
The Evolution of Syracuse Law
When Jenkins attended Syracuse Law, the space that is now Dineen Hall was a parking lot. A lot has changed over the past 20+ years as the school has evolved to equip students with a modern legal education.
"I couldn't be more proud to see the growth of the JDinteractive program in particular," Jenkins stated. "Seeing how hard Syracuse Law has worked to be more inclusive in meeting students where they are shows how forward-thinking the school has become. When I was in law school, the expectation was that you would attend full-time, graduate in three years, and go into a traditional field upon graduation, like working at a law firm. This online law program provides greater flexibility to our students, fosters more diversity in the classroom, and prepares graduates for jobs beyond the path of a traditional law career, which is so important."
The Value of a Syracuse Law Degree
Jenkins chose to attend Syracuse Law because it was important to her to have a sense of campus community. She liked the fact that the law school was a part of a large institution that offered other graduate programs while also being close to a small, close-knit city.
"Syracuse Law taught me to challenge myself and to think about things and tackle issues in a different way," Jenkins says. "It taught me how to really push myself beyond my comfort zone, which is something I have to do constantly at work and have had to do throughout my career."
In talking about the proudest accomplishment of her career, Jenkins discussed the way she was able to merge her personal values with her professional life as Starbucks navigated a crisis following the highly publicized arrests of two customers at a store in Philadelphia in 2018.
Jenkins is proud of the role she played in managing the crisis, saying, "Being able to lead with empathy and turning that situation, which could have resulted in a negative outcome, into something productive where we have established an ongoing relationship with both young men is one thing I'm incredibly proud of."

Paying it Forward
At the end of her visit to Syracuse Law, Jenkins reiterated the importance of giving back as a way to pay it forward and support the next generation of legal professionals.
"My fellow alumni are all great examples of where a Syracuse Law degree can take you post-graduation. It is so important to share what you've learned with others so that you can help someone as they are on their journey."