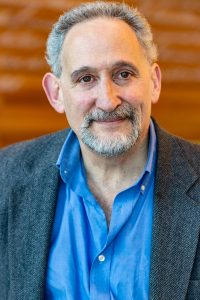 University Professor David Driesen will study the impact of carbon pricing and produce scholarship on his findings as to the outcome of his Fulbright U.S. Scholar selection. Driesen will be conducting his research at the University of Ottawa, Canada beginning on September 6.  He joins Bond, Schoeneck & King Distinguished Professor Cora True-Frost G'01, L'01 as College of Law Fulbright scholars for 2022-2023.
"Professor Driesen is a leading scholar in environmental law and this support will further his thoughtful research in the area of carbon pricing and climate change," says College of Law Dean Craig Boise. "Fulbright Scholarships are highly competitive and receiving one reflects the value and urgency of an applicant's research. I look forward to David's continued scholarship in this area and the impact it will have on our students."
What is your research focus for this distinguished appointment and what are your intended outcomes?
My research focus is on new literature suggesting that carbon pricing (emissions trading and carbon taxes) has not worked very well. I want to evaluate this literature and put it into a kind of conceptual framework. Much of this literature builds on my previous scholarship in this area.
What are your intended outcomes from your research?
I plan to publish a law review article and probably at least one short peer-reviewed piece reporting the results. I hope to improve the debate about the value of carbon pricing.
Why did you pursue a Fulbright?
The University of Ottawa has a "Smart Prosperity Institute," which is very good, and its leadership encouraged me to apply. Canada has required each of its provinces to adopt some sort of carbon pricing program, so it's a good laboratory for looking at how well it's working.
What impact will this have on your teaching/scholarship?
I expect that this will inform my teaching of climate law and in one way or another inform the future direction of my climate scholarship. I've been doing more constitutional law work in the last few years, and this is a way of bridging back to the climate disruption work.