The Innovation Law Center (ILC) offers a unique, interdisciplinary experiential learning program for students interested in the commercial development of new technologies.
Under the leadership of executive director Brian Gerling L'99, ILC educates students on the technical, legal, and business aspects involved in bringing new technologies to market. This experiential education provides a solid foundation for careers in a number of settings, including law firms, corporations, government agencies, tech transfer offices, and consulting and investing firms.
Students have completed hundreds of research projects on real technologies on behalf of universities, federal research laboratories, technology development organizations, businesses, and entrepreneurs. Opportunities are available for student financial support, including scholarships and paid senior research associate positions with the affiliated New York State Science & Technology Law Center (see below).
Certificate of Advanced Study in Technology Law and Entrepreneurship
In partnership with the Whitman School of Management, the College of Law now offers a Certificate of Advanced Study in Technology Law and Entrepreneurship. This program leverages areas of strength at each of the schools that equip students with an advanced, marketable designation as they seek careers at the intersection of law, business management, and technology. Learn more here and here.
Curricular Program
In conjunction with the Syracuse Intellectual Property Law Institute, ILC offers a Curricular Program in Technology Commercialization Law Studies for students interested in demonstrating in-depth scholarship in the area.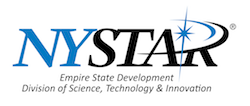 Syracuse Law and ILC have been designated the New York State Science & Technology Law Center (NYSSTLC) by Empire State Development's Division of Science, Technology and Innovation (NYSTAR) since 2004. This prestigious designation demonstrates ILC's extensive track record and experience in the field of technology commercialization law.
---
The mission of NYSSTLC is to provide legal education, research, information, and support services to the more than 30 universities and research centers in New York State supported by NYSTAR as well as New York State entrepreneurs and companies with new technologies.
Many inventors and entrepreneurs aren't aware of the myriad legal and regulatory challenges their business or technology is facing. NYSSTLC utilizes the experience and expertise of faculty and law students to analyze legal, regulatory, and market issues relating to commercializing new technologies.
Research is compiled into proprietary reports to help clients identify potential challenges (such as protecting intellectual property) and devise effective strategies to bring emerging technologies to market.
As the NYSSTLC designee, ILC's goal is to help New York State become a world leader in the commercialization of new technologies and in the creation of new jobs.