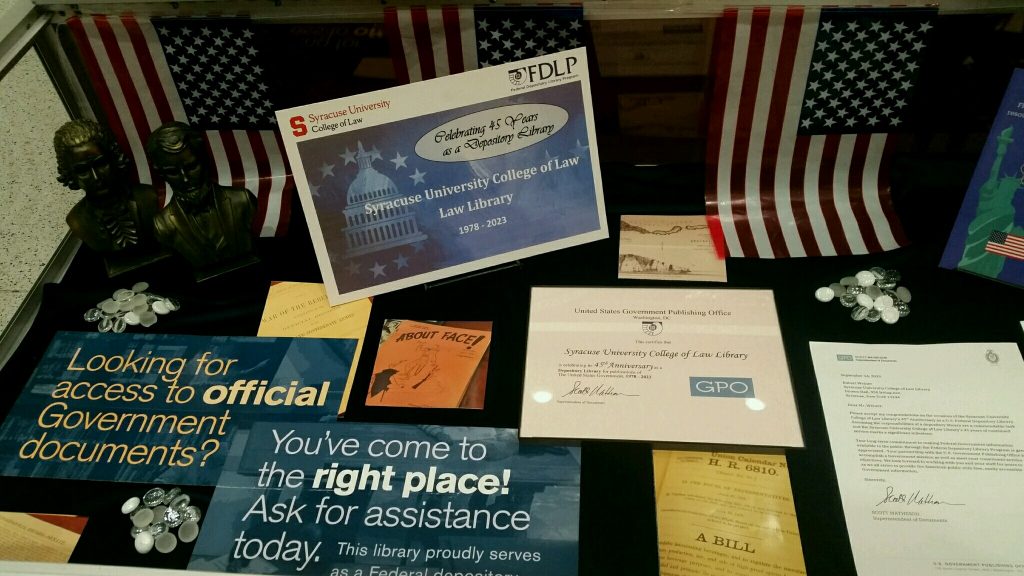 SU College of Law Library Celebrates 45 years as a provider of U.S. Government documents
This month the Law Library is celebrating its 45th anniversary as a participant in the Federal Depository Library Program (FDLP).
A recognition certificate and congratulatory letter, both signed by FDLP Superintendent of Documents Scott Matheson, commend the Law Library for its continued service and commitment to the program. The FDLP strives "to provide the American public with free, easily accessible Government information." The certificate and letter are on display in the display cases outside the Law Library front doors as part of the anniversary celebration.
In November 1978, the Law Library at Syracuse University joined the FDLP after the program was expanded to allow academic law libraries to participate even if a main campus university library already held depository status.
Over its 45 years with the FDLP, the Law Library has collected thousands of documents which have benefited countless College of Law and SU patrons, as well as members of the greater Syracuse community. The Law Library continues to select many primary source federal legal materials in print from the FDLP, including the U.S. Code, the Code of Federal Regulations, and Supreme Court opinions.