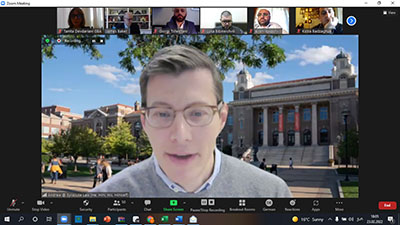 As part of a newly-launched partnership between the College of Law and the Republic of Georgia Bar Association (GBA) earlier this academic year, Syracuse Law offered a five-part lecture series to members of the GBA to discuss a range of topics that covered foundational aspects of the U.S. legal system, and nuances of criminal procedure, commercial law, national security law, and intellectual property.
College of Law faculty members wrapped up the final component of the series in April. Participating in the series were:
The College of Law was a natural partner for this effort given the broad expertise of faculty, overall interest in supporting internationalization efforts, and alumni members of the GBA.
Executive Director of the GBA Giorgi Tshekhani praised the partnership, commenting that "while enhancing the quality of justice in Georgia is one of our priorities as well as main challenges, sharing of knowledge and experience from our highly qualified U.S. colleagues is of significant importance. I would like to thank the representatives and professors of the SU College of Law for their active and valuable involvement in the lecture cycle."
In the past, the College of Law has helped arrange for lectures to lawyers in Azerbaijan, Brazil, Russia, Saudi Arabia, and throughout Europe, but this was the first comprehensive series arranged in coordination with an institutional partner.
Professor Todd Berger explains, "this program builds on several different international collaborations that we've done with other academic institutions over the years, connecting us with actual practicing lawyers in other countries. Each partnership, including this one with the GBA, has some key differences that give our faculty new perspectives from around the world."
This partnership not only promotes the expertise of the College of Law faculty but also advances the teaching of law and exposure to diverse perspectives beyond borders and provides visibility to prospective students in countries around the world.
"These conversations not only enhance participants' knowledge," Professor Shannon Gardner remarks, "but also lay the groundwork for future collaboration and partnership between the College of Law and the Georgian Bar Association. The opportunity for both College of Law faculty and members of the Georgian Bar Association to learn more about the laws and legal systems of each other's country has been invaluable."
With the ease and comfort of virtual exchanges over platforms like Zoom, the College of Law plans to continue to expand these efforts in other parts of the world.