An Advanced Legal Degree for Foreign-Educated Legal Professionals
We encourage you to enroll at one of the nation's most prestigious private law schools, located on the Syracuse University campus in Syracuse, New York.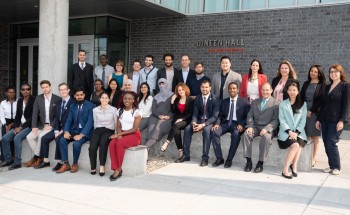 Our LL.M. program is designed to offer foreign legal professionals the opportunity to broaden their effectiveness through the study of U.S. laws and the American legal process. Students who complete the degree requirements will receive a Master of Laws (LL.M.) with a transcript and diploma indicating the LL.M. degree was conferred.
You may complete the LL.M. degree in two or three semesters and specialize your studies in a variety of areas, or in no particular area at all. In addition to the core LL.M. degree requirements, our academic and faculty advisers will provide guidance in helping you select those courses and opportunities that will help meet your personal and professional goals.
Review more admissions and program information on our LL.M. Admissions & Program Information webpage. We also encourage you to review previous course schedules to review the range of courses offered.
The College of Law is particularly known for the academic concentrations described below.
This area of concentration, sponsored by the Disability Law and Policy Program (DLPP), draws on the expertise of faculty throughout Syracuse University, which is one of the leading universities worldwide in disability studies, law and policy.
Throughout the world today, countries are working to develop and implement laws and policies to integrate people with disabilities into society. Such efforts are driven in large part by the United Nations Convention on the Rights of People with Disabilities, which has been ratified by 150 countries. Despite such efforts, disability legal expertise is rare in many countries in the world. This concentration in international, comparative, and domestic disability law seeks to fill this gap by preparing practitioners, policy makers, government lawyers, and legal academics to advance the rights of people with disabilities in their respective countries. For information about the DLPP, please contact the Director, Professor Arlene S. Kanter.
If you are interested in developing your expertise in the transfer of new technologies, our Innovation Law Center is for you! The College of Law offers LL.M. students the opportunity to enroll in a variety of lecture-style courses and applied research seminars targeted toward intellectual property and the study of commercial development of new technologies.
Courses include Advising the Startup, Technology Transactions Law, and Patent and Trade Secret Law, Intellectual Property, International Trade Law, Patent Prosecution, Copyright Law, and more.
The Institute for Security Policy and Law (SPL) is an interdisciplinary collaboration among the College of Law, the Maxwell School of Citizenship and Public Affairs, and other schools and colleges. Experienced practitioners teach subjects in national security law and policy, military planning and operations, counterterrorism law and policy, cybersecurity, climate change, international relations, emerging technology, human security, postconflict reconstruction, international humanitarian law, and more.
LL.M. students will have the opportunity to pursue academic research opportunities, attend guest-lectures and symposia, and enroll in dynamic courses which include lecture-style classes, research seminars, and simulation-based learning opportunities.
The College of Law offers many academic opportunities for students interested in International Human Rights Law.
Our faculty include practitioners and academics who have worked with multinational organizations such as the United Nations, NATO, and the European Union, as well as international and war crimes tribunals. Our diverse course options include International Human Rights Law I & II, Cybersecurity Law, Refugee & Asylum Law, International Law, Women & the Law, International Human Rights & Comparative Disability Law, and Postconflict Reconstruction.
The College of Law is also home to the Journal of Global Rights and Organizations and Impunity Watch News (JGRO/IW), a professional organization focused on publishing high-quality legal scholarship and providing unbiased, objective reporting on human rights and impunity issues throughout the world. JGRO/IW seeks to expose and examine human rights and impunity issues from both a grassroots and an academic perspective.
Whether you're interested in one of the concentrations described above or any other practice area, our LL.M. program can help you in designing the right academic program for you.
We offer more 100 subjects in substantive legal topics ranging, including Alternative Dispute Resolution, Environmental Law, Entertainment Law, Federal Courts, Public Health Law, Employment Law, Family Law, Communications Law, and more.
LL.M. students who plan to sit for the New York State Bar Examination will also find plenty of ways to prepare through the study of exam-tested subjects and specialized courses and opportunities to expose you to essay writing for the exam, testing conditions, and the application process.