Extraordinary Lawyers
Extraordinary Lives
At Syracuse University College of Law, we believe an outstanding legal education is as dynamic as the law itself.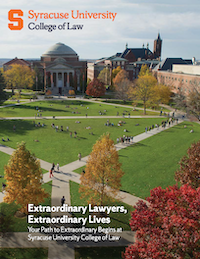 Syracuse puts you at the center of an intellectual, professional, personal, and cultural experience that will make you a better lawyer and a better leader.
Sitting in an enviable position for law schools, Syracuse is rigorous, intimate, and friendly.
Your mentors are faculty known for extraordinary teaching who also happen to be thought-leaders in their fields.
We are a leader in emerging fields such as disability law, national security policy and law, and innovation law.
Syracuse is ranked among the best in the country for our Advocacy Program.
Syracuse prides itself on a student-focused approach that facilitates collaboration with faculty across campus and connections with our impressive alumni network.
To ensure that graduates have the knowledge, discipline, and analytical skills to succeed in the 21st century, our curriculum complements Socratic learning with hands-on professional development, experiential, and skills-building opportunities through innovative coursework, as well as clinics, externships, and trial advocacy.
Fostering a culture of belonging is essential for any world-class law school. Syracuse Law is no exception. We are committed to creating a campus community that is free from discrimination and celebrates the diversity of its various members, where everyone feels valued, safe and supported. Our ability to inspire students to promote the rule of law and advance justice for all depends on it.
Apply Now! Diversity & Inclusion Fast Facts Connect with Admissions Class Profile
---
Decision Process
The admission decision process at Syracuse is more complex than merely rank-ordering applicants based on a numerical formula.
The Admissions Committee analyzes undergraduate transcripts closely for significant progression in grades earned or unusually difficult coursework.
The LSAT Writing Sample is reviewed to assess the applicant's skill level, writing ability, and preparedness to start learning to "write like a lawyer." The committee also considers subjective factors, such as undergraduate institution attended, graduate study in another discipline, work experience, leadership ability, and community service.
The committee determines an applicant's level of motivation by reviewing personal experiences indicating determination, patience, and perseverance. Past successes in addressing personal challenges, such as poverty or disability, are viewed as important indicators of motivation.
Admissions Requirements
Applicants to the J.D. degree program must have been awarded a bachelor's degree from an accredited institution, completed three-fourths of the credits leading to a bachelor's degree from an accredited institution, or apply through an approved 3+3 agreement after successfully completing three years of undergraduate study.
Admission to the J.D. program also requires an entrance exam. Syracuse Law accepts both the LSAT and the GRE.
All J.D. students are admitted to begin in the fall semester only.
---
Why Syracuse?

Raising the Bar: Preparing for Law School