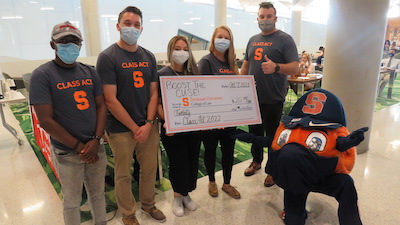 The Class of 2022 has hit the ground running with their class giving campaign! Class Act! encourages all seniors at Syracuse University to launch their philanthropy in support of SU and make a gift in honor of their graduation year—in 2022, the suggested amount is $20.22.
Led by J.D. Class President Gabrielle Kielbasinski, the 2022 College of Law Class Act! committee kicked things off in style by tabling during Boost the 'Cuse with coffee and doughnuts. A visit from Otto capped off the day. More than 30 gifts from classmates marked a strong start for the campaign, which has consistently led the University in participation.
In a Syracuse Law first, the Class of 2022 also raised enough gifts by the time of the College's annual Fireplace Lighting Ceremony on November 8 to "fire up" that event with a friendly and sweet pie-in-the-face challenge, featuring Dean Boise and Director of Student Affairs Sarah Collins!
Best of luck to the Class of 2022, and thanks to the dedicated student volunteers who make up the 2022 Class Act Committee. Special thanks to Board of Advisors member Alan Epstein L'74, co-founder of the College of Law's Class Act! campaign.
Your efforts, and creative leadership, are greatly appreciated.